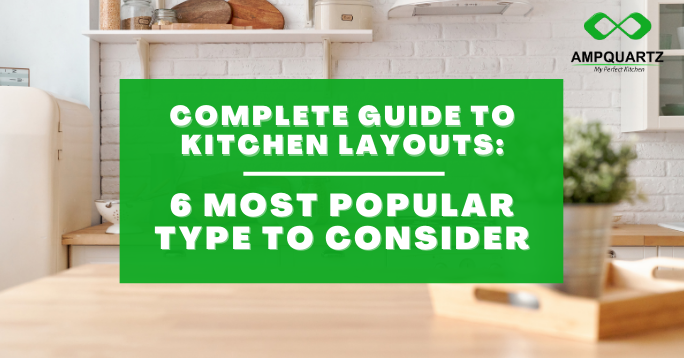 Complete Guide To Kitchen Layouts: 6 Most Popular Type To Consider
Traditionally, the classic kitchen layout follows the "work triangle" theory. While the work triangle is still useful today, it may not work with the floor-plan of your home. In today's kitchen, there're multiple layouts to choose from. Do take note that while your floor-plan might determine the layout that your kitchen, it is possible to optimize the area to work better. Do consult our team to make your kitchen renovation or design planning as easy! In this blog, we'll share with you some tips and the 6 most popular kitchen layouts.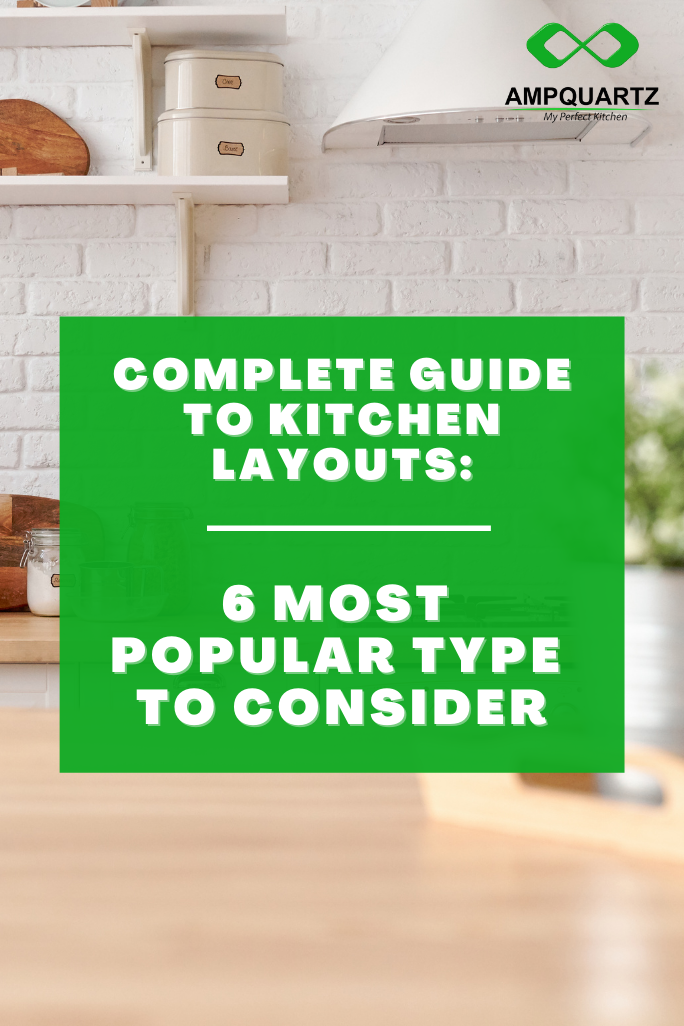 Content: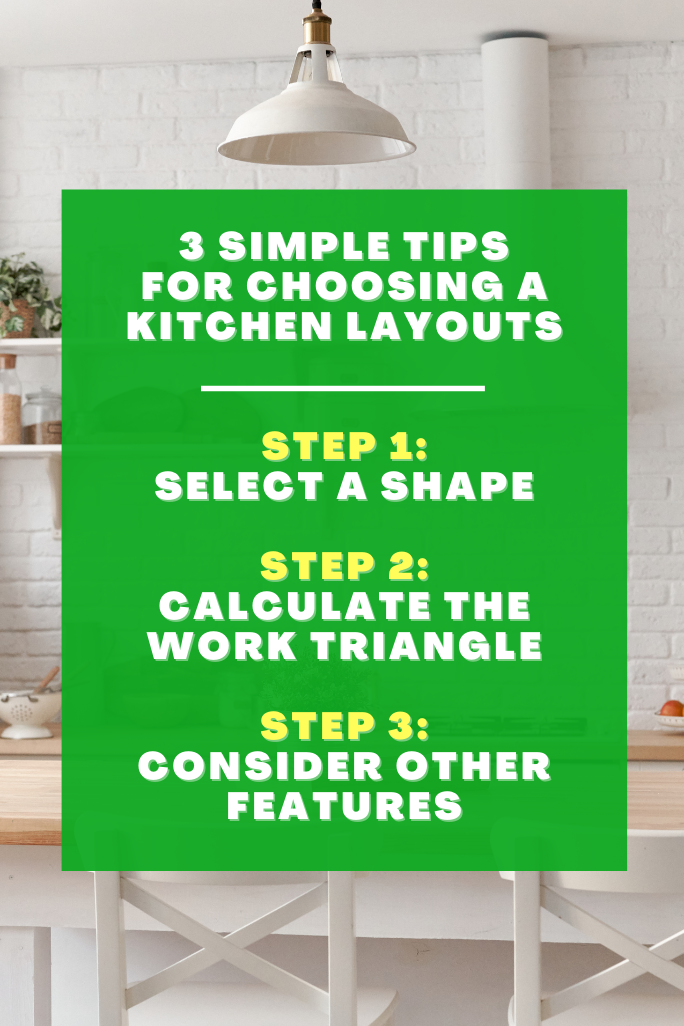 Before we get started, make sure you remember these 3 simple steps when choosing the right kitchen layout. STEP 1: SELECT A SHAPE For the most important step in deciding your choice of kitchen layouts, we'll introduce the 6 most popular kitchen layouts. So keep reading to find out more!
STEP 2: CALCULATE THE WORK TRIANGLE You could gauge the efficiency of a kitchen layout by calculating the work triangle. The smaller the work triangle, the fewer steps you have to take when you cook. The total length of the three sides of the work triangle (food preparation area, sink and range) should be no more than 26 feet. Click the video below to understand better.
STEP 3: CONSIDER OTHER FEATURES You could incorporate other options when choosing a kitchen layout. For example, opting for built-in appliances, setting up a counter or bar, or an island in the centre of the kitchen. Therefore, it's important to take your lifestyle into consideration when choosing your kitchen layout. 6 MOST POPULAR KITCHEN LAYOUT:
1. THE ONE WALL KITCHEN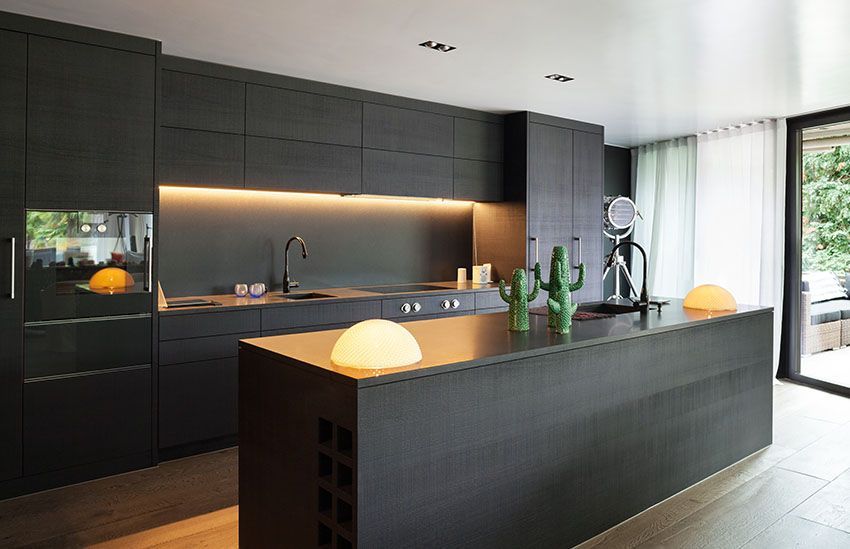 Don't get frustrated by a tiny kitchen space. The one wall kitchen is suitable for smaller houses and kitchens or even for the open space kitchen. Generally, it means "kitchens on one wall", where all appliances are arrayed along one wall. The layout is great for saving space while still looking elegant. Pros & Cons:
| | |
| --- | --- |
| Advantages | Limitations |
| Inexpensive | Resale values are lower |
| Easier do-it-yourself options | Having fewer countertops for cooking |
| Compact design | |
| Good workflow | |
Good news: Although it is quite limited in its option, it may feature an island parallel to the one wall kitchen.
Here are some examples of gorgeous designs you can get inspiration from: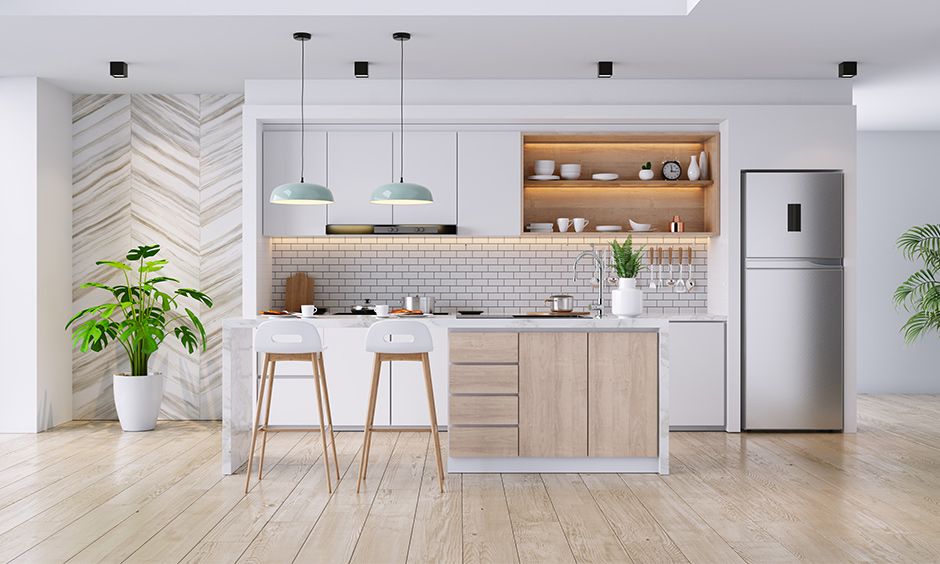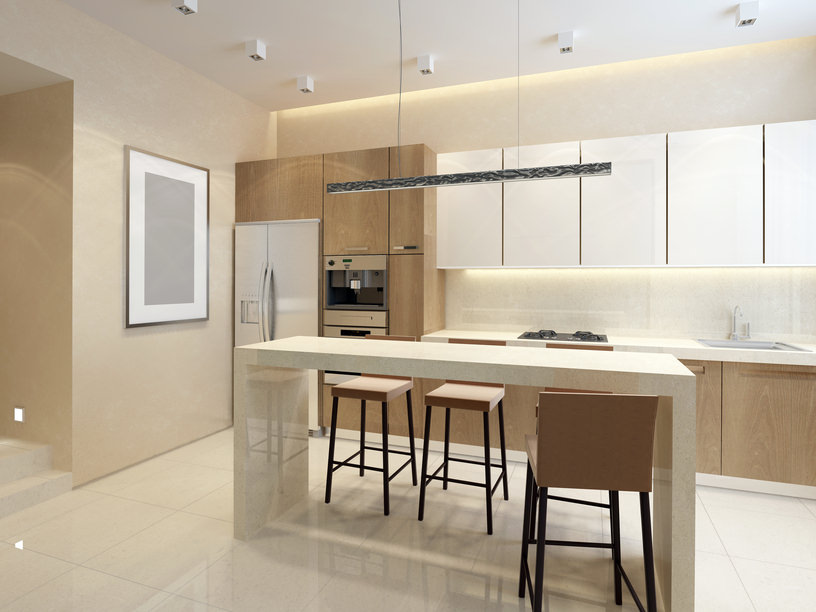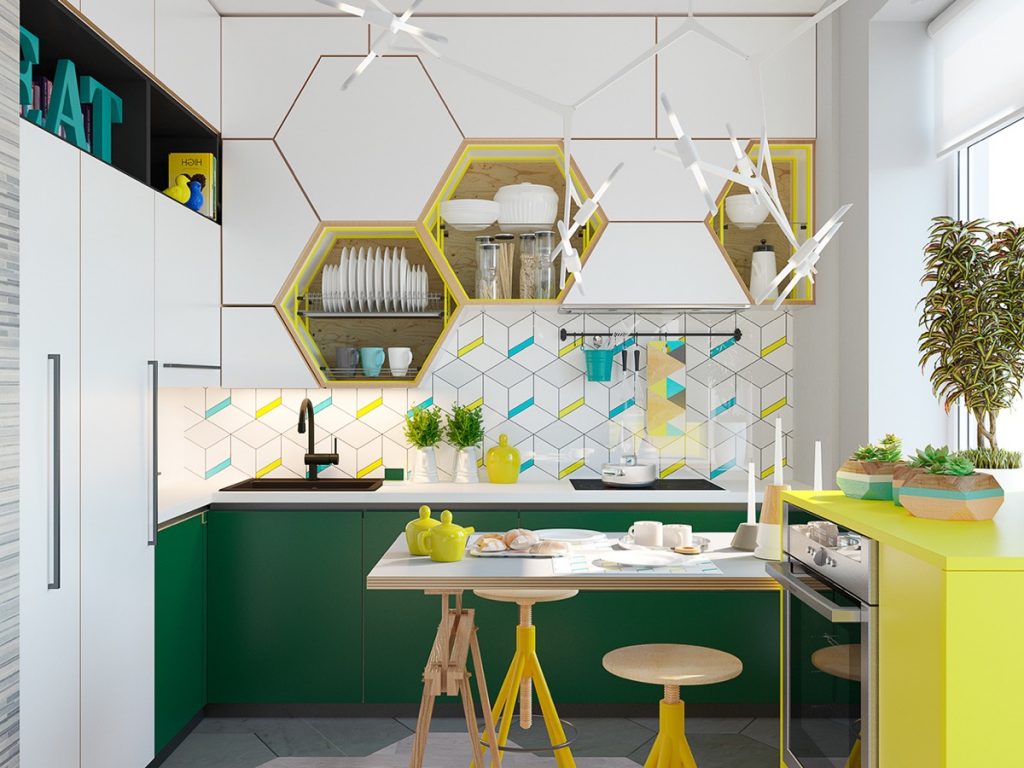 Having your ideas in mind now? Contact us now for a FREE consultation.
2. THE GALLEY KITCHEN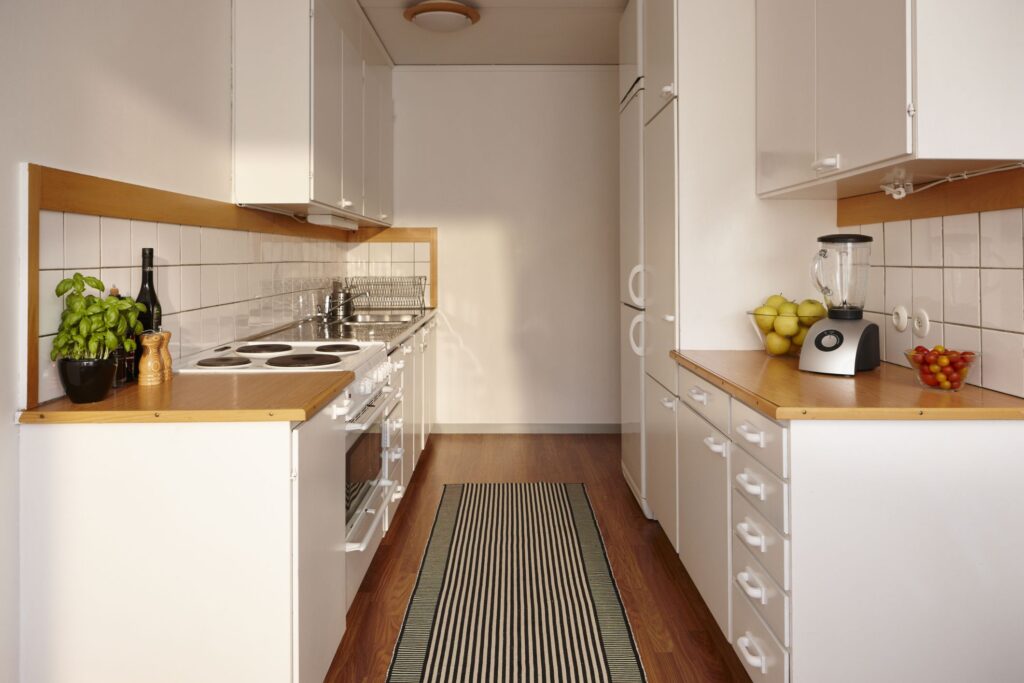 The name "galley kitchen" is derived from the kitchens on ships, in which two parallel countertops incorporate a free space in between. It is suitable for kitchen space which is narrow, long rather than wide. Pros & Cons:
| | |
| --- | --- |
| Advantages | Limitations |
| Save space for other rooms in the house | Lower resale value |
| Less expensive option | Limited countertops space |
| Less kitchen flooring needed | Tight for two or more cooks working at the same time |
| Ideal for do-it-yourself remodeling | |
Good news: In the modern days, it's possible to incorporate a dining area feature into these layouts. Check the photos below!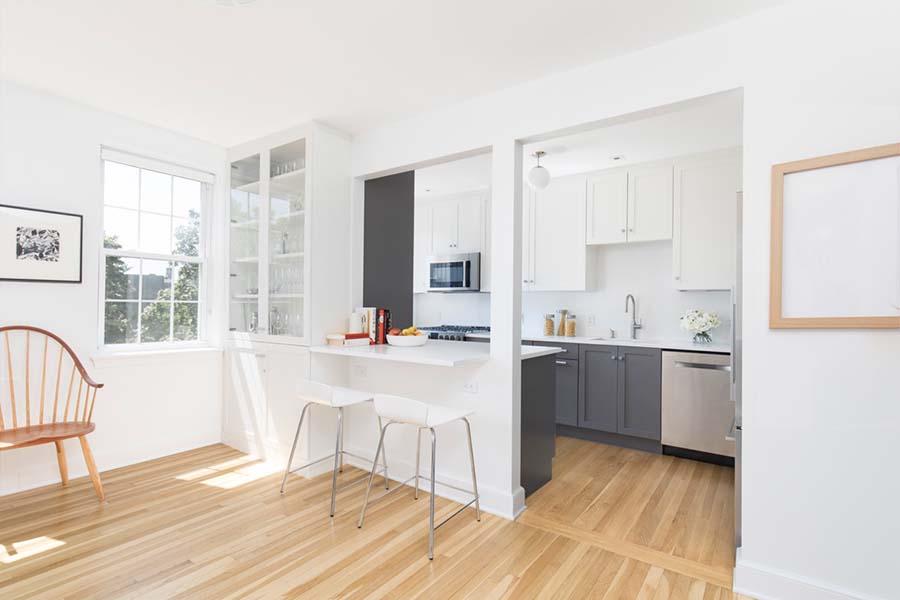 3. THE L-SHAPED KITCHEN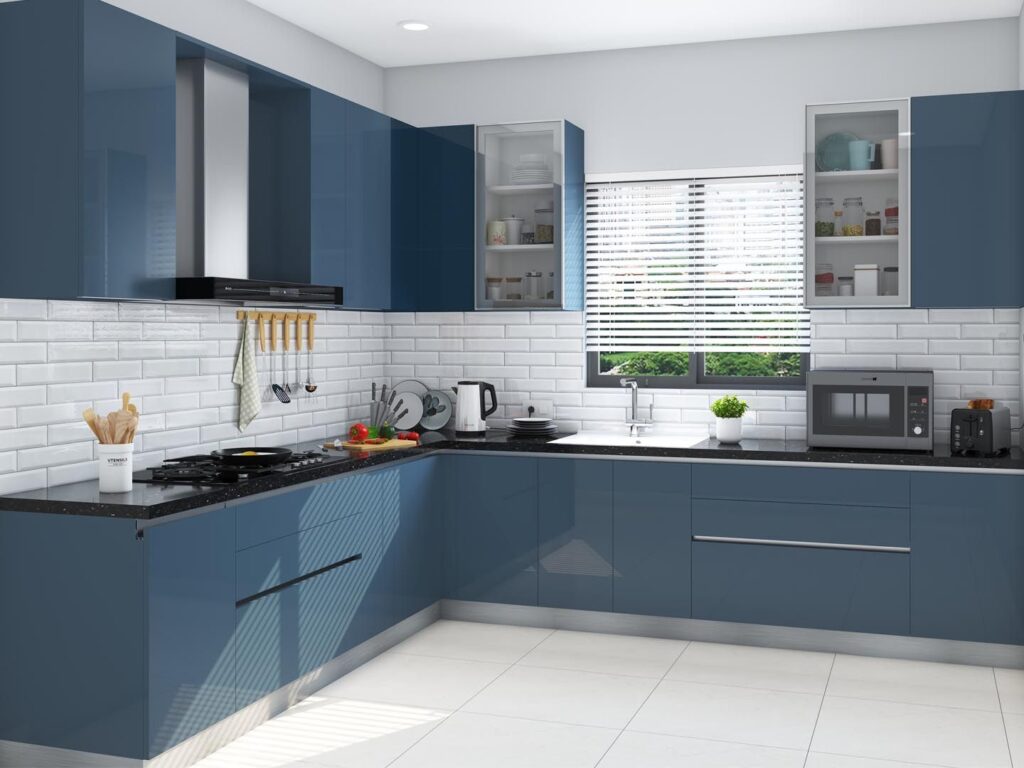 The L-shaped kitchen has cabinets along two perpendicular walls. This layout is popular nowadays cause it provides a lot of design flexibility. It is ideal for both tiny or larger space, whether in classic or modern style kitchen cabinets. Read also 10 Popular Kitchen Cabinet Designs in Johor, Malaysia. Pros & Cons
| | |
| --- | --- |
| Advantages | Limitations |
| Great for corner space | Not efficient for large kitchens because appliances are too spread out |
| Benchtops and cabinets can be adjusted to the length | Not as easy for multiple cooks |
| Minimal through traffic | |
| Perfect for open plan designs | |
Watch the video below here for some design inspirations.
For adaptable and functional yet stylish design cabinets, do consider Himmel ECO Kitchen Cabinet.

It has a wide range of designs customized to your budget! Click the green button below now.
4. THE U-SHAPED KITCHEN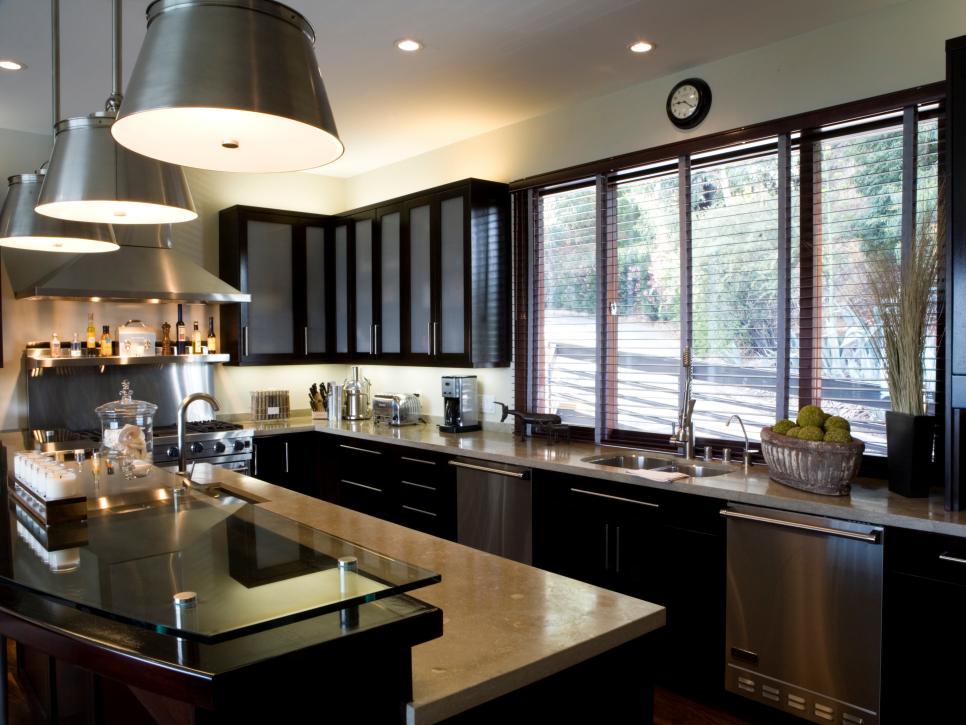 If you have a larger kitchen space, the U-Shaped is probably the most practical and ideal layouts compare with a galley kitchen or L-Shaped kitchen. It's the perfect example of the "work triangle" , thus it is regarded as the most efficient kitchen layout. You can easily move between your sink, cook-top and refrigerator. Pros & Cons:
| | |
| --- | --- |
| Advantages | Limitations |
| High-efficiency cooking | Using cupboards and benches on three sides can reduce the floor area |
| Two or more cooks can work at the same time | Bottom corner cabinets can be difficult to access |
| Have space for a bench | Work stations might be too far apart if the space is too large. |
| Incorporating a kitchen island keeps cooking social. | Might be too congested if the space is too limited |
Good news: Wish to have a U-Shaped layout for a smaller kitchen? No problem, just ensure you have at least 2 metres of moving-around space between the opposite banks of units.
Watch this video for U-Shaped design ideas.
Still confused whether you should get a U-Shaped kitchen? Worry not, Ampquartz team is here to help!
5. THE ISLAND KITCHEN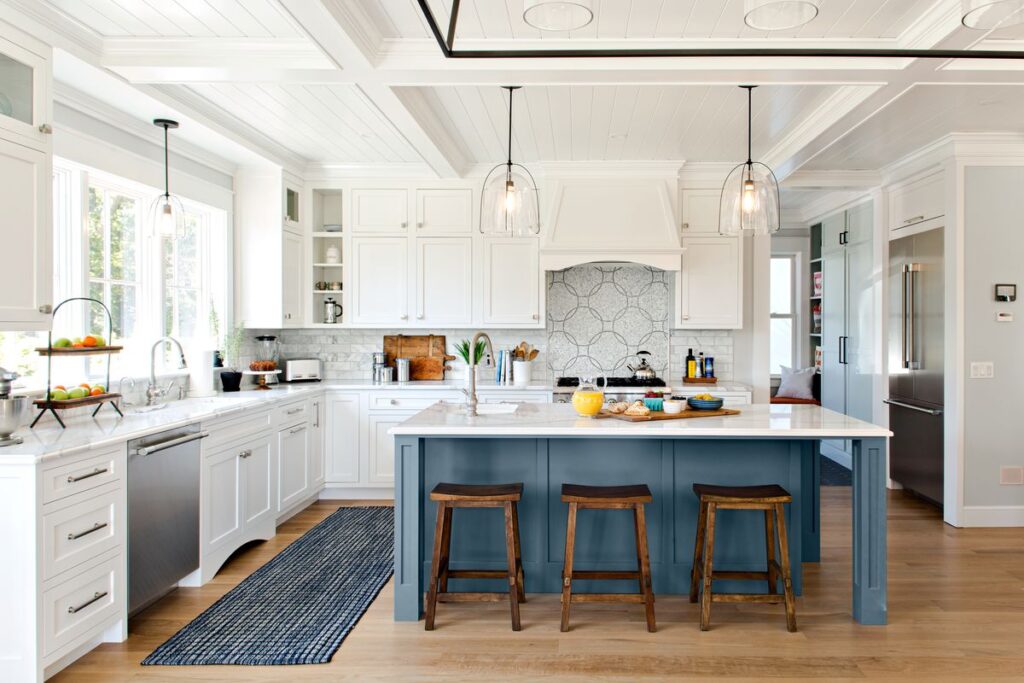 A kitchen island is a freestanding combination of cabinet and countertop, where it might be suitable for the one-wall, galley or L-Shaped Kitchen. Incorporating a kitchen island is useful in many ways, as a cooking area (benefit for family members to cook together), as a washing area or as an interactive place where family members or guests to get together.
Tips: You might don't need a kitchen island if you don't normally spend too much time in the kitchen. You could invest in a rolling kitchen tray instead that will give you extra counter space on demand.
Pros & Cons:
| | |
| --- | --- |
| Advantages | Limitations |
| Increases counter space for small appliances and prep space | Space constrictions in tight kitchens |
| Offers additional storage for cooking utensils and specialty tools | Additional cost needed |
| Adds seating options with bar stools or dining chairs along one or more sides. | Disrupts the work triangle |
| Becomes the heart of the kitchen and where everyone could interact | Centre of the kitchen might not suitable for wiring and venting |
This video will help you to understand the do's & don'ts for kitchen islands.
Still hesitating? Our expert interior designers can help you decide whether a kitchen island is your best bet. Contact us now!
6. THE PENINSULA KITCHEN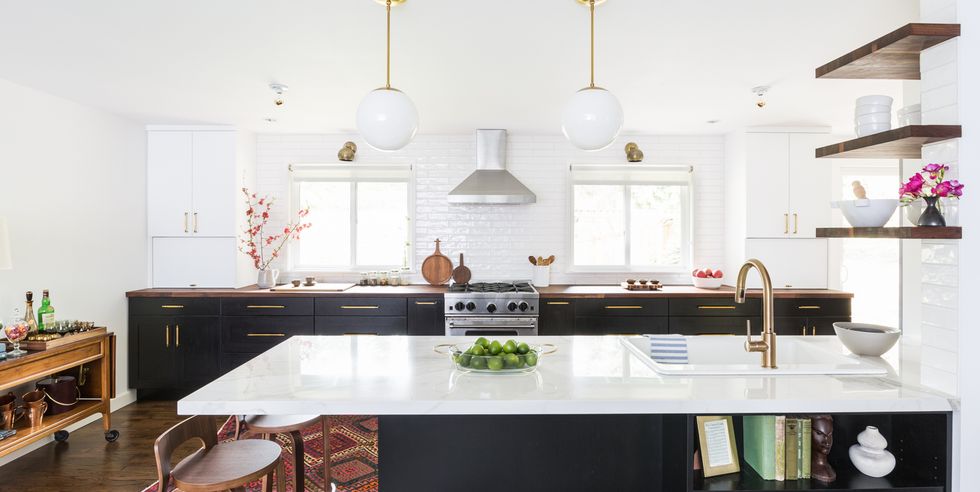 Is cooking your hobby? The peninsula layout is ideal for you. This layout is practical, versatile and a great option to modernize your kitchen. Generally, kitchen peninsulas are attached to one wall and offer an extension of the countertop. Therefore, Peninsulas take up less space than islands, while maintaining the same functionality.
Tips: The Peninsulas might be a better option for a smaller kitchen if a kitchen island is not a great option.
Pros & Cons:
| | |
| --- | --- |
| Advantages | Limitations |
| Better for smaller kitchens | Less effective for a larger kitchen |
| Preserves the open room concept | Limited access to the kitchen |
| Can act as a room divider for kitchen and living area | Difficult to access to cabinets and storage with a tight corner |
There're many ways to create a Peninsula Kitchen–a peninsula that serves as a table, with a work surface and storage, with a cooktop and sinks, or with a worktop and snack counter or table. Check the video here for different ways of design:
Visit our website now and download our FREE E-books for the ultimate guide to the kitchen.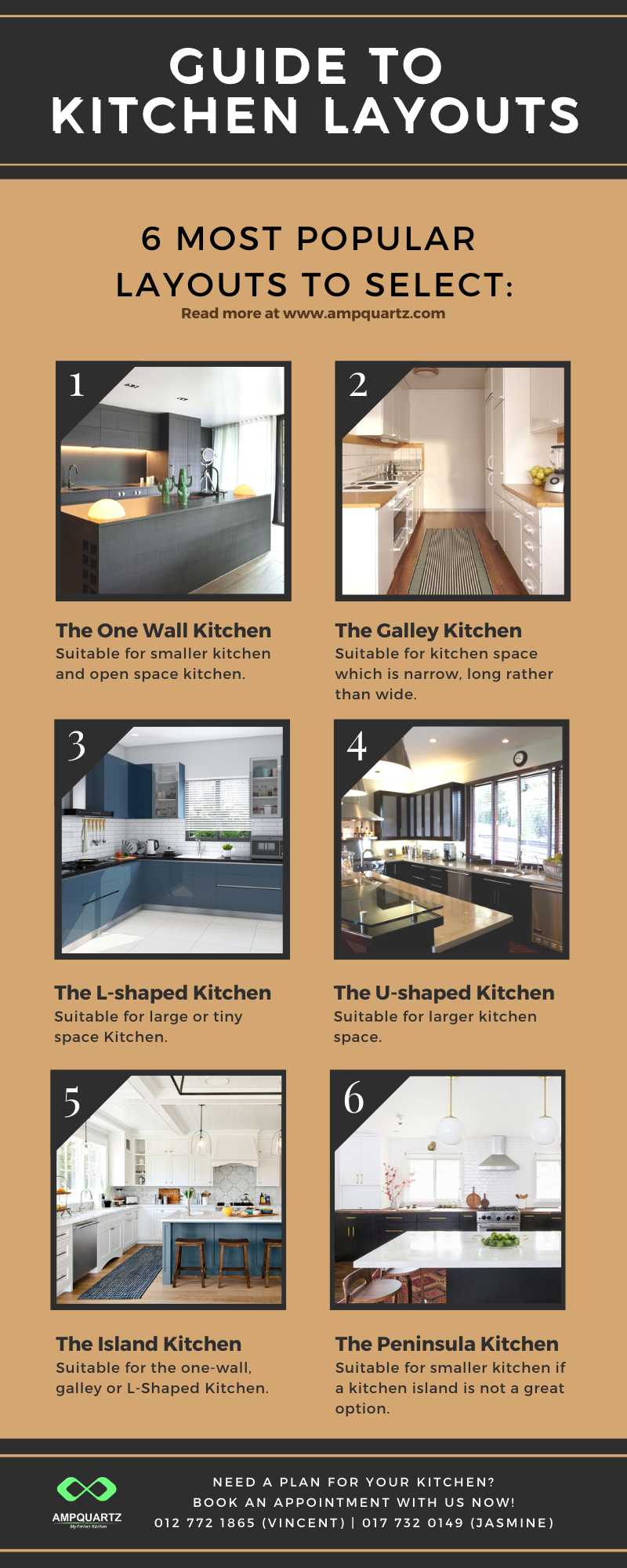 CONCLUSION
If you're still not sure which layout to choose, feel free to browse our portfolio for more ideas. Either you're ready to get started or still in doubt, don't hesitate to contact us at Ampquartz. We have been in the industry since 2008 with 10 years of experience in the realm of the kitchen renovation.
So whether you have limited space or larger space kitchen, our team of interior expertise is ready to help and bring your dream kitchen into real life.
CONTACT US NOW AT : +6018-7942927 (Ann Sin)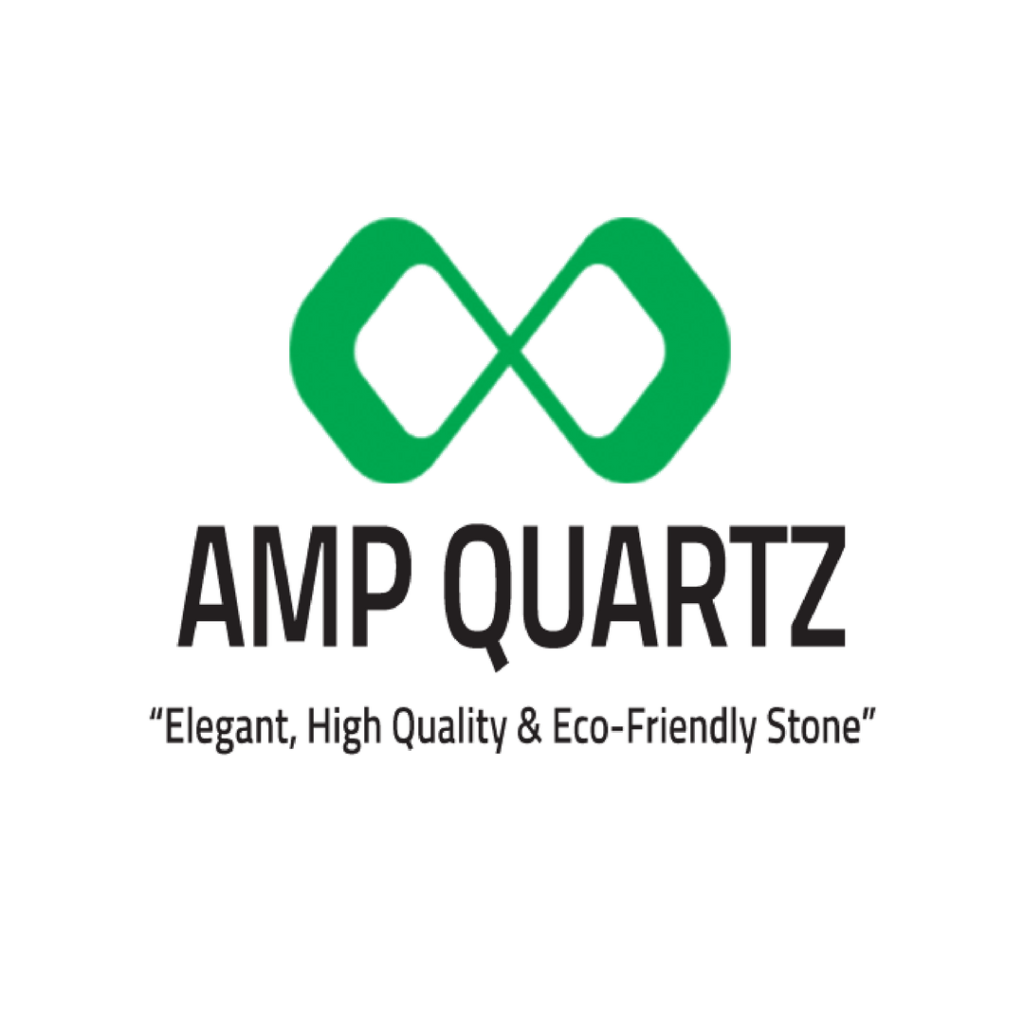 For related articles, please read: