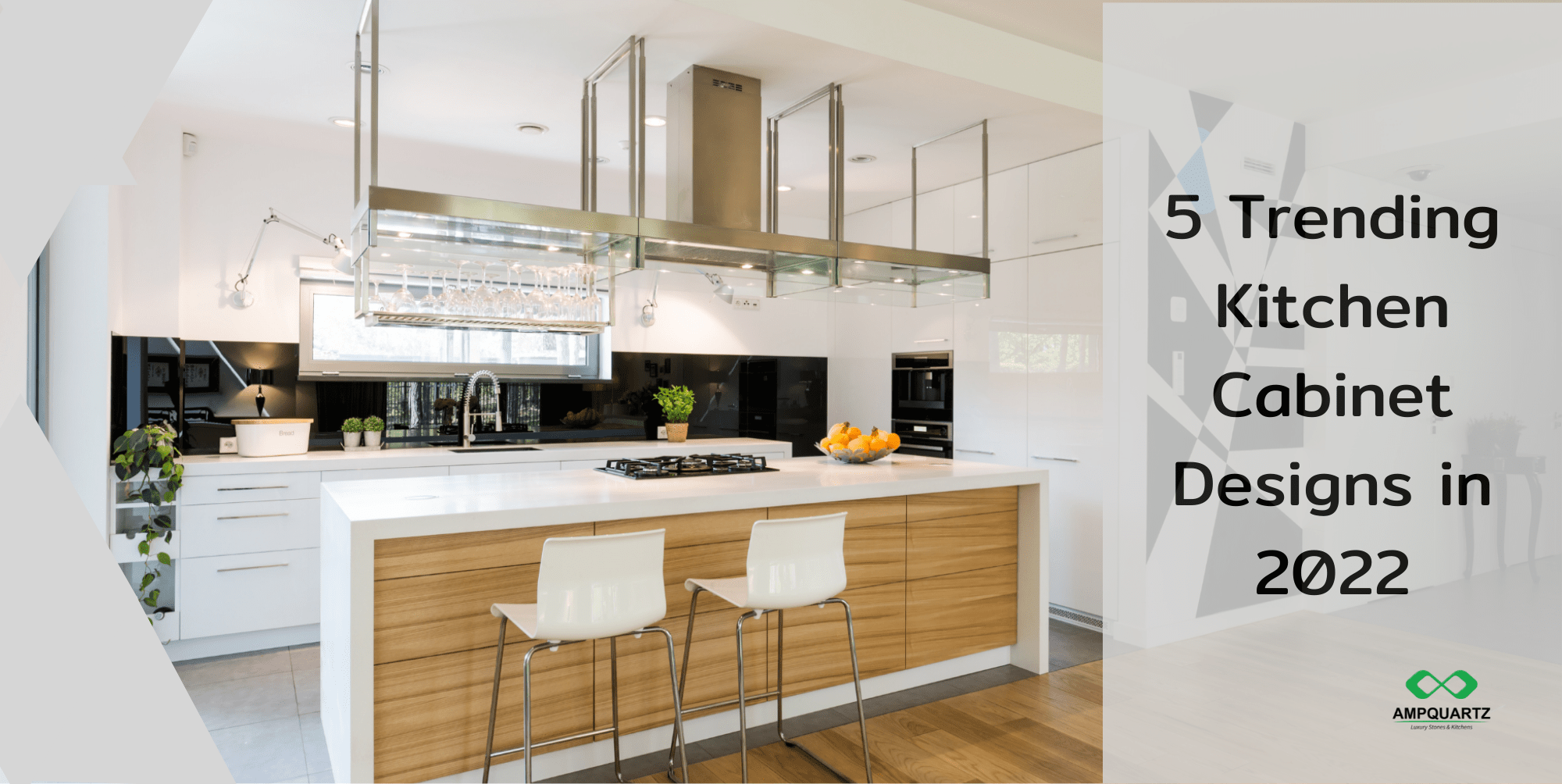 5 Trending Kitchen Cabinet Designs in 2022
Here, we are going to talk about the 5 currently trending kitchen cabinet designs that we would like to recommend to you for renovating your kitchen. After all, even if the kitchen design looks fine if the cabinetry is half-baked, it is not complete, as the upper and lower cabinets carry significant visual weight and greatly affect your kitchen's overall appearance.
Trending Kitchen Cabinet Designs 1: Gloss White Kitchen Cabinets
Gloss White Kitchen Cabinets are cabinets that have never dropped out of the list of trending kitchen cabinet designs. As it has a shining white surface that can reflect light around the room, which can easily make the whole kitchen look sleek and elegant.
In addition, the ability to reflect light has the effect to make small kitchens look larger in sight, which is ideal for small kitchens. Adding on, it is easy to clean.
However, with more light reflecting from cabinets and counters, any smudges or stains on the surfaces will be very obvious, and it will be a pain to continuously clean the surface to make it shine forever. Following on, gloss white kitchen cabinets are mostly pricy as it has that much of attractive benefits.
Trending Kitchen Cabinet Designs 2: Solid Wood Kitchen Cabinets
Solid wood refers to a cabinet built from cut wood that is not engineered or man-made, it is mostly made out of natural wood. These types of cabinets are highly expensive as they utilize natural wood, which is a pricy material itself, adding that the manufacturing process requires someone with a high level of skill to complete a qualified finished product.
Adding in, the wood is sensitive to moisture. When the moisture content in the planks changes due to local climate change, it will expand and contract, which results in the warping of the cabinets over time. There is a way to prevent this outcome but it cannot guarantee 100% prevention. Due to that, it will require a large amount of cash to maintain it.
Still, it is beautiful and luxurious as it gives a warm welcome feeling that makes you feel like you never left home, also wooden cabinets are easier to repair than ones made from other materials. If the tops get scratched, you can use some wood filler wax sticks to patch them up. You can also choose from many styles, colors, and finishes for your kitchen. Each item can be personalized and customized to your exact specifications.
---
Monthly Giveaway worth RM1,000 – Subscribe to Telegram now!
---
Trending Kitchen Cabinet Designs 3: Lacquer Painting Kitchen Cabinets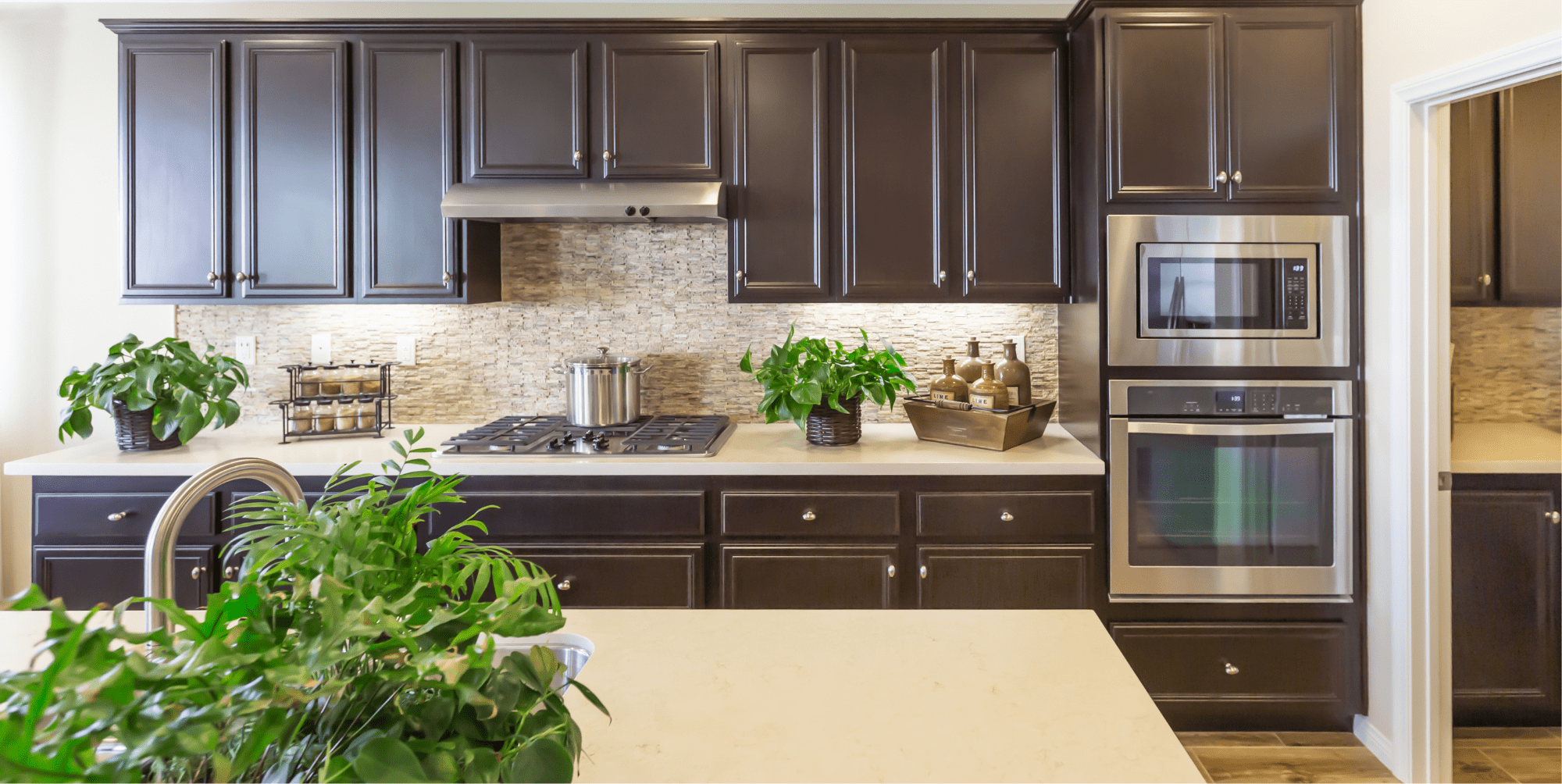 Lacquered cabinetry refers to a specific 2-pot paint system applied to kitchen cabinetry. It has been traditionally one of the most popular materials for mid-to-high-end kitchen cabinetry. Colour choices are endless and incredibly customizable for lacquered kitchens and have a luxurious glossy finish.
Lacquered cabinetry can last longer than other kitchen cabinet materials, it also penetrates deeper into your kitchen cabinets to create a durable surface. The seal protects the wood from the inside out instead of creating a hard top coat that will eventually degrade. Adding on, it is possible to recoat it, with that, lacquer kitchen cabinets can work with any variations of kitchen style.
Still, there are drawbacks to this type of kitchen cabinet, the obvious one will be that the imperfections on the surface can easily be seen, and if not applied properly, lacquer may blotch once dry. Therefore, the maintenance to keep it shining must be high level, which is considerably costly.
Trending Kitchen Cabinet Designs 4: Color Combining Kitchen Cabinets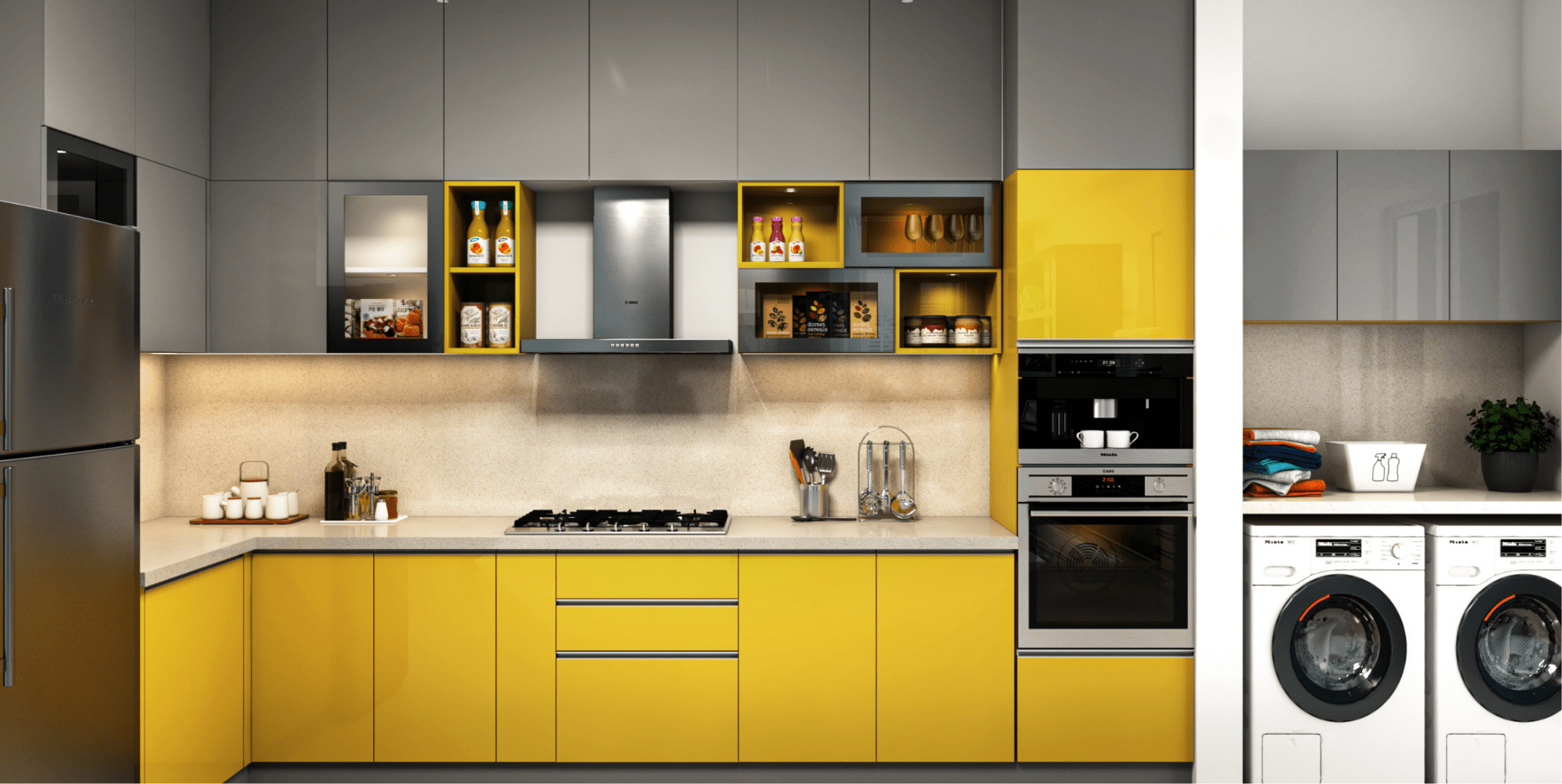 By using two or more cabinetry colors, homeowners can include more than one cabinet style or play with different preferences, which gives the kitchen a more unique personality. Mixing colors create a design story that is more complex even as all the elements mix for a seamless look.
Currently, most kitchen cabinets are using this style to make their cabinets look unique, and also to make up for each color's downside. A clear example is white and black, the white color does give the kitchen a bright color but is easy to get stained. Compared to that, black gives out an unpleasant feeling of loneliness but can shelter the stain and dust from public eyes.
Trending Kitchen Cabinet Designs 5: Melamine Kitchen Cabinets
Melamine starts with a compressed wood particle core. It is then covered with a resin and paper finish that can be manufactured to embody various styles and colors. Melamine is often used for cabinetry in kitchens, bathrooms, and other areas throughout the home.
Melamine cabinets are resistant to most of the problems presented in a kitchen, as it has a tough outer coating, and their coating is easy to clean. Following on, melamine is a synthetic material, it can be produced with an almost endless number of finishes, you can choose the style that suits your kitchen easily.
Unlike solid wood, it is relatively cheap and contrary to solid wood that can vary in grain patterns and color, even within the same order, melamine offers a consistent finish since it is manufactured in a controlled setting. However, it can be heavy and hard to install. This includes the disadvantage of melamine being susceptible to water damage and can chip.
---
Monthly Giveaway worth RM1,000 – Subscribe to Telegram now!
---
If you have any doubts, CLICK HERE to find more detailed information on the different types of kitchen cabinets and AMPQUARTZ is always here for your queries. We provide the best marble in Johor Bahru and we are the best for a reason. We are the most qualified individuals to assist you with your current issue, so schedule an appointment with us right now to get started!
Here at Ampquartz, we can provide you with the perfect information with better suits your kitchen.
Do contact us to get FREE CONSULTATION.
Related articles that might entice you