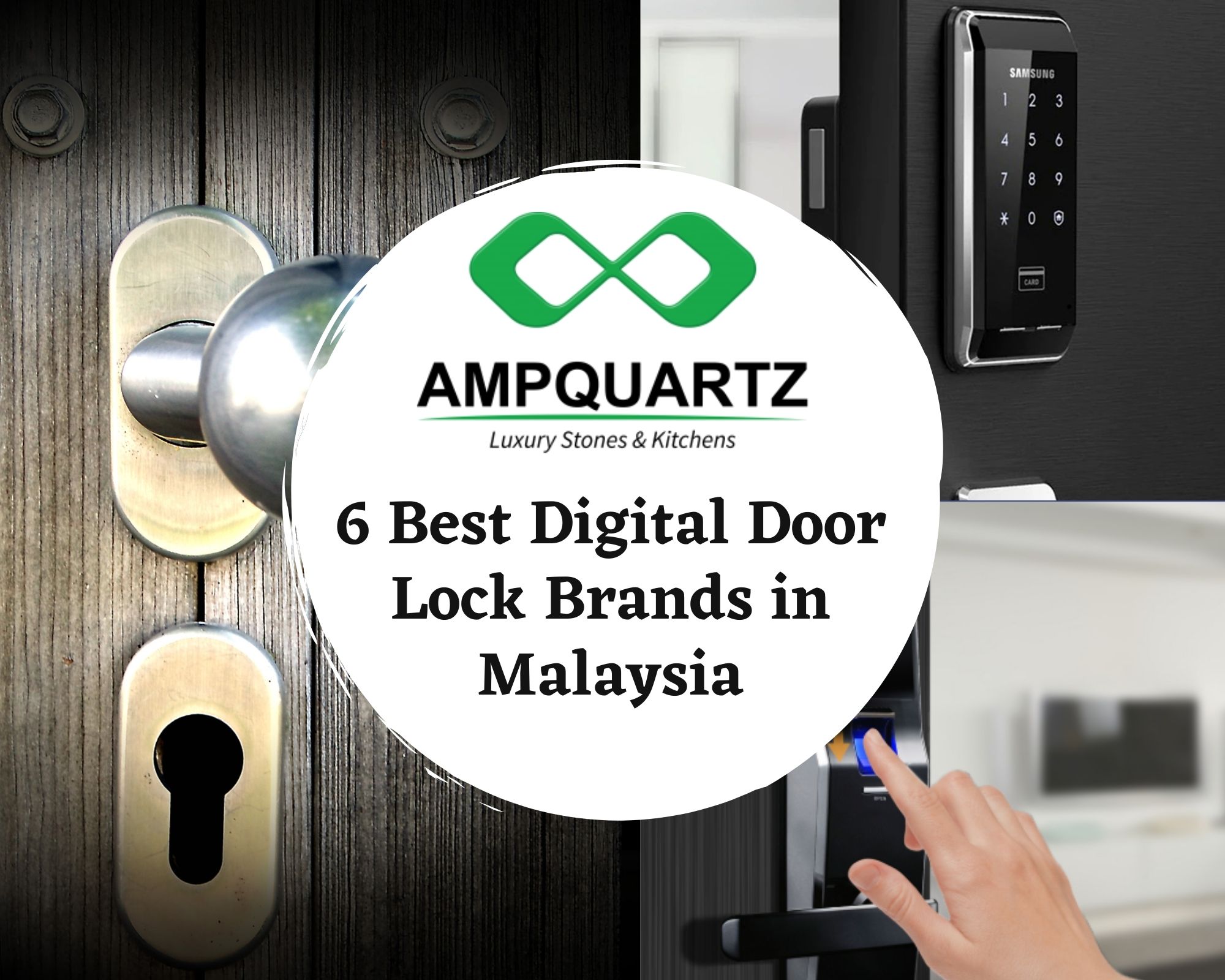 6 Best Digital Door Lock Brands in Malaysia
6 Best Digital Door Lock Brands in Malaysia
As we move into an era with more technology breakthroughs, security such as home, smartphone or laptop should always be our first priority. Malaysian producers have utilized this technological development in Malaysia by spending a great deal of time and money on injecting the digital door lock into contemporary houses or residences. These digital door lock devices help protect us and our property. As a result, the way people live their lives has been changed unexpectedly. So, if you are a forgetful person living a fast-paced life, this post will be fascinating for you.
To assist you in making the decision, we are delighted to introduce the best 6 digital door lock brands in Malaysia and offer a quick overview of all the brands.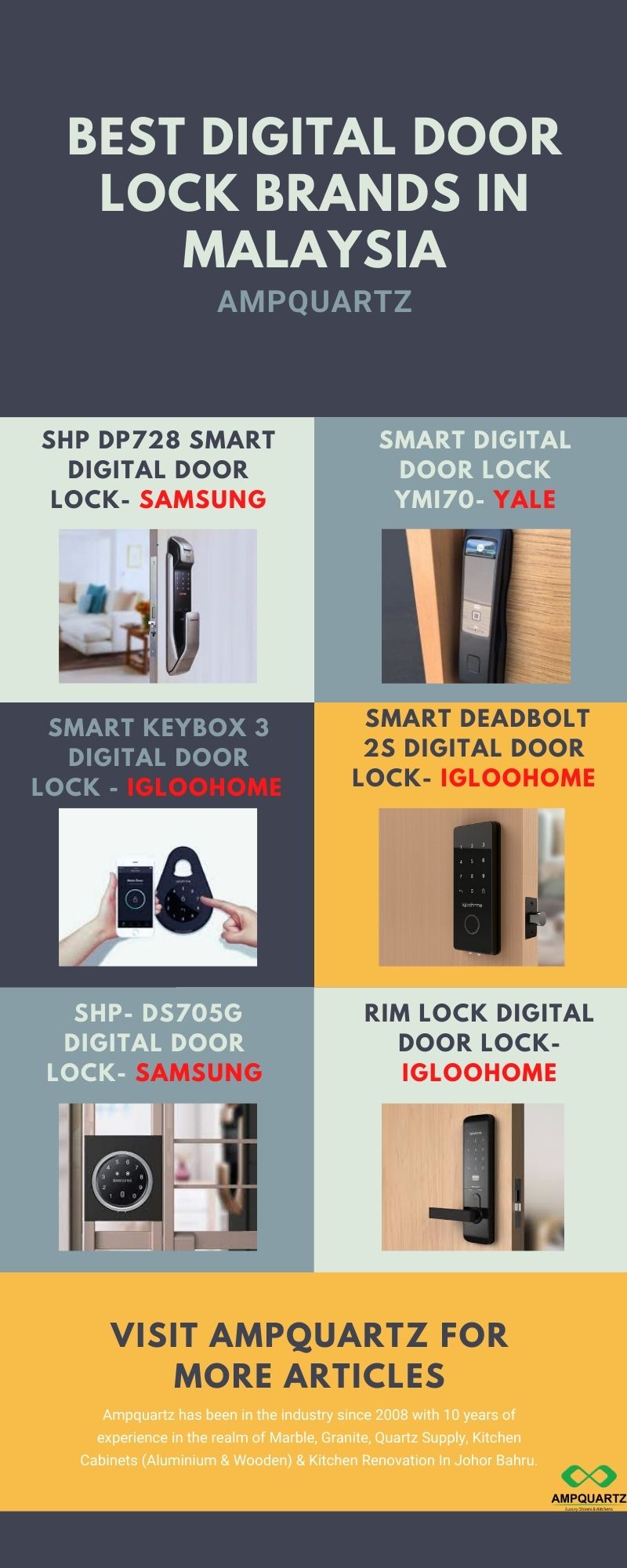 1. SHP DP728 Smart Digital Door Lock- Samsung
It is always reasonable to believe that Samsung is a technological specialist from smartphones to computers and, of course, smart digital door locks are not short of the mark. If you're too used to fingerprint and RFID cards, this Samsung digital door lock includes spectacular access alternatives other than fingerprint, and RFID cards such as override key and Bluetooth. Imagine you're traveling abroad, but you can still utilize the Bluetooth feature to ensure your home safety. It's too incredible to imagine!
This Samsung digital lockset also has additional characteristics such as
i ) Break-in alarm
ii) Real-time notifications
iii) Pull and Push mechanism
2. Smart Digital Door Lock Ymi70- Yale
What do we most expect of a digital door lock brand? Yes, convenient. This brand Yale Digital Door Lock enables us to quickly and conveniently lock and unlock our doors. We can run into our house immediately by unlocking our doors with only one touch biometric security scan. Additionally, Ymi70 also contains other features like:
i) PIN number
ii) Yale app
iii) Multiple access
This digital door lock also enables us to input FAKE pin passwords in order to avoid our passwords from being revealed to outsiders. The alarm mechanism in this digital locker will also function swiftly if someone tries unlawfully to enter our house.
3. Smart Keybox 3 Digital Door Lock – Igloohome
As the name implies, this digital door lock is a smart box that holds home keys, automobile keys, access cards, and more for convenient access. If we want to give a key, access cards, or car keys to a friend or relative, we can simply store them in the Keybox.'Time is more precious than gold', they (friends or relatives) don't really have to download the application to get access, since we can just send them the PIN numbers through WhatsApp, WeChat, Text Messaging and others
Due to its size, the Keybox digital lockset is suitable for parts like doorknobs, handles, and even fences. Alternatively, we can also utilize it as a digital lock for grill door. This Keybox digital lockset additionally includes improved resistance to the elements, such as:
i) Resistant to scratch
ii) Resistant to dust and light rain
iii) Resistant to impact
4. Smart Deadbolt 2S Digital Door Lock- Igloohome
If you are a minimalist, this Deadbolt 2S digital lockset is undoubtedly one of your options. Why? This is because this digital lockset is sleek and basic in design, yet it offers more than sufficient functions. Because the Deadbolt 2S includes a digital lock application, we can enjoy features that are typically only available in Wi-Fi compatible locks! However, this Deadbolt digital door lock can still perform without an Internet connection, enhancing its safety and dependability against Wi-Fi hacking.
What are the techniques for unlocking Deadbolt 2S Digital Lockset? We can use:
i) PIN code
ii) Bluetooth keys
iii) Physical backup keys
5. SHP- DS705G Digital Door Lock- Samsung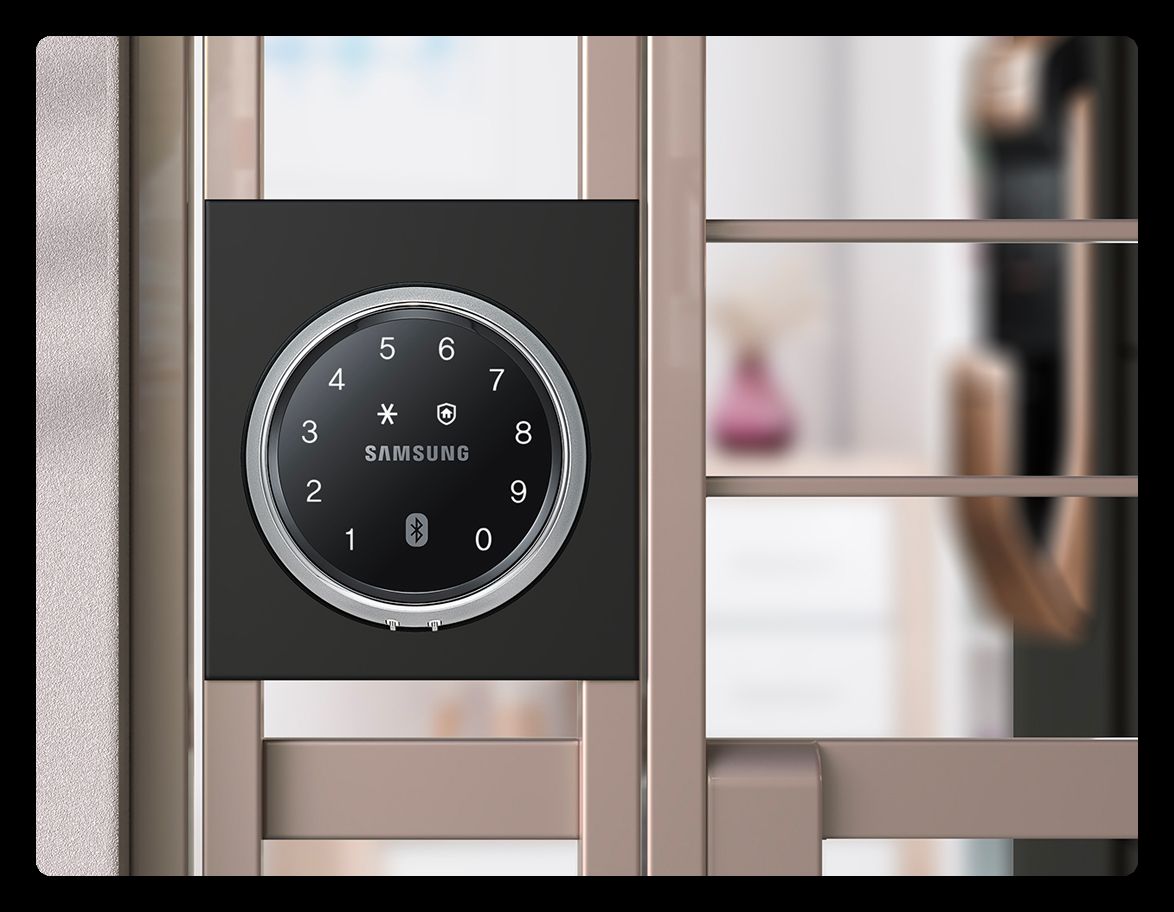 In contrast to other conventional door locks, this Samsung digital door lock is a digital lock gate with more than sufficient access ways such as:
i) Bluetooth access
ii) RFID card/tag
iii) PIN code
iv) Remote controller
So, if we have a family with children, this digital door lock uses a smartphone notification to notify us when our loved ones have safely returned home. With its Bluetooth characteristics, we can also unlock our doors for guests simply by just clicking our smartphone. If required, we can also track who is coming home and what time. For those careless, the auto-locking feature will do the door locks for them. This means that they can rush out of the house and enjoy the party without worrying about leaving the door open.
6. Rim Lock Digital Door Lock- Igloohome
If we live intelligently, life is always easier. In combination with a Bluetooth key fob, this Rim Lock will be unlocked with a button push. No more fiddling with multi-key or having an unlocked gate. There are several ways to unlock this digital door lock, for example:
i) PIN codes
ii) RFID cards
iii) Bluetooth key fob
This Rim Lock works offline and is, therefore, more resistant to Wi-Fi hacking and unreliability. Without any exception, this Igloohome equipment works with the Igloohome mobile app and thus we are able to access our properties whenever we want.
There are a lot of Digital Door Locking brands on the market, we just have the tip of the iceberg covered. If you have any doubts, CLICK HERE to find more detailed information on digital door locking and AMPQUARTZ is always here for your queries. We provide the best marble in Johor Bahru and we are the best for a reason. Book your appointment now to start.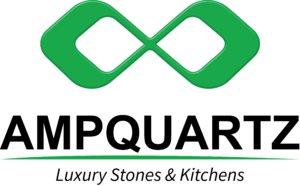 Here at Ampquartz, we can provide you with the perfect digital lockset with better suits your home.
Do contact us to get FREE CONSULTATION.
CONTACT US NOW AT : +6018-7942927 (Ann Sin)