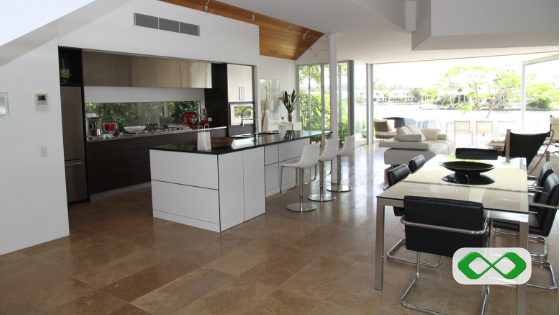 5 Modern Kitchen Essentials You Need to Know!
A modern kitchen is
any homeowner's desire
. Interior designers always suggest the kitchen should be the
most updated room
in any home.
Isn't there a
sense of pride
you get when you have a
beautiful and modern kitchen
?
You end up wanting to use it and entertain guests more. The answer is obvious. To have and maintain a modern kitchen, it needs constant
up-to-date facelifts
.
But, even with remodel or makeover, your kitchen may not seem as modern.
To really get the modern feel, your
appliances
have to be
updated and modern
too. So, here are
5 modern kitchen appliance essentials
HGTV worthy modern kitchen.
1. Chic, contemporary Integrated Sink Dishwasher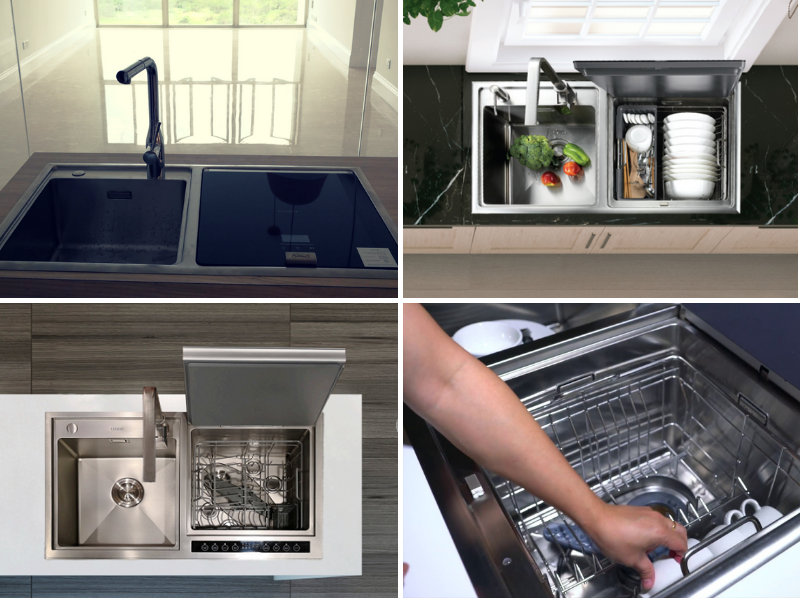 Ever wonder how to achieve the modern kitchen look through appliances? Nothing screams modern like
combined purpose and integrated appliances
! They
exude modernity
with added design consideration. Gone are the days of one appliance, one purpose. That takes up a lot of space. Something which is a scarcity in any modern city. So, most modern appliances serve
multiple purposes
.
Most dishwashers serve a single purpose to merely wash dishes. However, OBRO has taken into consideration that a sink needs to go hand in hand with any dishwasher. So, OBRO created a
chic multipurpose integrated sink dishwasher
.
Swiftly rinse off scraps then load up the toploading dishwasher. Press a few buttons and voila!
Bye-bye mess
!
What is a modern kitchen without a dishwasher? Why trouble yourself when technology has overcome that problem with a
convenient solution
?
So, leave behind the
drudgery and hassle
of manual washing.
Also, leave behind the
space-eating bulky
old front-loading dishwasher.
This
compact, sink cum dishwasher
will
do the job
for you. All while
looking amazing
in your home and
saving you precious space
.
Also, bask in the added
convenience
of having the sink literally attached to your dishwasher. No drips or having to rinse then bend to load your dishwasher.
The OBRO Integrated Sink Dishwasher is all
ergonomics and style
.
It's
highly contemporary
as it's fitted with
all new tech
and a
beautiful body
.
Reduce breaks, enhance wash quality, and save time and water. Get it and have your kitchen look modern, chic, and clean.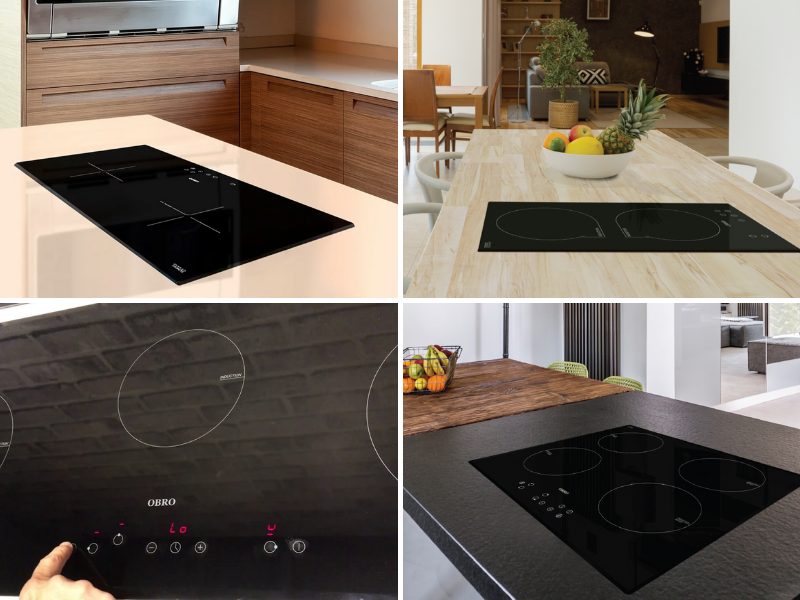 Modern or not, what is a kitchen without a hob? In terms of modernity, hands down
induction
will
surpass gas or electric coil
. It's in.
OBRO has a sleek line of induction hobs
only fitted with
the latest tech and design
.
With OBRO you get an
eco-friendly, non-toxic and cutting edge
cooker hob.
Get the
essential cooktop
you need for delicious home-cooked meals. With
all the added benefits
. Inductions cookers are also more
convenient
. As they
save a lot of time and energy
compared to conventional hobs. Induction hobs are far more
efficient and safe
.
OBRO's induction hob line comes in two, three or four-burner options suited for
any
cooking
capacity
. All OBRO hobs have a
9-stage power setting
and a
99-minute timer
to precisely give any required cook.
The hobs also have
auto switch off
and a
safety child lock
. This is to prevent accidental burns and keep your little one(s) safe.
Induction cookers are a
modern and safer
option. Gas hobs emit contaminants that may be detrimental.
They also add the risk of burns within your home and aren't generally user-friendly.
The black glass-ceramic from German SCHOTT CERAN is
extremely durable
. It looks simple yet exquisitely
contemporary and modern
. It has a look that
never goes out of style
. You can pair OBRO's black induction hobs with anything. Their hobs are
style chameleons
sure to fit into any
countertop
and blend with any cabinet style.
3. Wholesomely vigorous air with a high-performance Island, Range or Downdraft Hood
It's standard HSE practice to have a hood in your kitchen to accompany your hob. Keeping
inside air clean and cool
while
minimizing odour
is necessary. A modern kitchen covers all bases so it needs a contemporary hood to match the induction hob.
OBRO has a great range of
beautifully designed
powerful hoods.
Get all the modern kitchen aesthetics
without compromising functionality
. OBRO's hoods are guaranteed to not only serve you functionally but as a
showpiece
too.
OBRO's
elegantly designed
hoods offer
tremendous extraction solutions
. They have
advanced filtering systems
and
powerful 1000m3/hr airflow
.
Their hood range removes moisture and contaminants from the air, as well as filters out the smell.
Besides that, it fights mould and grease build-up.
Maintain
comfort and health
within your home with superior air quality. All while having an added
chic decor
piece to your modern kitchen.
OBRO's hood
range also provides you with added
security and convenience
. Its stainless steel and tempered glass body give added
durability and longevity
.
Also, its body enables
easy swift cleaning
. The electronic controls are also so
easy to use.
Therefore, any modern kitchen needs a functional hood. Health and wellbeing are all the rage now. OBRO's hood range
maintains
wellbeing and convenience while looking
madly sleek
.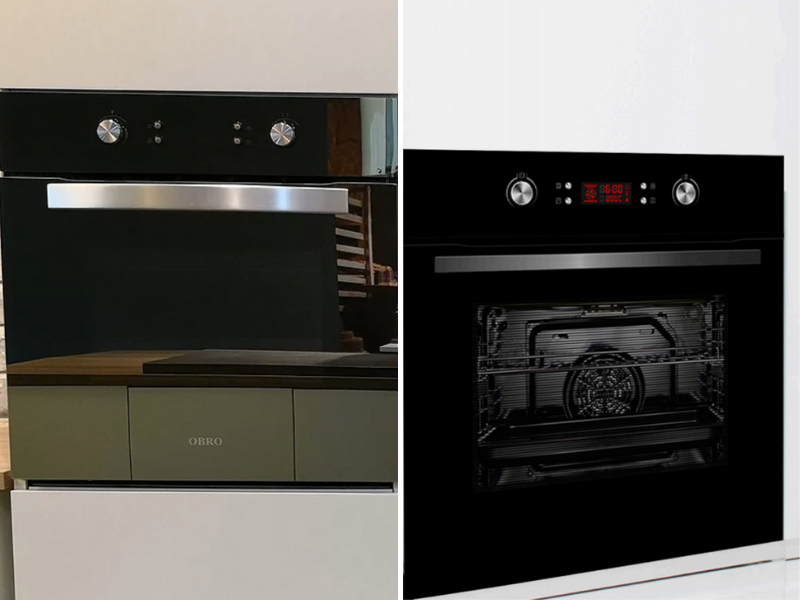 A modern kitchen is incomplete without an oven. Any modern kitchen covers all bases. So, it has to be equipped to cook any kind of meal. No oven means an incomplete kitchen. What better oven to equip your kitchen with than the
OBRO pyrolysis oven
.
Boasting modernity, this oven uses pyrolysis
self-cleaning tech
.
It offers ultimate
convenience and ease
in the kitchen. Have your cooking and cleaning time dramatically reduced. This
powerful
self-cleaning oven
saves time and energy
. The oven has
multiple premium functions
.
All enhance cooking experience and improve food quality.
The sleek and modern oven is
big
too. It has a 70L capacity, enabling you to cook any amount of food you desire. The oven has a
four-layer cooling tinted glass exterior
.
The oven door is
soft closing
and
fully telescopic
so you can watch as your food cooks in your modern kitchen.
Enjoy fully
digital control
and
high power performance
. This oven has
up-to-date technology
compacted into a sleek package. It blends seamlessly into any kitchen and
looks exquisite
.
5. Comprehensive and functional incorporation modern kitchen cooker Systems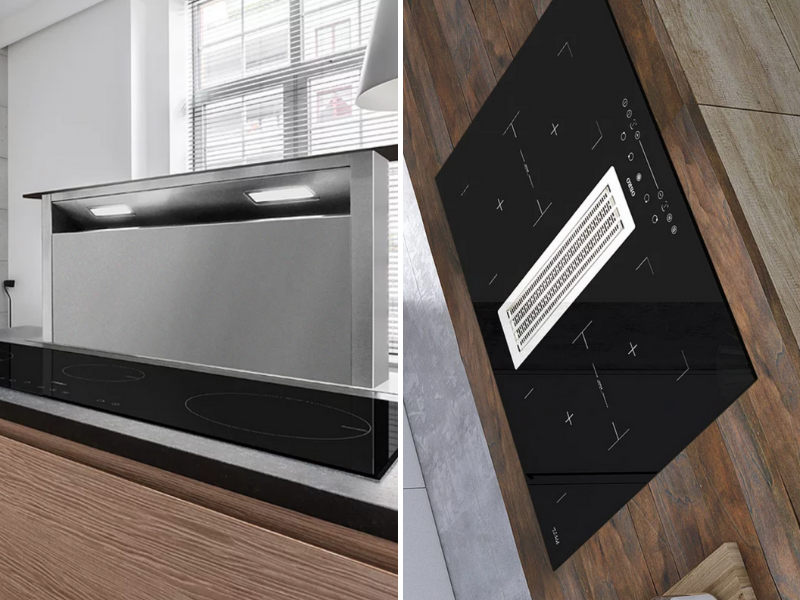 One thing that's making waves in the kitchen scene is kitchen appliance systems.
Never heard of it before?
Because it's the future. Kitchen cooker systems are
paired appliances
to
ease cooking
.
OBRO offers cooker systems that are
induction hobs paired with ventilation
.
OBRO offers two different system recommendations. They are the
OBRO Downdraft and Downair Cooker Hood System
. The modern induction hobs are intelligently paired with high-power 1000m3/hr airflow ventilation. Nothing screams modern like combined purpose and integrated appliances right?
OBRO's system recommendations all
comprehensively
serve their purpose
.
All while
looking sleek
in any kitchen. Their products are fully stainless steel and high-quality glass-ceramic. These systems guarantee durability. You get all the
aesthetics
with no compromise in
functionality
.
Cook with ease
and comfort
.
OBRO's kitchen system recommendations brilliantly pair
new materials
and
up-to-date tech.
They smartly incorporate
functional aesthetics
. For example, through hidden outlets and a retractable or concealed hood boast modernity. Reap ultimate
convenience and ergonomics
while cooking.
Basics in any modern kitchen are
modern appliances
and
sleek decor.
OBRO has an
extensive catalog
filled with
high-end products
. All exceed market competitors.
OBRO products are
ahead of their time
. OBRO brilliantly combines
efficiency
,
style, ergonomics
, and
smart living
. The innovative lifestyle and elevated kitchen experience are yours with OBRO.
CONTACT US NOW AT : +6018-7942927 (Ann Sin)