5 Beautiful Kitchen Design Ideas You Want to Know
5 Beautiful Kitchen Design Ideas You Want to Know
Whether you're a culinary fanatic who spends half a day in the kitchen or seldom goes beyond ramen noodles, your kitchen is the foundation of your whole house. While everybody's kitchen requirements and expectations may vary, the kitchen typically acts as the centre of the house, where relatives and friends may meet to enjoy food, tales, or even a bottle of champagne. That's why it may be so difficult to acquire a suitable kitchen.
But never think that your kitchen needs no attention before it starts to be designed. In reality, the kitchen is the area where you have to design adequately because it is arguably the most widespread area in your house, and you want to spend time in it.
The most important thing to remember is functionality when it comes to building your perfect kitchen. You can have a gorgeous kitchen design, but you'll still be a "loser" if it is not functional for you.
Feeling complicated? Not a problem. We're here to help.
1. Be

extremely smart

about the materials used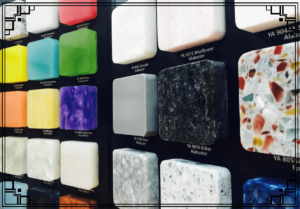 Everybody uses their kitchens for different reasons and purposes, so make sure that you select materials that match your lifestyle.
If you're a parent of small kids or someone who might spend practically half a day in the kitchen, search for sturdy, enduring and cheap materials. If you cook frequently on the stovetop, select a backsplash that is easily cleaned. When you construct a customized kitchen, consider the arrangement of your cabinets depending on the way how you use your kitchen.
The same goes for your kitchen colour. As long as you choose a colour that you are comfortable with, then you are good-to-go.
2. Add

indoor plants

to your kitchen design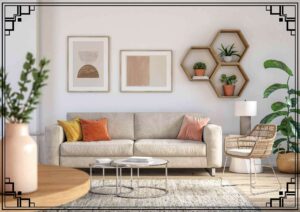 The addition of some fresh and green plants to your kitchen not only makes the kitchen more gorgeous but also enhances the calm mood. A study also found that simply bringing a plant inside the kitchen will lower your stress and anxiety.
The plants should, nonetheless, not demand too much of our time and effort. Choose a few indoor plants that are easy to care for, such as spider plants, peaceful lilies, cactus, lavender, etc.
This increases the quality of the air in the kitchen or the house in general, and also improves our performance in the kitchen.
3. Never underestimate the

importance of lighting
For every part of our house, especially the kitchen design, perfect lighting is vital. It doesn't mean, however, that you have to build the kitchen in the most light-filled area. Just imagine you are chopping veggies or washing dishes with a lamp shooting into your eyes. You'll surely be influenced.
Choose a spot with abundant natural light and, if required, the views too. This may be accomplished by placing our wardrobes, worktops or cupboards facing glass doors, windows or an area that does not impair our sight during kitchen operations.
A recent study demonstrates that great kitchen lighting and views not only allow us to relax better but also boost the efficiency of the kitchen by about 5 to 40%.
Great lighting and view help us feel more comfortable, isn't it? Why don't we try it?
4. Conduct some

research
In order to make the right option and one that you will never regret, the best method is to do some internet research. This can be applied to any part of your kitchen, including appliances, backsplashes, cabinets, countertops, cupboards, and so on.
Take into account that you can reduce second thoughts and regrets by getting acquainted with all the magnificent materials, equipment, and technology on the market. If feasible, visit dealerships or showrooms, and spend time learning about the multitude of possibilities, as each decision you make on the choice will impact heavily on the remainder of the space.
It may be difficult for you to turn your ideal kitchen into reality if you don't know what is available in the marketplace. And sure, you have no such concern if you employ an expert.
5. Kitchen

Island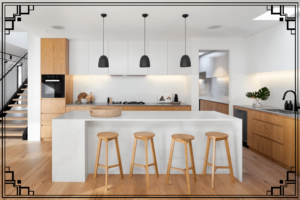 In early 2020, the kitchen island idea was readily adapted by most homes, guaranteeing that the family could prepare, eat and spend quality time in the same room together. In 2021, the demand for kitchens island continues rising.
A recent survey reported that almost 85% of the participants prefer to have a kitchen island in their homes. While the kitchen island makes up 14 per cent of your kitchen area, Tom Howley, the management of Creative Directors, claimed that it will enhance 90 per cent of the usage.
Thus, if possible, do install a kitchen island concept as they serve as impromptu dinner tables, bars, home offices and food prep stations. Sometimes they all happen at the same moment.
There are, however, many beautiful kitchen design ideas, we just have the tip of the iceberg covered. If you have any doubts, CLICK HERE to find more gorgeous kitchen island design ideas and AMPQUARTZ is always here for your queries. We provide the best marble in Johor Bahru and we are the best for a reason. Book your appointment now to start.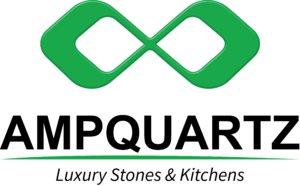 Here at Ampquartz, we can provide you with the perfect information with better suits your kitchen.
Do contact us to get FREE CONSULTATION.