5 Great Reasons for You to Remodel Your Kitchen
5 Great Reasons for You to Remodel Your Kitchen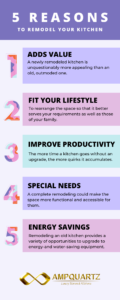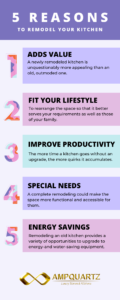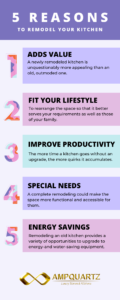 Whatever the size of your kitchen and no matter how much time you spend in there each day, remodeling your kitchen is a necessity! Maybe you've been considering remodeling your kitchen, but you can't come up with a compelling reason to do so. The truth is that remodeling your kitchen on a regular basis has several advantages.
Cooking and prepping meals isn't the only thing you do in the kitchen. For the sake of strengthening ties within the family, everyone meets here and engages in friendly banter with one another. In other words, there are many different reasons for remodeling, so don't be shocked if your friends and family don't share your enthusiasm for undertaking a kitchen makeover project.
We've outlined five compelling reasons to remodel your kitchen in this post, and we think you'll agree with most of them. Read on to find out more.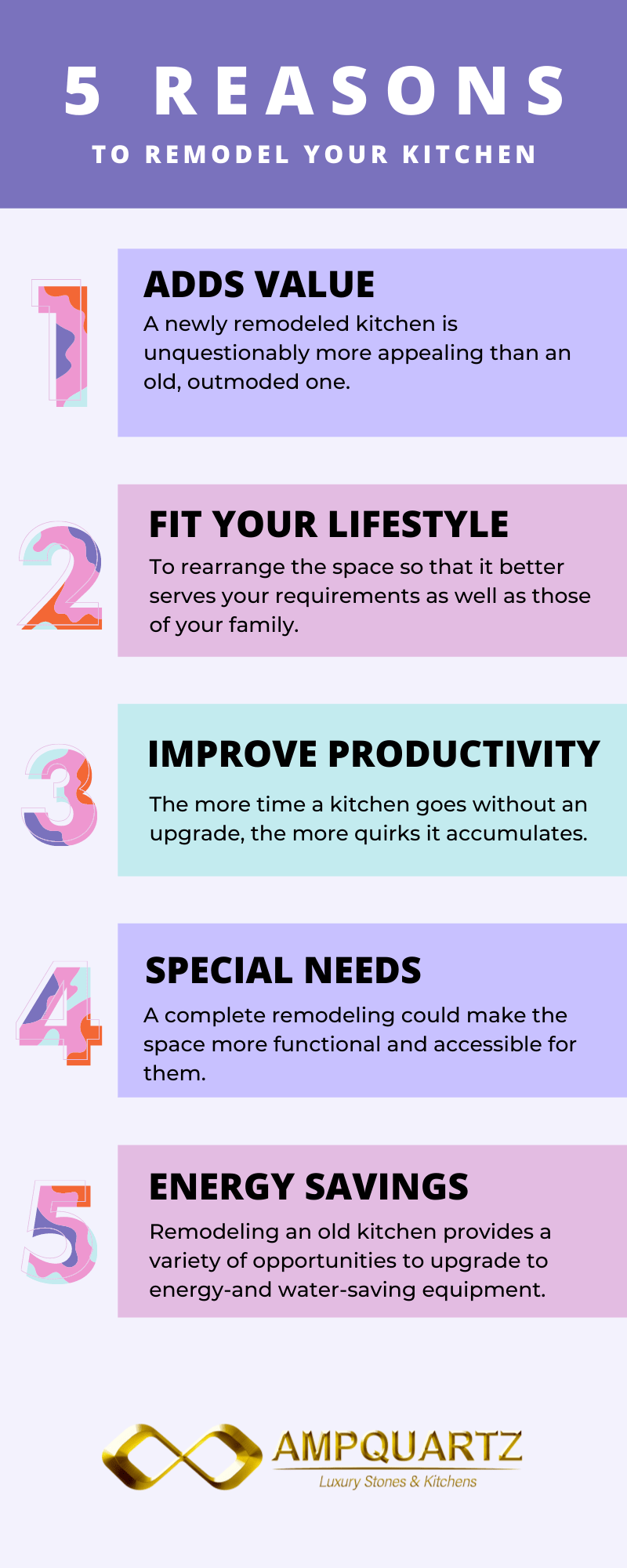 1. Kitchen Remodeling adds value
Remodeling the kitchen is a common practice among homeowners who are considering putting their house on the market. This is due to the fact that the kitchen has a significant impact on the market worth of their residence. When it comes to selling your home, an updated and appealing kitchen is more desirable than one that is outmoded and uninspiring to potential buyers. Having a well-designed kitchen can help you sell your home faster since buyers are fussy when it comes to kitchens and will nearly always select a property with a newly remodeled kitchen over one that requires extensive upgrading.
Although it is still dependent on where you live and how much money you put into it, a newly remodeled kitchen is unquestionably more appealing than an old, outmoded one.
2. Fit your lifestyle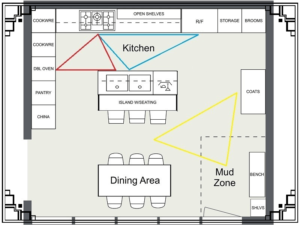 Let's say you just acquired a property. Do you believe your lifestyle would be compatible with the entire kitchen atmosphere, particularly the design? Most of you, I'd wager, would scoff at the idea. This is due to the fact that the kitchen was designed and constructed for the previous owners rather than for you. For example, in the absence of a breakfast bar, your family may be compelled to eat at the dining room table rather than meet casually in the kitchen to have coffee or a short lunch.
As an additional consideration, if you prefer light-colored cabinetry and modern lighting, but what you acquired from the previous owner is instead a dark and gloomy kitchen… Thus, one reason (motive) for a kitchen remodeling is to rearrange the space so that it better serves your requirements as well as those of your family.
3. Improve the overall productivity
It is quite important to remodel your kitchen if you want to make it more usable on a daily basis. The more time a kitchen goes without an upgrade, the more quirks it accumulates. For example, inconvenient design elements like refrigerator doors that lock if one of the drawers is open, as well as not enough counter space to prepare supper.
Furthermore, shattered tiling, cracking counters, damaged or broken cabinet doors, and obsolete appliances are all indicators that the kitchen has clearly pretty much abandoned its usefulness and requires a makeover and a new one to replace it.
4. Special needs
It is occasionally essential to remodel the kitchen in order to better meet the requirements of family members who are physically challenged. Suppose one of the family members is in a wheelchair or is no longer able to access high shelves or cabinets; a complete remodeling could make the space more functional and accessible for them.
Another advantage of remodeling your kitchen is that it may easily improve the general safety of your home, allowing your children to run around freely without having to worry about being hurt.
5. Energy and Water Savings
Doing a kitchen makeover project may also help you save money on energy costs and reduce your ecological impact. It is possible to reduce your electric expenses simply by replacing older, inefficient equipment with more energy-efficient ones, for example. This type of kitchen remodeling assures that you save money on a consistent basis each month. Aside from that, if your refrigerator is from the early 1960s, it may appear to be unique and retro in appearance, but it consumes an enormous amount of power to operate.
Consequently, if you're worried about the expenses to your wallet and the environment, remodeling an old kitchen provides a variety of opportunities to upgrade to energy-and water-saving equipment and environmentally friendly materials.
There are, however, many other reasons to run a complete kitchen remodeling, we just have the tip of the iceberg covered. If you have any doubts, CLICK HERE to find more detailed information on the kitchen remodeling and AMPQUARTZ is always here for your queries. We provide the best marble in Johor Bahru and we are the best for a reason. Book your appointment now to start.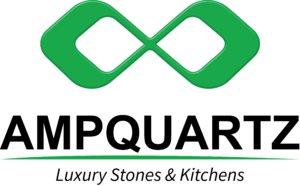 Here at Ampquartz, we can provide you with the perfect information with better suits your kitchen.
Do contact us to get FREE CONSULTATION.