5 Ways to create an efficient wet and dry kitchen in Malaysia
5 Ways to create an efficient wet and dry kitchen in Malaysia
If you come of age or have lived in Malaysia for a long time, you undoubtedly know the words wet kitchen and dry kitchen. As the name suggests, a wet and dry kitchen refers to a sort of kitchen structure that divides the kitchen into two halves. Before we delve deeper, let's look at the differences between both of them.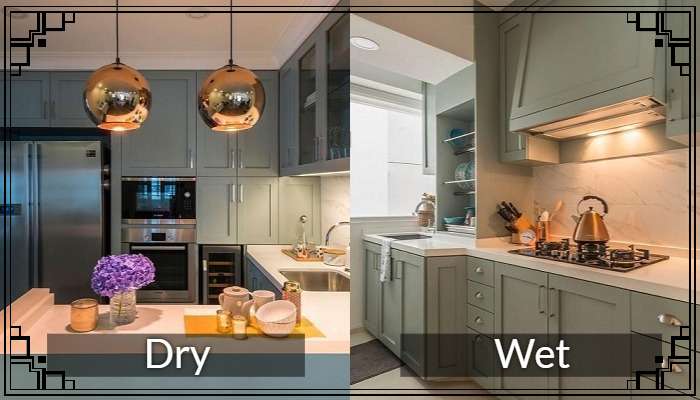 Dry kitchen is placed in the air-conditioned part of the house, like the open dining space or living room. It is also generally kept for lighter cooking operations, such as cutting vegetables, preparing bread, breakfast, snacks, fruits, and so forth.
Wet Kitchen is another term for 'Malaysian cooking'. High-duty cooking operations such as wok-fried garlic, baking cakes and cooking sambal kangkong usually take place here. In other words, this is a spot where high-intensity gas stove burners are installed.
By dividing the kitchen into half, this help not only to optimize the usefulness of the workspace but is also excellent for people who prefer to socialize and meet friends at home.
Therefore, if you intend to create a wet and dry kitchen at home, we believe you will benefit a lot from this article. Let's check it out!
1. Split the kitchen

into two
Needless to mention, the wet kitchen and the dry kitchen should indeed be divided into two areas. But there are a few things to keep in mind.
The dry kitchen must be far narrower than the wet kitchen. A wet kitchen should also be situated tactically in a restricted location, to avoid being easily noticeable in other sections of the house. On the other hand, as stated above, a dry kitchen is built for light cooking activities, and therefore, the design or appearance of the dry kitchen should be incorporated into the décor of the living-dining area in order to improve the overall look of the house.
It is also advisable to create a separator between the two spaces, such as sliding doors or glass-type doors, so that you can see into another kitchen visually, while you remain opposite.
2.

Easy access

to both dry and wet kitchens.
Despite the fact that both wet and dry kitchens should be divided into two areas, they should still be located nearby, or close together, so you can easily and effortlessly go from one location to another.
The same applies to kitchen appliances. Because both kitchens are isolated, you must ensure that you or other members of your family can easily obtain the common appliances, such as the microwave mixer, electric kettle, dishwasher, pots and pans, and other appliances which are used regularly.
By guaranteeing these components, your output in kitchens would indirectly increase since it would save time and energy, irrespective of whether it is about the time you move between the two kitchens or the time it takes to obtain the kitchen equipment.
3.

Easy maintenance

is compulsory
As the wet kitchen is designed for heavy and oily cooking, the space is prone to get dirty easily. Grate and filth will be more likely to cling themselves to the walls and cabinets, therefore the areas must be kept in a way that is easy to clean. The most efficient approach is to insert porcelain or ceramic tiles on the wall as they are super easy to clean compared to other materials. In terms of kitchen cabinets, get the one that is simple to clean.
On the flip end, the dry kitchen needs less maintenance/cleaning than the wet kitchen because only minor activities are carried out such as breakfast, snacks, fruit cutting and heating. The dry kitchen may thus be manufactured in quality materials such as flat substrate and granite for the countertop.
4. Ensure appropriate

ventilation
The wet kitchen serves as a standard kitchen that includes a lot of grilling, heavy-duty cooking, scrubbing, and chopping, all of which produce moisture and heat. The kitchen should therefore be properly ventilated through a window or doorway; it should also contain a fireplace or air compressor to release strong culinary smells, smoke, heat, and other indoor kitchen pollutants.
A dry kitchen, on the other hand, is a fumes-less kitchen since it is only used for light cooking activities, therefore no extra ventilation system in this area is required. As long as the ventilation makes you comfortable in the kitchen, it is more than just fine.
5.

Versatile

and multi-functional
The wet kitchen, in addition to preparing food, should also be utilised to store tools, silverware, dishwashing and groceries. A large countertop and wide sink are also needed for vegetables, fruits, filthy utensils and so forth to be cleaned in your wet kitchen.
The dry kitchen is equipped with a modest kitchen countertop and a smaller sink used for dishwashing and tidying. It may also be used as a multipurpose 'pub' or as a breakfast table, if necessary
In conclusion, to construct an effective wet and dry kitchen in your home, a fully functional kitchen should be well planned, and your radar should be considered multiple elements before making the last decision. This will not make you regret your selection and indirectly also enhance the productivity of your kitchen.
There are, however, many other ways to create a wet and dry kitchen, we just have the tip of the iceberg covered. If you have any doubts, CLICK HERE to find more detailed information on wet and dry kitchen and AMPQUARTZ is always here for your queries. We provide the best marble in Johor Bahru and we are the best for a reason. Book your appointment now to start.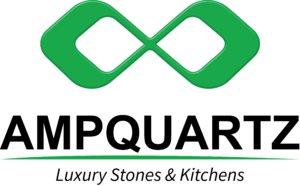 Here at Ampquartz, we can provide you with the perfect information with better suits your kitchen.
Do contact us to get FREE CONSULTATION.