ALERT: 6 Best Modular Kitchen Cabinet Materials in Malaysia
ALERT: 6 Best Modular Kitchen Cabinet Materials in Malaysia
Sooner or later, we will eventually have our own home to live in with our loved ones. As a new property owner, the Amquartz team is extremely convinced that modular kitchen cabinets will be one of the priorities when you decide to renovate the interiors.
There is no question that the materials you select will affect the amazing nature of your modular kitchen, the modernity of your entire house and if you are burdened with expenses. But have you ever wondered how much you actually know about modular kitchen cabinet materials?
According to our team's observations, many inexperienced homeowners are unaware of the significance of modular kitchen cabinet materials, and which materials are best suited for their kitchens. Most of them thought that every material was suited for all modular kitchens. But in fact, it's not!
If you are one of them, feel free to spend some time reading this post and find out the ideal modular kitchen cabinet materials on the market, and pick the perfect one to make your modular kitchen appear great and fashionable! As usual, the Ampquartz team is pleased to have you share your opinions in the comment section below. Together, we can explore how these modular kitchen cabinet materials will improve your house's entire environment.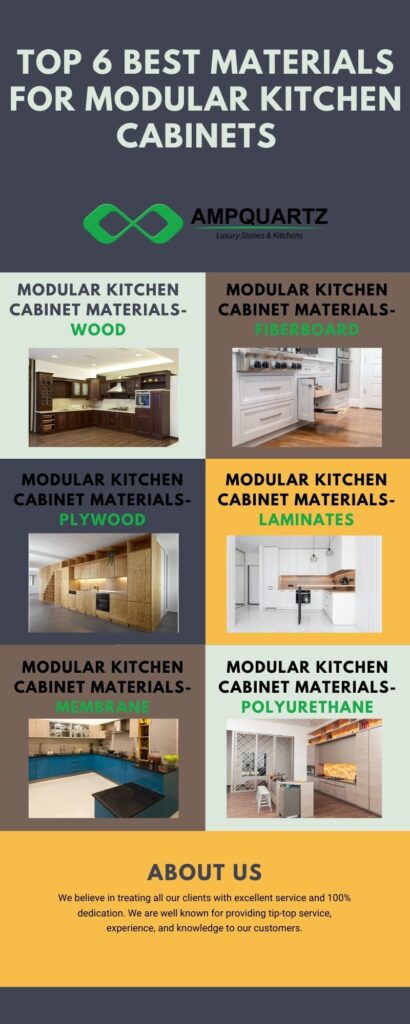 1. Modular Kitchen Cabinet Materials-

Wood
Yeah, you read it right. Natural woods/actual woods/solid woods are among the types of woods that may be utilized as your modular kitchen cabinet materials. According to our team's research, wood is now one of the most popular choice of material for many new homeowners, owing to being highly recommended by interior design pros.
So, why is wood so well-known among homeowners? The main reason for this is, of course, wood, as your modular kitchen cabinet material offers an outstanding atmosphere for your kitchen and can accommodate both classic and modern designs, according to your wish.
However, before that, you must have adequate funds to construct it because this is not a very cost-friendly modular kitchen cabinet material.
2. Modular Kitchen Cabinet Materials-

Fiberboard
Fiberboard, a.k.a Medium Density Fiberboard (MDF), is also one of the modular kitchen cabinet materials that most families use often. Contrary to the wood indicated above, if you have a limited budget, the fiberboard is your budget-friendly solution and may have your cooking appliances on top.
BUT (there's always a but), fiberboard as your modular kitchen cabinet material could have a few limitations, such as being less long-lasting compared to wood and less harder than plywood. As stated in a quote, 'nothing for nothing and very little for a half penny,' we believe these drawbacks should be within your forecast due to their cheaper prices.
Hard fact: Fiberboard is a hardwood made from wood fibers bonded together with HOT GLUE.
3. Modular Kitchen Cabinet Materials-

Plywood
Source: YouTube
Another wood? YES, you can now realize how important wood is as your modular kitchen cabinet material. Research suggests that most interior designers and homeowners depend heavily on this material because of its excellent resistance to heat and moisture, and extraordinary stability. In simple words, you may have your heavy cooking utensils such as electric kettles, stock pots and sheet pots on top of your kitchen cabinets, and you don't have to worry about them dropping.
Due to its excessive strength, the construction costs of plywood as your modular kitchen cabinet material would not make you feel too "friendly," which could only be your best decision if you have a large budget plan.
4. Modular Kitchen Cabinet Materials-

Laminates
Source: YouTube
Technically, laminates are overlaid with a plastic layer or other protective substance. As a result, if you prefer a longer-lasting finish, laminates should be used as the material for your modular kitchen cabinets. Laminates offer various eye-catching colors and patterns and are also durable and easy to maintain.
Laminates are both heat and humidity resistant, and guess what? Despite their distinct features, laminates are also extremely "friendly" to your wallet.
5. Modular Kitchen Cabinet Materials-

Membrane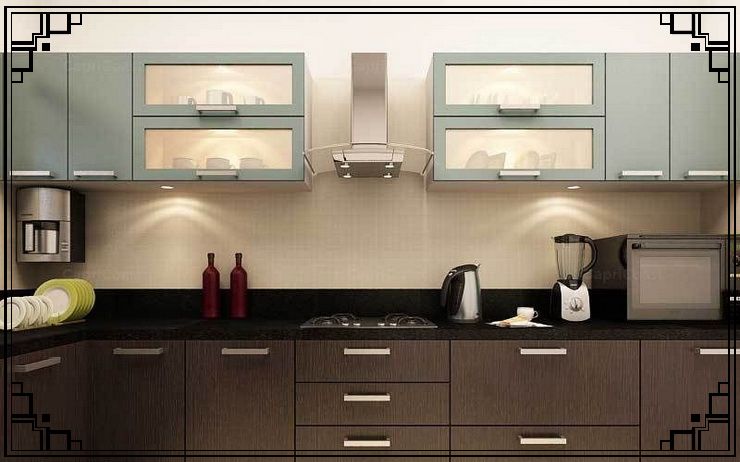 If you want a "robust", yet stylish modular kitchen, the membrane material should be under your notice. In recent years, the membrane has been increasingly popular as a household's modular kitchen cabinet material, mostly because of its high strength and easy-to-clean qualities.
Hard Facts: While the membrane is simple to clean, this material easily generates dirt and dust, so it may not be the best solution for people who are over-occupied and not constantly cleaning.
6. Modular Kitchen Cabinet Materials-

Polyurethane
Source: YouTube
You don't like any of the above? No worries. PU, commonly known as polyurethane, should also be on your radar if you want your modular kitchen cabinet to be a traditional style.
PU is notable for its durability and long-lasting abilities. But of course, PU will never be budget-friendly for you, instead it is one of the costliest materials for your modular kitchen cabinet.
Still disappointed with the above materials? Not to worry, there are numerous modular kitchen cabinet materials recommended by interior designers and homeowners, we just have the tip of the iceberg covered.
If you have any doubts, CLICK HERE to find more detailed information on modular kitchen cabinet design materials and AMPQUARTZ is always here for your queries. We provide the best marble in Johor Bahru and we are the best for a reason. Book your appointment now to start.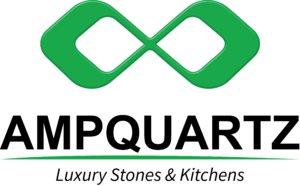 Here at Ampquartz, we can provide you with the perfect color combo with better suits your kitchen.
Do contact us to get FREE CONSULTATION.