5 Inspiring Kitchen Paint Colours to Consider for Next Renovation
5 Inspiring Kitchen Paint Colours to Consider for Next Renovation
Kitchens are often referred to as the "soul of the home" and "where life happens." It's arguable since they're the core of a house and a place we can't live without. As a result, kitchens, like the rest of our homes, deserve to have new "clothes" and shine without the unattractive appearance of surface paint. Changing the colour of your kitchen paint is also one of the easiest and most cost-effective ways to add individuality and entirely change your space.
However, selecting the ideal hardware, equipment, and, of course, kitchen paint colours is a difficult task that needs careful attention. If you conduct an internet search, you will come across a plethora of professional recommendations.
The kitchen paint colour should, at the very least, be whatever you want it to be. So don't be afraid to use your favourite vibrant or dramatic colours! Why not play around with your kitchen paint colours in the same way as you would experiment with the flavour of your food in the kitchen?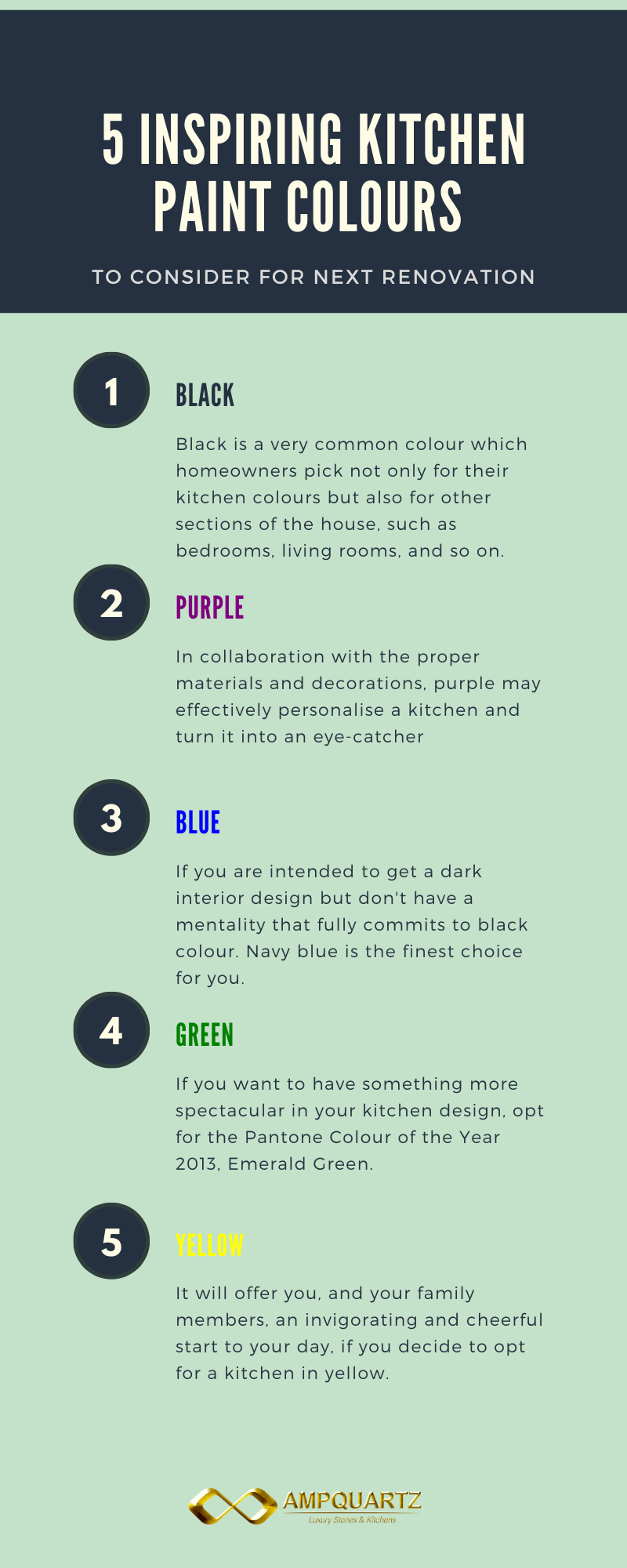 1. Kitchen Paint Colour: Black
Black is a very common colour which both tenants and homeowners pick not only for their kitchen colours but also for other sections of the house, such as bedrooms, living rooms, and so on. The use of black in a kitchen is courageous but may produce a fantastic industrial sensation.
If painted appropriately, black can create a modern and stylish ambience that may reflect your individual uniqueness. It's also a versatile colour that works well with materials like hardwood and cement in modernist or industrialized kitchens.
There are plenty of black kitchen paint colours for you to select from, such as Carbon Black, Super Black, Coal Black, and Roseman Black, all of which offer similar features but not exactly the same for your kitchen.
2. Kitchen Paint Colour:

Purple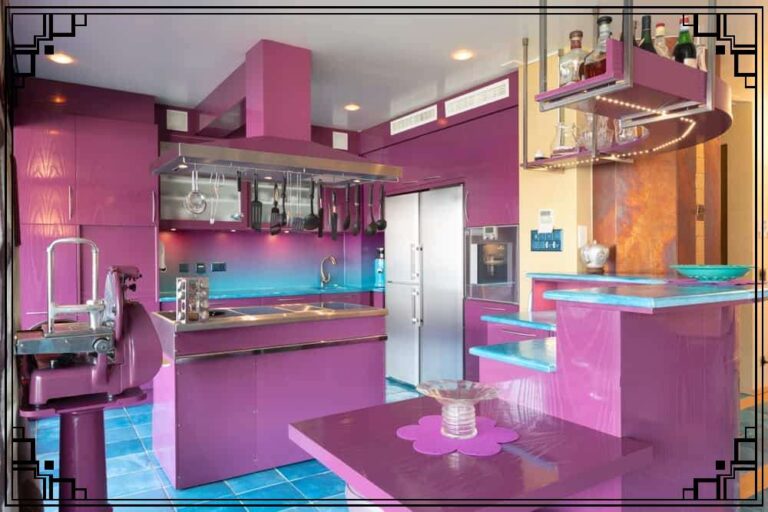 Just because purple is one of the most ignored colours on the colour wheel, this is not to say that a beautiful, purple-themed kitchen is unachievable. In collaboration with the proper materials and decorations, purple may effectively personalise a kitchen and turn it into an eye-catcher. Purple and elegant also appear to work extremely well with current minimalist kitchens.
Furthermore, the deep and warm, welcoming purple tones are ideal for a modern and minimalist kitchen with a great deal of natural light. It can add complexity to your kitchen without becoming overwhelming or burdensome.
3. Kitchen Paint Colour:

Blue
If you are intended to get a dark interior design but don't have a mentality that fully commits to black colour. Navy blue is the finest choice for you. According to one of the design directors Highlyann Krasnow, the Navy is a smoother approach to create a darker, luxury kitchen space if you worry black would be too overpowering for your house. On the other hand, a deep blue will also effectively cover shoe stains if your kitchen contains a sitting area.
In addition, when you choose lighter colours of blue, they may produce a sleek, clean appearance and are excellent for surfaces, cabinets, or even ceilings. Blue, however, is a "double-sided blade" and only performs when used cautiously; else your kitchen can be overwhelmed.
4. Kitchen Paint Colour:

Green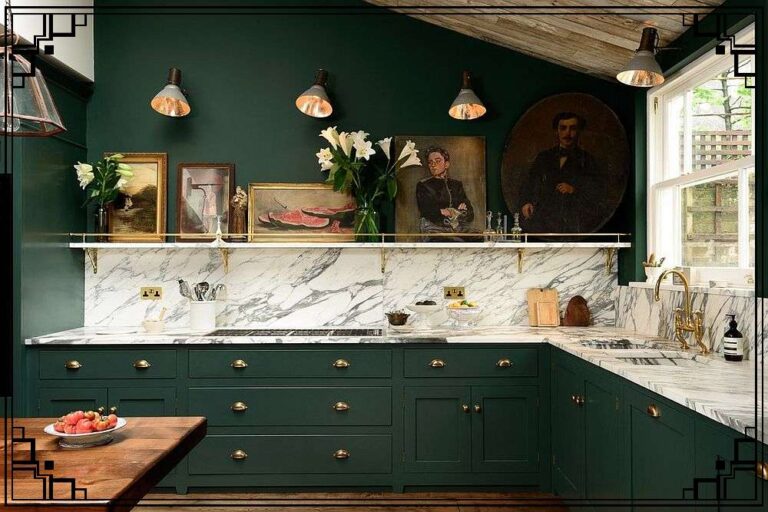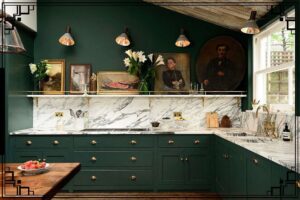 When we first stated the green colour, what came to your mind? I think many of you would say that it is the colour of nature and is connected to the ideas of development, freshness, safety, and the environment. While indoor plants are becoming one of the extremely popular in-home designs as they provide a tropical outside sensation to your home, green paint performs the same function to give your kitchen cupboards the same vibrant, happy feeling and a fresh, welcoming feel.
Cooler tones of green, like mint or pistachio, work nicely in kitchens, particularly with elements of brightness and white woodwork. If you want to have something more spectacular in your kitchen design, opt for the Pantone Colour of the Year 2013, Emerald Green.
5. Kitchen Paint Colour:

Yellow
If you are too resistant to the kitchen in green, the yellow painting appears to be your first option. In addition to making people feel starve, yellow has a calming effect and will quickly make guests in your kitchen feel peaceful and cheerful. It will offer you, and your family members, an invigorating and cheerful start to your day, if you decide to opt for a kitchen in yellow.
Moreover, yellow may not only contribute to the aesthetic of your kitchen but may also "lighten" your mood and emotions. If you have a somewhat limited area, you can also make the kitchen appear bigger and brighter by choosing yellow.
There are, however, many inspiring paint colours for your kitchen, we just have the tip of the iceberg covered. If you have any doubts, CLICK HERE to find more detailed information on different colour paints for your kitchen and AMPQUARTZ is always here for your queries. We provide the best marble in Johor Bahru and we are the best for a reason. Book your appointment now to start.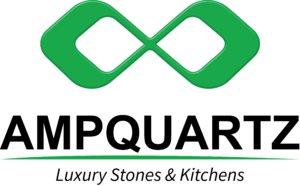 Here at Ampquartz, we can provide you with the perfect information with better suits your kitchen.
Do contact us to get FREE CONSULTATION.