5 Types of Popular Kitchen Cabinet Materials in Johor Bahru
While renovating your kitchen, one of the pieces of furniture you want to think about is your kitchen cabinet. Have you ever wondered what kind of kitchen cabinet materials is popular in Johor Bahru? The kitchen cabinet average can be used up to 50 years if adequately maintained. It is very important to know what kind of kitchen cabinet material you want to use.
Ever wonder what kitchen cabinet material in Johor Bahru is popular? It's important to take note of cost, durability, and style. Below are 5 types of kitchen cabinet material that are popularly used in Johor Bahru. We shall let you know more about the material.
Kitchen Cabinet Material – Melamine
What exactly is a melamine kitchen cabinet? Melamine is a laminate that's made by heat-sealing a substrate between paper saturated with thermally fused melamine resin or TFM. Melamine is a popular plastic material used for kitchen cabinets worldwide, not to mention in Johor Bahru.
It is a compressed wood particle core and is covered with a resin and paper finish. It is very durable and can be manufactured to embody various hue and pattern possibilities.
The real strength of a Melamine cabinet is the design versatility. Because that TFM paper can be printed with almost any color or pattern before being heat-bonded to the substrate material. So you will be able to see that melamine has different kinds of design, and you won't expect any unexpected wood grain patterns. Once the TFM paper is attached, the melamine hardens to form a decorative surface that is scratch-resistant, colorfast, and highly durable.
Kitchen Cabinet Material – Plywood
Plywood is another popular kitchen cabinet material. Plywood is made of many thin layers of wood glued together to form a hardboard. Usually, there will be a plastic lamination for the finishing part to give it a more clear finish. Laminated plywood is more solid, abrasion- and moisture-resistant, so if you are looking for a cabinet that is easy to maintain, a plywood kitchen cabinet should be something that you should consider.
If you consider installing at a higher place, the plywood cabinet will be lighter than the other. This will be easier to install for wall cabinets.
But if you are a perfectionist, you may be disappointed. As plywood comes in various shades and textures, there will be a lack of uniformity or consistency. There won't be a board that would match up perfectly. But giving it touch on it will help the situation.
---
Monthly Giveaway worth RM1,000 – Subscribe to Telegram now!
---
Kitchen Cabinet Material – Stainless steel
If you are looking for a commercial-looking environment or a stainless steel's shiny, reflective surface, here's another popular kitchen cabinet material: stainless steel. Stainless steel cabinets provide your kitchen with a modern and sleek design.
Maintaining furniture is never an easy job. For stainless steel, it is easy to maintain since grease can be simply removed. They are hardly damaged by corrosion or water. Stainless steel doesn't require much cleaning. You will save a lot of time as all your stainless steel need is a soft cloth and clean water. Once you've wiped down your cabinets, wipe them dry and your stainless steel cupboard will be as new.
Stainless steel is very durable. Your cabinets won't stain, contain odors, fade, discolor, or rust. Just do some cleaning. Stainless steel will last for quite a long time.
Kitchen Cabinet Material – Aluminium
Waterproof, rust-proof, and easy-to-clean are some benefits of aluminium kitchen cabinets as aluminium kitchen cabinets do not get easily ruined by moisture and humidity as wooden kitchen cabinets do. Aluminium kitchen cabinet is getting more popular in Johor Bahru.
Unlike wooden cabinets, aluminium is unaffected by moisture or heat, so it will not bend easily over time. But don't overload your shelves. Look at a typical window frame or window grille. Most are made from powder-coated aluminium, and will last for years without any change in appearance or structure. Can you imagine what can be done when you use an aluminium kitchen cabinet?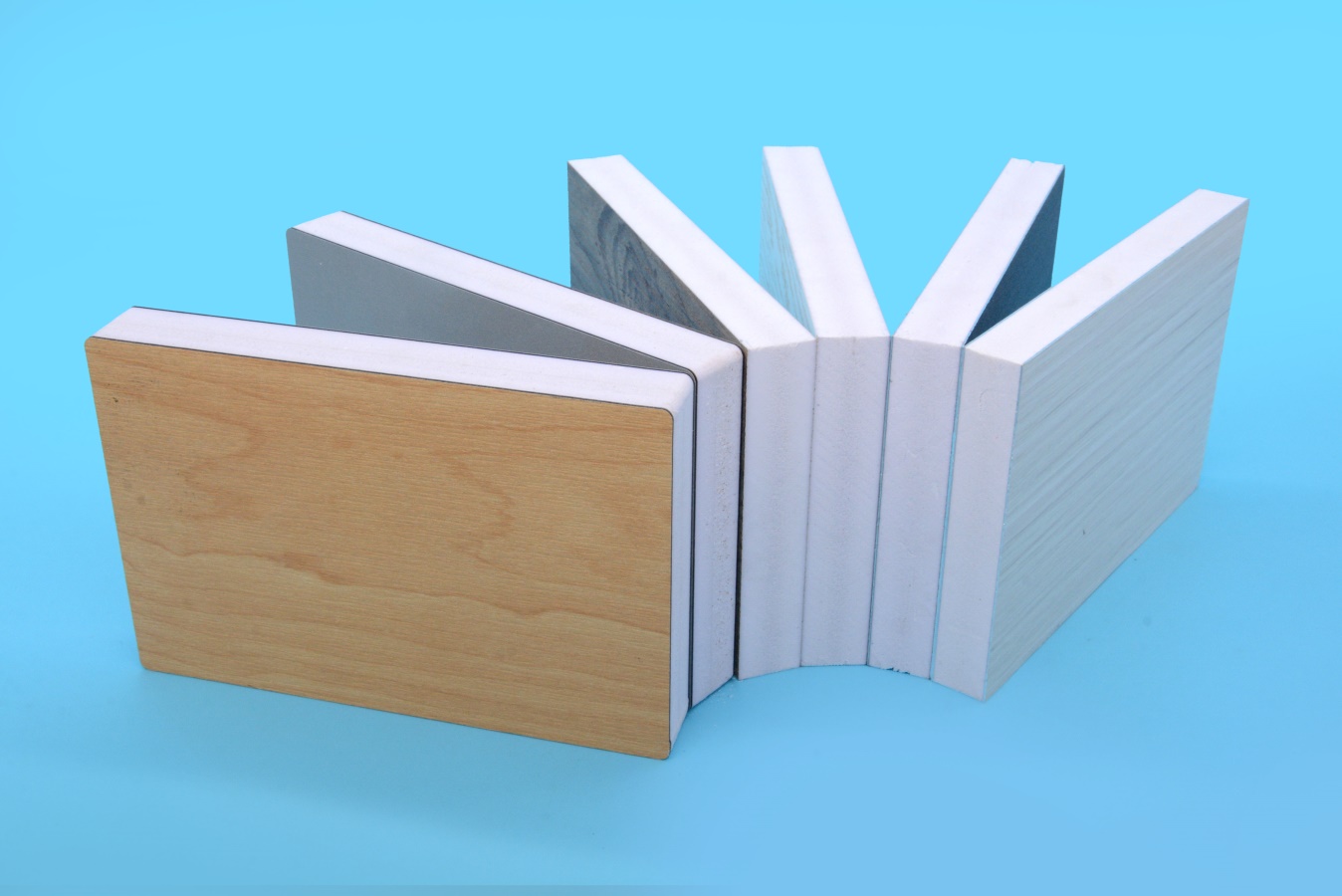 Besides that, you don't have to worry about termites eating through your structure. It is definitely immune to termites or other infestations.
It is pretty easy to maintain. If there are only scratches, it is possible to restore the surface by lightly polishing and then painting it.
However, if there are noticeable dents, you will need help from a professional to push the panel back to shape.
Kitchen Cabinet Material – Blockboard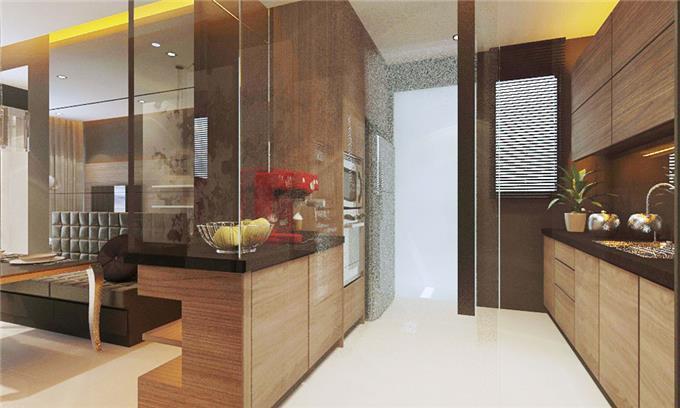 Blockboard is made up of softwood strips and veneers. They are manufactured by placing softwood strips edge to edge and sandwiched between surfaces, and then this sandwich is glued together with high pressure. Blockboard is usually made from the softwood of pine and other trees. They are very light weighted. It can be easily transported from one place to another.
Most of the blockboard is made by using two grades. One is the interior grade which is moisture-resistant, while the other one is the exterior grade which is water-resistant. Users usually choose the grade that suits them. The interior grade is mainly used to make interior doors, while the outer grade is used for outdoors in many places.
If you need a long shelf in your house, blockboard will be a better material. This is because plywood often bends and gets damaged, but blockboard is very stiff and does not get damaged easily.
Blockboard is much cheaper than any other wood. Another type of wood is much higher in price, and sometimes it becomes tough to afford.
If you just bought a house in Johor Bahru and wandering what kind of kitchen cabinet material to use. You can consider the above material based on your need. It will create a unique style for your kitchen.
---
Monthly Giveaway worth RM1,000 – Subscribe to Telegram now!
---
There are, however, many other major kitchen renovation ideas in Johor Bahru that should bear in mind, we just have the tip of the iceberg covered. If you have any doubts, CLICK HERE to find more detailed information on the different types of kitchen renovation ideas and AMPQUARTZ is always here for your queries. We provide the best marble in Johor Bahru and we are the best for a reason. We are the most qualified individuals to assist you with your current issue, so schedule an appointment with us right now to get started!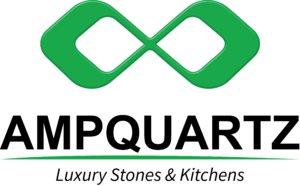 Here at Ampquartz, we can provide you with the perfect information with better suits your kitchen.
Do contact us to get FREE CONSULTATION.