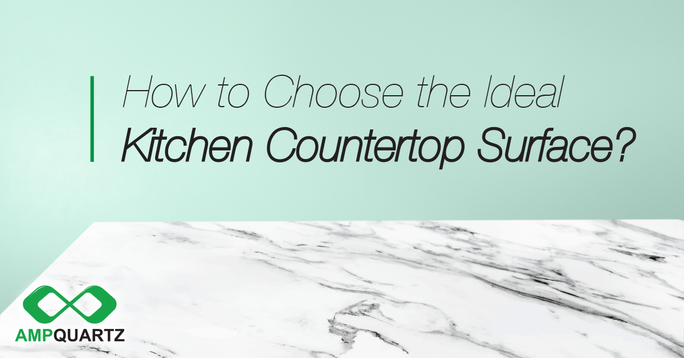 Full Comparison: 6 Ideal Kitchen Countertop Surface
With so many options for your kitchen countertop surface?Still wonder about how to choose the best one? Actually, 'best' is not what you should look for because every countertop has its own strong point. What you should look for is a countertop that can fit you and your kitchen perfectly. In this article, I will showcase to you the differences between 6 countertops (granite countertop, quartz countertop, marble countertop, solid surface countertop, solid wood countertop, and laminate countertop) in different aspects.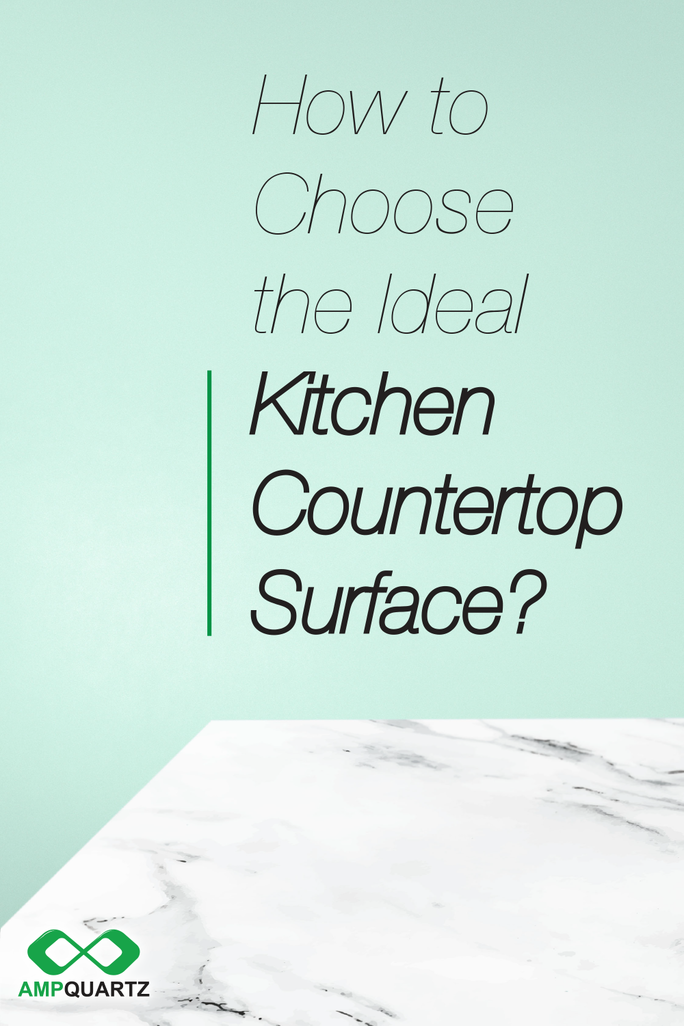 Content:
Granite Countertop
Image credit: Keystone&Granite Tile
If you love the kitchen countertop surface which has unmatched natural beauty but are prepared for occasional maintenance to protect your investment, then choose a granite countertop. For some time, granite has been the countertop material of choice when there were no cost issues to consider. Read this (5 Reason Why You Should Choose a Granite Kitchen Countertop) to know more strong points about granite countertops
Granite defines elegance in a kitchen. Even modest kitchens seem like luxury spaces when flavored by the beauty of granite countertops.
Pros

Cons

Almost impervious to heat

Very strong and durable

Adds real estate value to home

Nearly 3,000 different colors and types available

Nearly maintenance-free when treated with newer sealers

Very expensive material

Not suitable for DIY installation

Can crack if stressed or improperly installed

Knives are quickly dulled by cutting on granite

Stone is porous and requires sealing to avoid stains
Want to buy a granite countertop? Here is it!
Quartz Countertop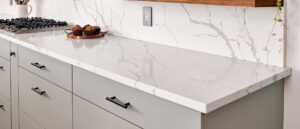 Image credit: The Flooring Factory
If you want a high-class look kitchen countertop surface without high-maintenance, choose a quartz countertop. Quartz countertops are an excellent man-made surface also called "engineered stone". This material is manufactured from 93% quartz (also a component of granite countertops) and a binding resin.
Quartz is a popular kitchen countertop material because there is no maintenance required. It's non-porous and durable. –Megan Lee, Marketing Manager at Odell Construction, Inc.
Pros

Cons

DIY installation possible

Easy to maintain, no sealing required

Can be custom-fabricated in any size and shape

Resists stains and is impervious to heat and acid

More natural appearance than solid surface material

Expensive

Countertops are very heavy
Undeniably, quartz countertop is not easy to clean. However, with some easy tips, you can handle it. Read this: how to clean your quartz countertop. Marble Countertop
Image credit: The Home Depot
If you want a classic luxury look in a low traffic kitchen where you are not planning on doing much cooking and meal preparation, choose a marble countertop. Because no two sheets of marble are exactly the same, each marble countertop will be entirely unique. Marble is another natural stone commonly used in kitchen countertops. This is a high-end natural stone that comes in fewer color patterns than granite. Marble is also relatively soft and porous.
Pros

Cons

Waterproof and heatproof

Adds to real estate value of a home

Exceptionally beautiful stone, with unique veining

Expensive

DIY installation not possible

Can be scratched; repairs are difficult

Stone is porous and stains easily unless sealed
Although highly prized, marble may not be the best choice for kitchens due to its penchant for staining and scratching. Solid Surface Countertop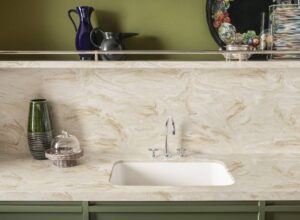 Image credit: Clorian
If you prefer kitchen countertop surface that is warm to the touch, then solid surface countertop will be suitable for you. Once regarded as premium, luxury countertops, solid-surface material is now considered somewhat mid-tier, but it is still an excellent choice for mid-range kitchens.
Pros

Cons

Resists staining

Seams are virtually invisible

Damage can be easily sanded out

Available in many, many colors and patterns

Integrated sink/countertop units are available

Moderately expensive

Vulnerable to damage from hot pans

No DIY installation; must be fabricated by pros
Moreover, it can also be good material in high-end kitchens with a lot of countertop space that would be prohibitively expensive to cover with granite or quartz. Solid Wood Countertop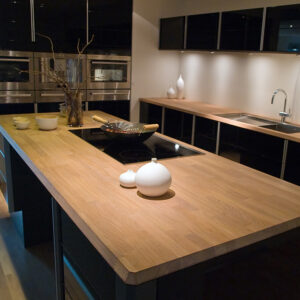 Image credit: Lumber Mart
If you like the warmth and character of wood and want to add a furniture-like focal point in a small area of the kitchen, solid wood countertop suits you. Wood countertops offer a wide range of colors and finishes. Hardwoods such as maple and oak are the species most often used as countertop woods.
Pros

Cons

Relatively easy to clean

Very long-lasting when properly cared for

Can be sanded and resealed, as needed

Offers a charming country look in most kitchens

Fairly expensive countertop material

Surfaces can be scratched and cut by knives

Can be damaged by water and stains over time

Bacteria can be a problem if not properly maintained

Wood is subject to cracking if not maintained; must be oiled and sealed frequently
Still don't know how to design your kitchen? We can help!
Laminate Countertop
Image credit: The Seattle Time
If you're designing on a budget or plan to purchase your "dream" countertop in the near future, perhaps, laminate one is your best option of kitchen countertop surface! Although for many years regarded as more ​ordinary than premium countertop materials, laminates have seen a recent surge in popularity, thanks in part to the thousands of colors, patterns, and styles now available.
Pros

Cons

Very easy to maintain

Thousands of options available

DIY installation is relatively easy​

Very inexpensive countertop option

Seams are always visible

May be viewed as too average by potential home buyers

Custom edging and backsplash treatments can add expense

Surfaces can be scratched and chipped; damage is almost impossible to repair
Laminates are especially popular in retro designs, particularly midcentury modern kitchens. Conclusion Before you make your decision to buy a kitchen countertop, you should take a lot of things into consideration. For instance, you should ask yourself: why I need the countertop? How much kitchen space do I have? How much is my budget? Which type of countertop can fit the style of my kitchen perfectly? Answer each of these questions through the list above that related to different aspects of 6 different countertops. Finally, make your decision of your kitchen countertop surface which "most fit" you and your kitchen.
Kitchen is the heart of home.
If you want to find an expert to help you to decide your kitchen countertop surface, why not find us? We have almost 10 years of experience in the realm of kitchen renovation and have a lot of professional kitchen designers. You can also click here if you are finding some kitchen appliances. Our kitchen appliances are all guaranteed in quality.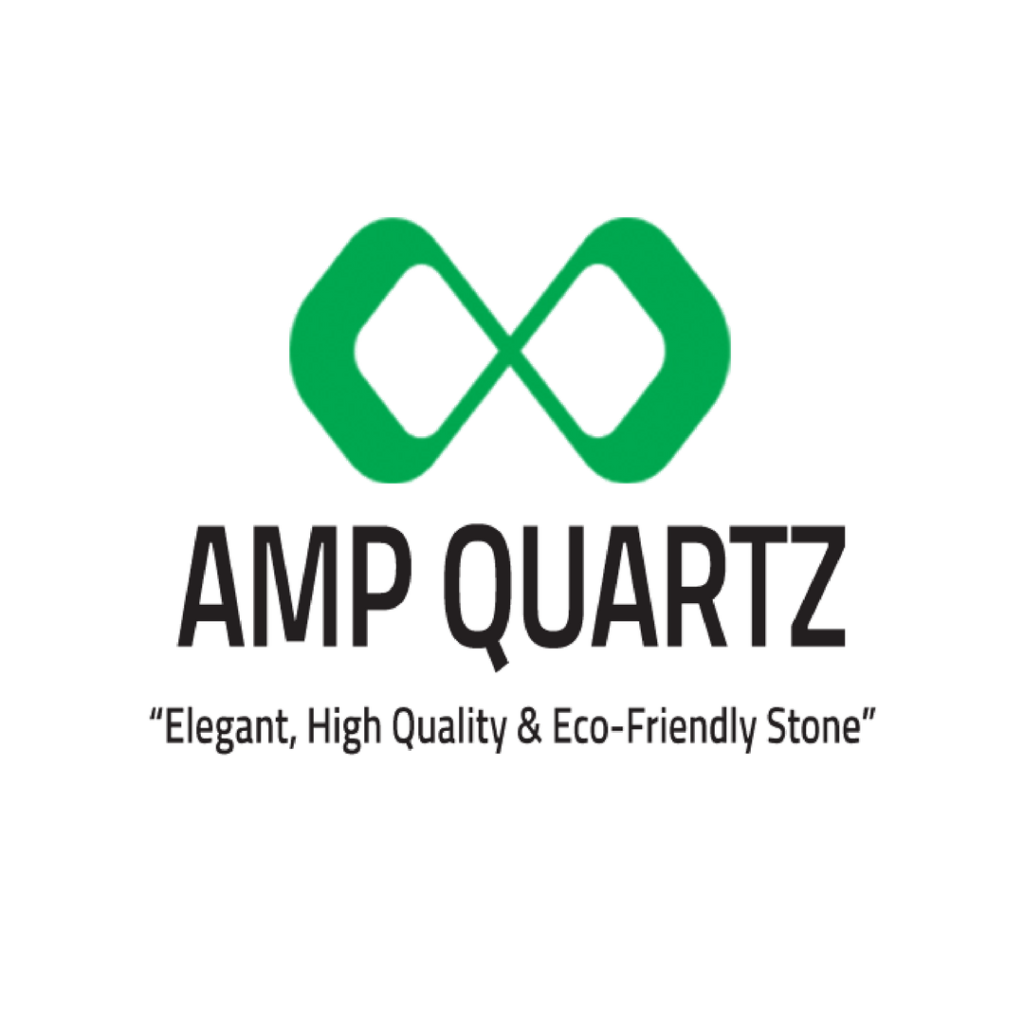 Image credit: Ampquartz
CONTACT US NOW AT : +6018-7942927 (Ann Sin)

For more relevant articles: