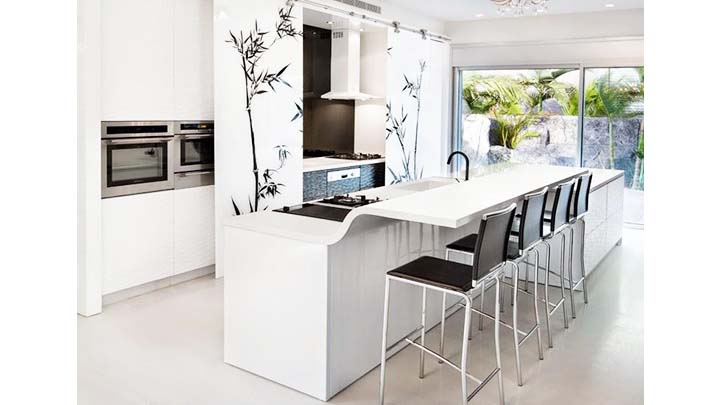 5 Reasons Why Getting a Solid Surface Countertop Will Make Your Life Easier
We all want a countertop that will bring out the best of our kitchen, and it's hard to not be taken in by the beauty of natural stone. However, smiles turn to frowns when we find out that maintaining natural stone requires more commitment than we're willing to put in. For some, the extra care and attention required can seriously cramp their lifestyle, and if that wasn't bad enough, natural stone simply isn't cheap. Luckily, there's an ace card that busy homeowners can play – solid surface countertops.
Solid Surfaces?
A solid surface is a synthetic material made from a composite of polymers (e.g. acrylic and polyester). Durable and less costly than natural stone, the material combines the best material properties needed for a kitchen environment. To add colour to designs to the material, bauxite, minerals and dyes used. If this is done well, the resulting products is nearly indistinguishable from the natural material it's trying to mimic. Ever since it first hit the market as DuPont Corian, solid surfaces have quickly gained popularity. Today, the material can be found adorning backsplashes, waterfall edges and floating counters in homes to hospitals. And the reason for its popularity is because solid surfaces are just so practical.
Solid Surface Countertops – A Fuss-Free and Practical Choice.
Solid surfaces are purpose-engineered to meet the most common needs in the kitchen. And in the kitchen where you prepare food on a daily basis, a countertop needs to be easy to clean and hygienic – and solid surfaces are all that and more. So what makes solid surfaces so easy to maintain?
1. Stains Begone!
Solid surface countertops are non-porous and therefore completely impermeable to staining (YES!). Spills and other messy mishaps tend to happen from time to time in the kitchen, so it's good to know that your countertop isn't going to soak up oil, food pigments or any other stain – as long as the surface isn't scratched or damaged. This also makes it the perfect piece for sinks or anywhere else where there's lots of water. However, you should wipe off puddles of water as soon as possible as they can leave nasty water marks if left for too long!

2. Requires Little Maintenance. What's Sealing?
With solid surfaces, you'll never need to know what resealing is. But we'll tell you anyway – sealing is the process of applying a protective coating (typically a special polymer) that fills the pores and gaps of a surface material. For naturally porous materials (e.g. natural stone) sealing is absolutely necessary if you want to keep stains away. It will also need periodical resealing to maintain its protective coat. However, with solid surfaces you will never ever have to do it. Polyester solid surfaces may need some polishing every now and then, but even without it's still not going to stain.
3. Easy Repairs – Hey, Presto!
Although solid surfaces are soft and scratch easily, you'll be happy to know that repairing the damage is not only easier, but the results will be remarkably better. Because solid surface countertops are made of the same homogeneous material through and through, sanding down its surface will not reveal any inconsistencies that may lie below. The consistency in tone and design will also make matching a replacement part with the original piece much easier, and the joining at the seams near invisible.
4. Hard Knocks? No Problem!
Unlike hard stone which are rigid and brittle, solid surfaces are flexible and therefore have better flexural strength. At the same thickness, the soft, elastic polymer composite will absorb shocks and knocks better than a hard material without cracking or chipping. This will eliminate any worries you might have about accidentally dropping something heavy onto it, or if your less informed brother-in-law decides to climb onto it to reach that bag of chips you were trying to keep hidden from him.
5. Effortless Hygiene.
A non-porous material means that solid surfaces are much easier to clean. Most of the time, a wet cloth and some soapy water will suffice. But more importantly, a non-porous material will not snag dangerous bacteria which can be a real health concern. There's a reason why solid surfaces are popular with hospitals.
Related Articles:
CONTACT US NOW AT : +6018-7942927 (Ann Sin)