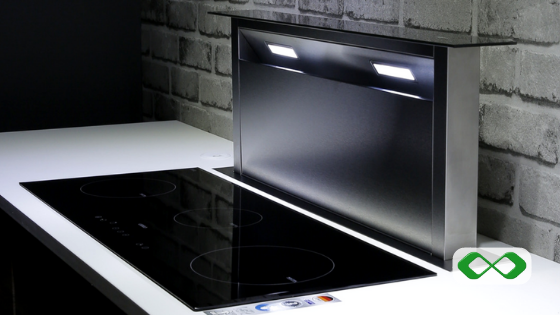 5 Solid Reasons Why Your Home Needs an OBRO Downdraft Cooker Hood and Induction Hob
The OBRO Downdraft Cooker Hood and Induction Hob is a downdraft cooker hood and induction hob combo from OBRO international. It's an elegant, highly functional kitchen staple.
Every kitchen needs a hob and a hood to accompany it. What's a kitchen without a hob anyways? Unless you're a champion for the raw food diet, your home definitely needs a hob and hood. They come hand-in-hand.

This induction hob and downdraft cooker combo is modern, exquisite and efficient. It will add instant class and prestige to any kitchen. Have all your cooking needs fulfilled as it ups your cooking game with utmost convenience.
This cooker hood and hob combo is great for any home. It removes airborne grease, combustion products, fumes, smoke, heat, and steam. Maintain fresh air within your home while cooking. Evacuate contaminated air with powerful airflow and filtration.


Here are 5 solid reasons why your home needs the OBRO Downdraft Cooker Hood and Induction Hob.
OBRO IS A MINIMALIST'S DREAM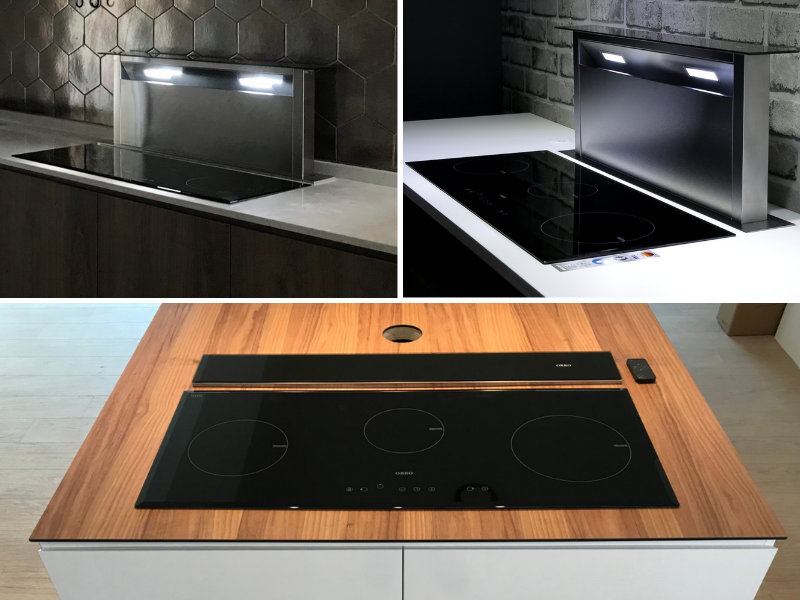 This sleek and modern OBRO Downdraft Cooker Hood and Induction Hob guarantees to tickle any minimalist's taste buds. Its stainless steel with black glass panel is a timeless look, made to fit into any decor theme.

Besides that, its sleek and modern compact hood body is concealable. It allows the entire hood to retract into under your countertop. So, eliminate the traditional bulky looking hood for this elegant minimalist's dream.

The black glass hob blends seamlessly into any countertop surface. It looks so sleek besides the concealed slim hood. Get instant class and prestige from the OBRO Downdraft Cooker Hood and Induction Hob. Also, get all that aesthetic value with no compromise in functionality.
2Es : EFFICIENT & EFFECTIVE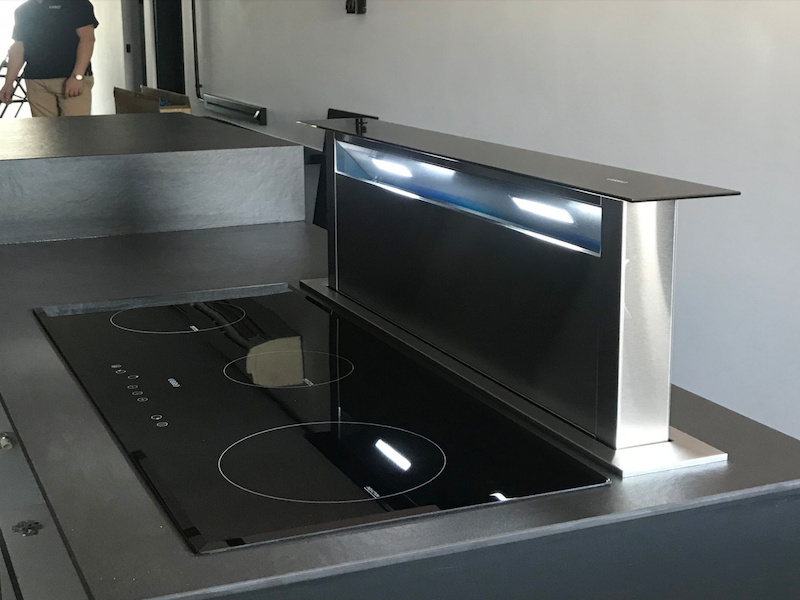 Its smooth sleek design allows super easy cleaning. The glass and stainless steel surfaces make cleaning swift and simple. Less cleaning time means efficient cooking and a happy cook. Everybody dreads the cleaning up after cooking. So, get the OBRO Downdraft Cooker Hood and Induction Hob to make everyday life easy, convenient and visually magnetic.

Besides its easy cleaning features, it also wins in effectiveness. The OBRO Downdraft Cooker Hood and Induction Hob features the latest technology. All that tech is compacted into an exquisitely designed piece. Don't think for a second that what it wins in style, it compromises in power.

The OBRO Downdraft Cooker Hood and Induction Hob is fully automated. It has great extraction, advanced filtering systems, and powerful airflow. It's also guaranteed to remove any unwanted fumes, heat, and contaminants from your cooking environment. The 9-stage power setting induction cooker hob adds to its indisputable power.

Get the best cooking experience. All these features will guarantee the most efficient and effective use of the hob and hood. Use your kitchen with no hassle and full safety. Get the stunningly crafted, energy efficient OBRO Downdraft Cooker Hood and Induction Hob for a modern kitchen.
CONVENIENT, EASY CLEAN & MAINTENANCE WITH OBRO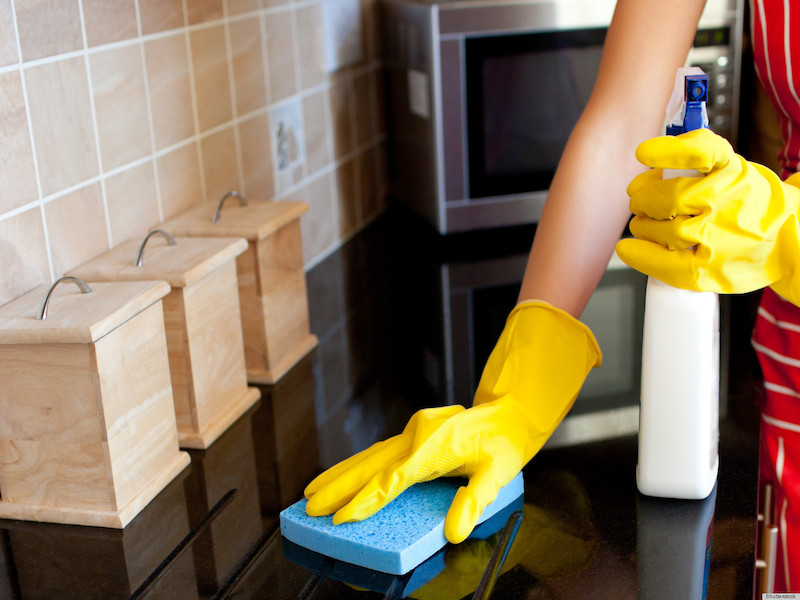 Everybody loves convenience. By nature, people always take the simplest route around tasks. Get the most hassle-free experience with the OBRO Downdraft Cooker Hood and Induction Hob.

It's so easy to clean and maintain. Enjoy the utmost efficiency and effectiveness while preparing meals. Then, enjoy cleaning ease and maintenance.

To clean the hood, simply spray or apply some regular cleaning agent and wipe away with a clean cloth. For the hob, wait until the induction hob glass surface cools down before you start cleaning it. Then, repeat as you did with the hood.

Maintenance is just as hassle-free. The cooker hood simply requires a routine carbon filter change every 3-6 months. However, the oil filter on the hood does require a little more care. So, clean it at least once weekly. For this, all you have to do is soak the oil filter in some hot water and brush it down once it cools.

Maintenance for the hob is essentially the same as the cleaning. Take note. The required cleaning frequency depends on how often you cook.
OBRO IS SAFE, FAMILY FRIENDLY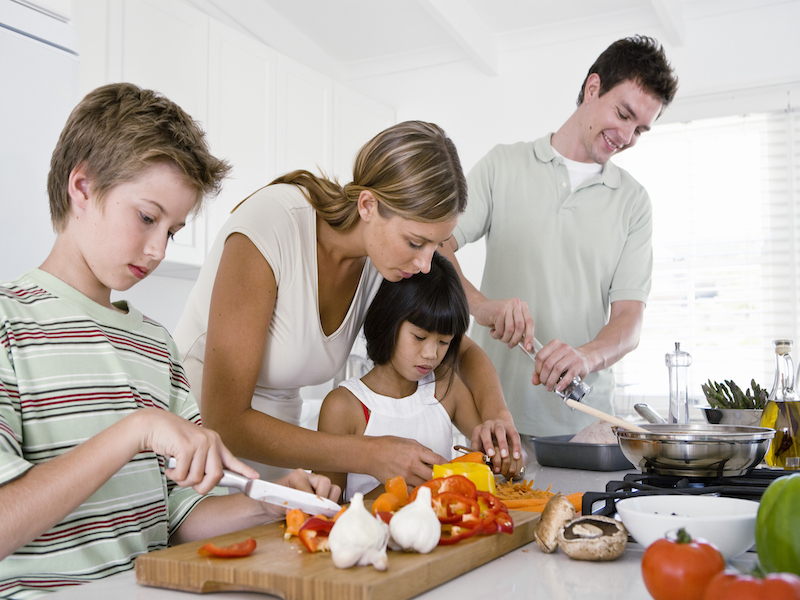 Get guaranteed safety with the OBRO Downdraft Cooker Hood and Induction Hob. Induction hobs are safer compared to other types of cooking hobs. Besides, its energy efficiency is an added plus if you have a big family and worry about mounting utilities.

The cooker hood's power guarantees clean air to breathe within your home while cooking. It eliminates all airborne grease, fumes, odors, and contaminants from the air.

All airborne substances could be potentially dangerous. Its advanced filtering systems does the job it's tasked with well. So, worry no more about you or your loved ones inhaling potentially toxic air.

For added safety, the OBRO Downdraft Cooker Hood and Induction Hob has a 99-minute timer, automatic switch installed. Never worry about accidentally burning your house down again. In addition, it has a safety child-lock.

The glass of the induction hob does not generate heat. It only gets hot when in contact with a pan or pot. So, don't worry about burning yourself in case you accidentally touch the surface. It's safe for all the inhabitants of your home to use.
UNQUESTIONABLE QUALITY WITH OBRO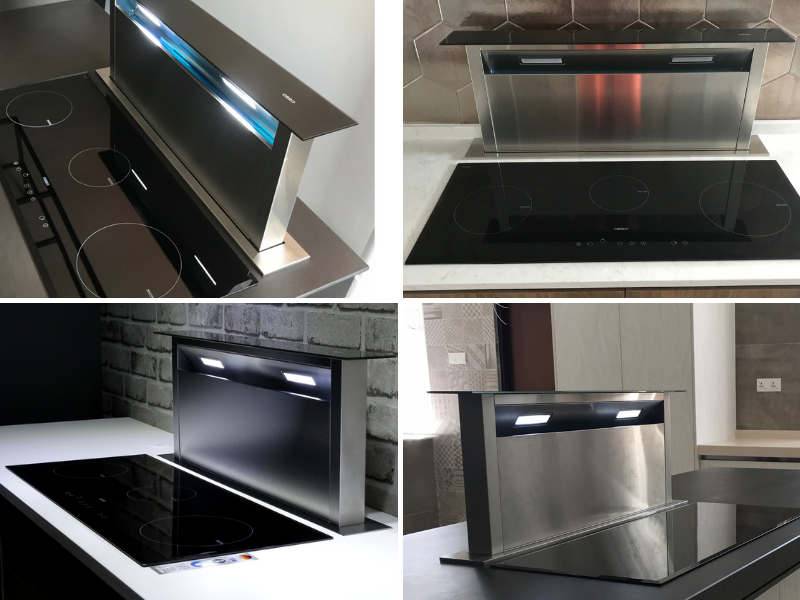 Get guaranteed quality when you get the OBRO Downdraft Cooker Hood and Induction Hob. All OBRO Downdraft Cooker Hoods and Induction Hobs are covered with a 2-year warranty. The warranty comes with free labor and material costs. The internal motor for the cooker hoods is covered with a 5-year warranty.

The warranty is a testament to the confidence that the company has in its product. OBRO guarantees a long-lasting product that stands wear and tear. It's equipped with quality materials, high tech components, and great power.

The OBRO Downdraft Cooker Hood and Induction Hob body is of high-quality stainless steel. While the hob top is of high-end glass-ceramic from German SCHOTT CERAN.

The slide, touch and remote control ensure fully automated use. Its advanced tech and high power components add to the user experience. Therefore, you get all the bang for your buck with the OBRO Downdraft Cooker Hood and Induction Hob.

If you want the best cooker hob and hood for your kitchen, get an OBRO Downdraft Cooker Hood and Induction Hob.

Tickle your inner minimalist fantasies. Get the most efficient and effective cooking experience. Lay back with cleaning and maintenance convenience. And, know you're getting your money's worth. Product quality and safety are guaranteed.