Buying Induction Hob? 7 Important Things You Don't Want To Miss
There are many modern kitchens incorporating technology now. This includes the induction hob, which is becoming a popular choice among the modern family. The induction hob is gas-free and element-free. With an induction hob, you don't have to worry about using a stove with gas or forgetting to turn off the fire.
The safety, convenience, and style are why induction hob is popular and replaces conventional gas stoves. But when it comes to buying an induction hob, do you have any idea what to take note of?
You need to consider many things when getting an induction hob, such as your cooking habits and space requirements. You need to get one that meets your needs. Read on to find out what you need to know before getting one.
How Does An Induction Hob Works?
An induction hob uses magnetism to generate heat energy through a coil of wire into the induction hob. A current will flow through the coil and create a magnetic field between the pan and the hob surface. This electric current inside the hob generates heat and cooks the food.
The awareness of its benefits increased and is getting popular with the modern family. Their high operational efficiency is worth the investment, and you get great use of it.
Factors To Consider When Getting An Induction Hob
1. Induction Hob Size
Induction hob can come in a different zone. It has 1,2,3,4 or 5 induction zones. It will be a great idea if you can multitask with one. Get your induction hob with at least two zones if you need to cook at the same time.
Depending on your needs, you can choose accordingly. Many zones will be too cramped if your cooking space is small. Cooking on one induction zone will make the controls greasy and not respond when you touch them. There are three main induction hobs: built-in, over-the-counter top, or portable induction hob. The most popular ones will be the countertop model and portable model inductions.
No matter which type of induction hob, the prices are influenced by the style and the feature of the induction hob. The best option is to get a hob with a bigger body size. There will be efficient air circulation inside to cool down the PCB, which will lengthen the life of induction.
2. Induction Hob Control Panel
The control panel is where all the cooking setting options are available. Three main control panels are available for the hob: rotating knobs, press buttons, and touch sensor controls.
The price for touch panels will be slightly higher for press buttons. The control panel will display the power, temperature, and preset settings depending on the model you buy.
---
Monthly Giveaway worth RM1,000 – Subscribe to Telegram now!
---
3. Induction Hob Power/ Temperature settings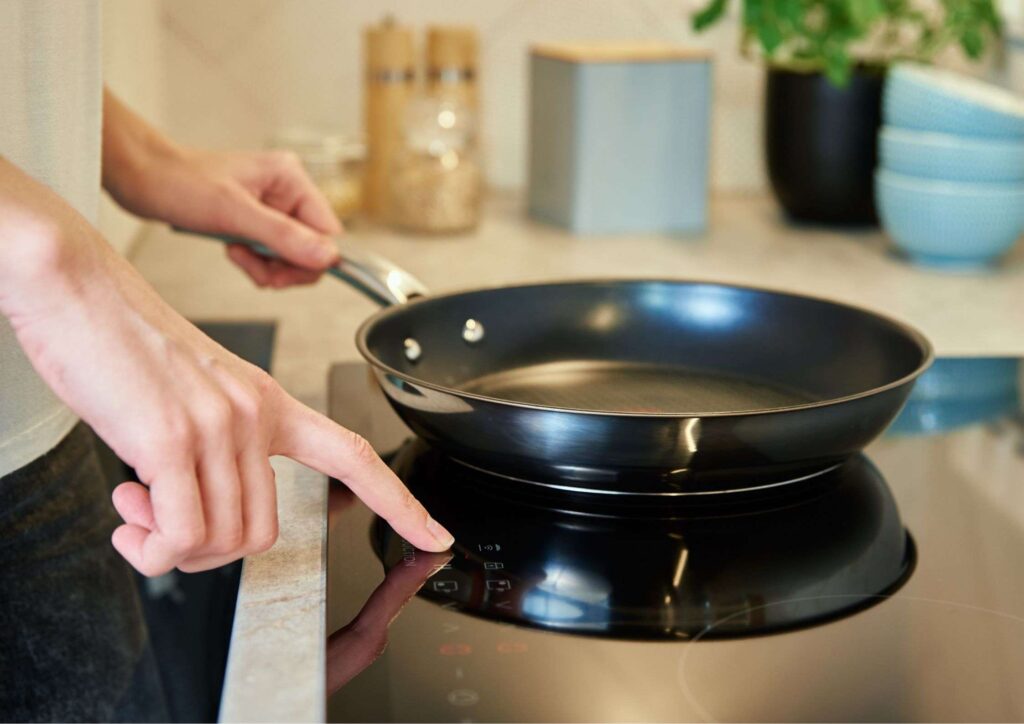 It is important to consider the temperature/power interval settings when buying an induction. When the temperature/power settings interval are lesser, it will be easier to cook. It can regulate more effectively when there is a slight increase or decrease.
You need to ensure that the induction starts with a low temperature by default. The adjustable temperature should be 140-430 degrees Fahrenheit to get the best result. Some induction has a higher maximum power that can reach 2100w, and some inductions have lower full power, which may be 1500w or 1700w.
There are different power levels where you can set the amount of heat you need for a particular food. Most of the time, you can adjust the power level while cooking. Some induction hob has a power management system that divides the power for the cooking zone two and above. The maximum power will only be able to set for one cooking zone. If you intend to cook two dishes at the same time, the second cooking zone can only be set at a lower power level.
4. Induction Hob Timer Setting
Most of the induction hobs have a timer setting. It will be very helpful when you just want to heat or boil your food. You can set the time you need for the particular food your want to heat or boil. After the time ends, the power will go off immediately.
A build-in induction digital timer can range up to 170 mins. The induction will turn off after the preset item. It will help to save energy and prevent accidents.
5. Induction Hob With Child Lock
This feature will be important when you have children in your house. Most of the induction will have a child lock feature for safety purposes. The induction can be locked while the induction is being used, or even cleaned.
When the child lock feature is used, the displayed settings will remain active. All other features and functions will be locked as well. Only the power off button is usable due to safety reasons. It can avoid any happening in case of your child presses the buttons.
6. Induction Hob Safety Cut Off Features
Most of the induction will have safety cut-off features. If your induction has been turned on for some time without changing the temperature, the power will be cut off or switched off. It will depend on the heat setting at that time.
The lower your power setting is, the longer the induction will remain on. If the heat setting is very low, certain induction will remain on for up to 10 hours. If the induction is on the highest setting, it may remain on for around one to one and a half hours.
Depending on your cooking habit, if you require a longer time to cook your meal, you may want to consider an induction with a more extended cut-out period.
7. Induction Hob With Automatic Pan Detection Feature
An automatic pan detection feature is another feature that induction hobs will offer. It ensures that the heating will be turned off as soon as the cookware is removed from the induction. Most of the induction will shut off automatically to ensure less energy wastage after 60 seconds when the pan is removed.
Some models will appear as a symbol when the cookware is removed, and the operation is stopped. The heating zone will continue with power levels set before when the cookware is placed back.
Induction hobs are a kitchen appliance that helps us nowadays. Here's what you should consider before getting an induction hob for yourself. Remember to get one that fits your needs.
---
Monthly Giveaway worth RM1,000 – Subscribe to Telegram now!
---
If you have any doubts, CLICK HERE to find more detailed information on the different types of kitchen cabinets and AMPQUARTZ is always here for your queries. We provide the best marble in Johor Bahru and we are the best for a reason. We are the most qualified individuals to assist you with your current issue, so schedule an appointment with us right now to get started!
Here at Ampquartz, we can provide you with the perfect information with better suits your kitchen.
Do contact us to get FREE CONSULTATION.
Related articles that might entice you