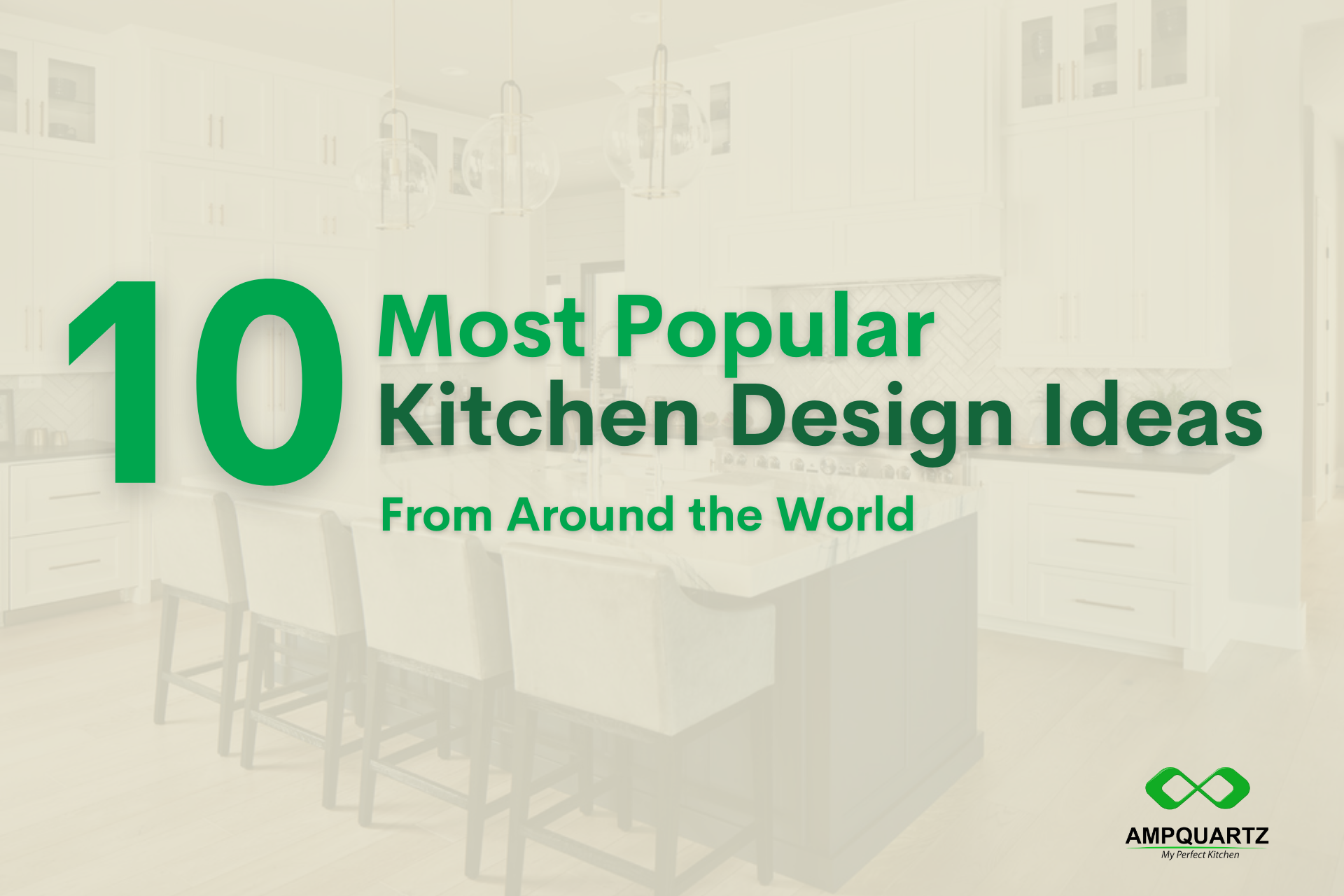 10 Most Fantastic Kitchen Design Ideas Around the World
Nowadays, the kitchen is a place for cooking and a socializing area that allows them to display their cooking skills to friends. So, a good kitchen design is a must. However, excellent kitchen design is universal; not all kitchens are created equal. For instance, work for a suburb in America is not suitable for work for an apartment in Malaysia. Are you still looking for your dream kitchen design ideas? Continue reading this article; we will bring you a list of popular kitchen design ideas from 10 countries worldwide. Related Article: 5 creative kitchen design ideas that you'll be amazed!
10 Most Fantastic Kitchen Design Ideas
Russia
Image Via Houzz
Russia style kitchen attaches great importance to the facade design, strong sense of quality, modelling concise, and does not break detail. The material has the texture, colour coordination, and good visual perception. There's a common problem in most kitchens: the homeowner bumps their head to the ventilator or cabinet when cooking. With the designer's thoughtful ideas, they had solved the problem by making the upper cabinets with the lower one shallower than the top.
United States
Image Via Houzz
White Shaker-style cabinets, a coloured island base, warmly coloured hardware and pendants over the island make this design one of the most popular kitchen ideas in U.S. Doubtless, it also represents the current trend in American kitchens. Florida quartzite and wire-brushed European oak as the island countertop and floor material help give the kitchen a unique sense. The design team also takes advantage of contrasting colours to add more depth, which adds glossy grey backsplash tile in a herringbone pattern to the kitchen walls. Ampquartz is a kitchen specialist Johor Bahru that expertise in kitchen design. Call us now!
Australia
Image Via Houzz
Practical and good-looking— The favourite of all the Australians! This kitchen is mainly built of wood, dolomite, and polished concrete by highlighting the simplicity of the Scandinavian aesthetic. Majority of Australia kitchens have a large kitchen space, with the open-style that connects with the living room. Hence, it plays a vital role as a space for socializing with families and friends. The photo above shows that the combination of the island countertop and open shelf performs well in an open-style kitchen. Durable and low-maintenance performance always are the main advantages for them.
Singapore
Image Via Houzz
A perfect and well-planned kitchen design idea from Singapore's designer, Priscilla Tan. There is a fundamental principle in designing the kitchen, which is 'Work Triangle'. The flat induction cooktop placed on the peninsula performs 'work triangle' well with the sink and fridge. At first glance, the first thing you might notice is the graphic floor tile that makes the whole kitchen catchy. According to Tan, it is made of vinyl with the function of shaping and grounding the kitchen area, and also ties the palette together perfectly.
Japan
Image Via Houzz
Japan's kitchen style is relatively modern; it has a solid wood theme for all the cabinets and worktops. The materials for the peninsula counter, ceiling and floor are the same Japanese cedar. Although Japan is one of the Asian countries, they are more prefer the open-style kitchen. This is mainly influenced by their cooking habits. It is hard to deny that the open-style kitchen builds the overall style of the steady and casual family atmosphere.
What Japanese pursue for their kitchen are: practical and beautiful colour, shape and structure design; and also the utility.
Looking for kitchen specialist Johor Bahru? Ampquartz's experts are ready to assist you!
United Kingdom
Image Via Houzz
If you wish to have a unique cupboard, you should never miss out on this genius idea! The photo shows a London kitchen designed by Barry Sawyer, which contains a shaker-style cabinet that drew the eye. With the combination of traditional and contemporary styles, it provides a large storage for small electric appliances and kitchen supplies. The countertop that is made up of marble creates a sense of modern. It offers the space for putting a coffee machine and juicer. The breakfast bar is located next to the cabinet, which provides convenience for the house owner.
A brilliant trick: Cabinet's doors are retractable and allow for slotting into the sides!
Read also: 7 Tricks to Arrange your Kitchen Appliances
Germany
Image Via Houzz
Open-style kitchens with a large space are always the popular kitchen design ideas- it is not. A reduced-to-the-essentials kitchen also made an appearance on the popular kitchen design list! Studio apartments usually have a small and limited space compared to other rooms' types. Dining table is a must-have in every house, but what if it will occupy too much space? Thus, here's a genius solution – pull out the dining table from the cabinetry. "There is storage space under the bench, and the corner cupboard can be reached from the door under the extensible table," Günther says. The house owner no longer have trouble with kitchen storage.
Designer Ute Günther's success had justified that: limited space did not keep you from getting a fully equipped small kitchen.
Denmark
Image Via Houzz
A common trait of classic Danish style is continued in the kitchen above, with the combination of newer and older Danish design. The kitchen features a simple colour tone filled with black, white, and grey clean lines. It successfully creates a classy and upmarket feel by forming good visual perception. The kitchen's intimate design includes installing a large cupboard wall that provides a vast storage space. Also, to avoid a cluttered kitchen, there are some pullout drawers in the kitchen to store the electric kitchen appliances. Feeling hard to find your desired kitchen design ideas? Feel free to browse our portfolio for more ideas!
Spain
Image Via Houzz
Simplifying and customization are the key to perfect kitchen design ideas; same goes for Spanish kitchens. According to the designer "Lluisa Deulonder", the white Corian countertop with a built-in sink is a fundamental feature that brings elegance to the space, as does the glass cupboard which stands on top of it.
Also, to make the kitchen more protruding, suitable colour tone and well-planned lighting is the must-have.
She also highlights that those ideas are workable for custom kitchens only, which allow the storage of small electric appliances.
India
Image Via Houzz
All-white kitchen produces a visual appearance that looks spacious and light. It is suitable for the kitchen in India, as most apartments in India offer limited space only. Hence, it is a challenge for the designer to pursue both functionality and space. This genius kitchen design idea is from designer Sunita Yogesh. To maximize the function on the restriction of available kitchen space, the designer built a utility zone for placing the laundry and storage.
With the goal to fully reflect the all-white design theme, the designer also opted for a herringbone backsplash, quartz countertop and Shaker-style cabinets in white.
Wondering about the latest trend for kitchen design ideas in 2021? Read this article: Latest Kitchen Trends for 2021- Don't miss it!
Conclusion
Want a perfect kitchen? Ampquartz will guide you through your journey! We are interior expertise with awards-winning, has been in the industry since 2008 with 10 years of experience in the realm of the kitchen renovation. We emphasize to provide great quality with reasonable price. Make an appointment for a FREE consultation by contacting us today!


CONTACT US NOW AT : +6018-7942927 (Ann Sin)
Image Via Ampquartz
Sources:
The Most Popular Kitchens From 13 Countries Around the World – Houzz
For more relevant articles, please read: