6 Exclusive Tips on Cleaning Kitchen Cabinet
Cleaning kitchen cabinet maybe furniture that you miss out as you may only focus most of the time cleaning the sink, counters, and floors. Especially when it comes to cleaning kitchen cabinet door, where tiny droplets of cooking grease, food splatters, and steam tend to settle and then attract and hold dust, leading to dingy, dull, or streaked surfaces. Tougher stains can build up over time.
It doesn't require any hard work to clean your cabinets. You will need a few common household items and a bit of elbow grease to finish the job. Just follow the steps below, and your cabinet will be as clean as a new one.

1. Set a Cleaning Schedule on Cleaning Kitchen Cabinet

Regular cleaning keeps your cabinet dust-free. It is easy to forget about cleaning the kitchen cabinet if you don't set a reminder. You can consider cleaning it once every fortnight for the cabinet door and once every six months to clean inside the cabinet.
Try to do a deep cleaning at least twice per year, rather than cleaning kitchen cabinets' surfaces. Empty your cabinets entirely, and then wipe down the shelves, inside of drawers, and cabinet interiors along with the outer surfaces of the cabinet. Do some housekeeping before returning the items to the cabinets, consider if they are worth keeping.
If the items are not in use, toss them or donate them, or even give it to your friends or relative. Get rid of those items like heavily chipped dishes, cracked mugs, plastic storage containers with missing lids, and the other useless odds and ends that are taking up space in your cabinet.
The items in your cabinet may accumulate dust if you are not using them often. Remember to do some wiping on the items that you want to keep before returning them to the cabinet. You don't want to dirty your cabinet the moment you just finish cleaning.



Choose the appropriate tools for cleaning kitchen cabinet to avoid damaging the cabinet. Use soft brushes and clothes to clean. Leave those abrasive cleaners and scrub brushes stiff brushes, particularly those that contain metal for your sink. Using a mild dishwasher helps to clean your cabinet.
While using a microfiber cloth or soft rag to clean your cupboard, spray the cleaning mixture onto the cloth until it's damp but not drenched. Too much moisture can easily damage your cabinets. Squeeze excess water into the sink if necessary.
Another thing that you would like to take note of is don't air dry your cabinets after cleaning, it can damage or bubble the finish or paint of your cabinet. Use a soft cloth to dry all damp surfaces.
---
Monthly Giveaway worth RM1,000 – Subscribe to https://t.me/ampquartz
---

3. Start From the Top When Cleaning Kitchen Cabinet
You may not want to start cleaning the kitchen cabinet from the bottom as dust will be falling as you clean to the top. Wipe off the dust from the top with a soft cloth or even a small hand-held vacuum can do the job. Even if you use your range hood every time you cook, grease can still settle on your cabinets.
Do clean your front often, if it is not removed regularly, it will get hardened, making removal much more difficult. Dip the cloth in water and wring it out thoroughly before you pass it over to your cabinets. Using an extremely wet cloth may cause the wood to swell, which can warp cabinet doors and frames.
Be gentle while cleaning the kitchen cabinet as it may cause damage. If the stain is too hard to get rid of, try mixing some warm water with baking soda. Baking soda is a mild, natural abrasive that's helpful for getting rid of many types of kitchen stains.
4. Make it Crystal Clear

If you have a glass-fronted cabinet, it will require special care. Avoid spraying the cleaner on the glass directly as it could drip into the door frame and warp the wood. Use a small cloth and gently rub from inside, then the outside of the glass.
Just spray your vinegar mixture or a commercial glass cleaner on a clean cloth and wipe the glass thoroughly on both sides. It's generally fairly easy to remove dried food splatters, grease, and other kitchen grunge from glass, but if it is hard to clean, you might need to tackle the spot twice to completely eliminate it. Don't use anything abrasive on the glass, and wipe the panels dry once you've finished cleaning them.

5. Don't Forget About Handles and Grooves

While cleaning kitchen cabinet, remember to clean the handles, grooves, and recessed edges that require extra attention. A rug may not be able to exceed this place. An old toothbrush or artist's brush will be an ideal tool when you need to clean small objects or tight spaces. Simply dip the brush into your cleaning solution and clean those hard-to-reach spots.
6. Test Cleaners Elsewhere
If you are trying out any new types of cleaning chemicals for cleaning kitchen cabinet, ensure that the cleaning solution doesn't react negatively with the finish of the cabinet.
Water-based cleaners are typically best, but if you have grease to get rid of and need to use harsh cleaning chemicals, try it out on a small hidden space to try out its effectiveness before using it on the entire kitchen.
We hope these tips for cleaning kitchen cabinet are useful for you. Different cabinets may have slightly different requirements. If you want to know more about cleaning aluminum cabinets, you can read this related article on how to clean and maintain aluminum kitchen cabinet in our blog.
It is the best that you can keep your cabinet clean but if you are having problems with removing the grease and thinking of changing your cabinet, look around at the popular design that you may like.
---
Monthly Giveaway worth RM1,000 – Subscribe to https://t.me/ampquartz
---
If you have any doubts, CLICK HERE to find more detailed information on the different types of kitchen cabinets and AMPQUARTZ is always here for your queries. We provide the best marble in Johor Bahru and we are the best for a reason. We are the most qualified individuals to assist you with your current issue, so schedule an appointment with us right now to get started!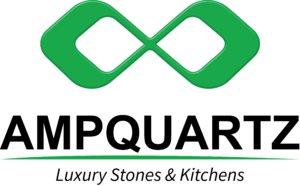 Here at Ampquartz, we can provide you with the perfect information with better suits your kitchen.
Do contact us to get FREE CONSULTATION.