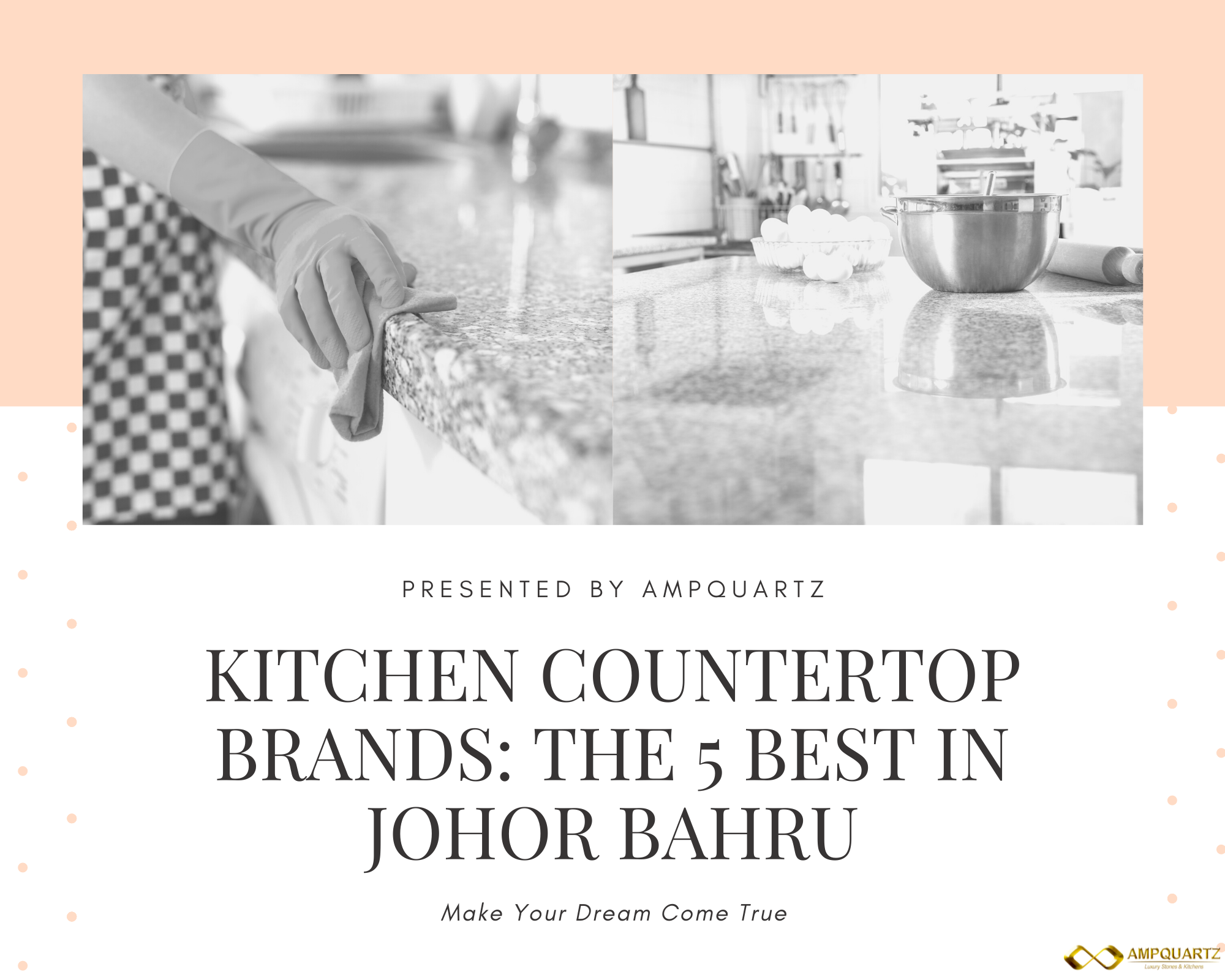 Kitchen Countertop Brands: The Best 5 in Johor Bahru
What exactly is a countertop? If you are a foodie who enjoys cooking or someone who spends nearly half of their day in the kitchen, this is not a difficult question for you to answer. Countertops, counters, benchtops, worktops, and kitchen benches are all names that can be used to describe countertops.
In most cases, they are designed for usage in kitchen space or other meal preparation zones, restrooms, or lavatories, as well as common workrooms and office environments.
Depending on the intended purpose, a countertop can be manufactured from a variety of materials that have varying characteristics in functionality, stability, and beauty. It may also have built-in devices or additional features. Some of the most common kitchen countertop materials in Malaysia are laminate, marble, quartz, wood, solid surface, and so on.
Don't get us wrong. We are not claiming that the kitchen countertop is the only feature that may improve the ambiance of your kitchen, but it is undeniably one of the factors that you cannot overlook if you are planning a complete kitchen renovation.
In this post, we have compiled a list of the best kitchen countertop brands in Malaysia that you should be familiar with, as well as the reasons why you should keep them on your radar.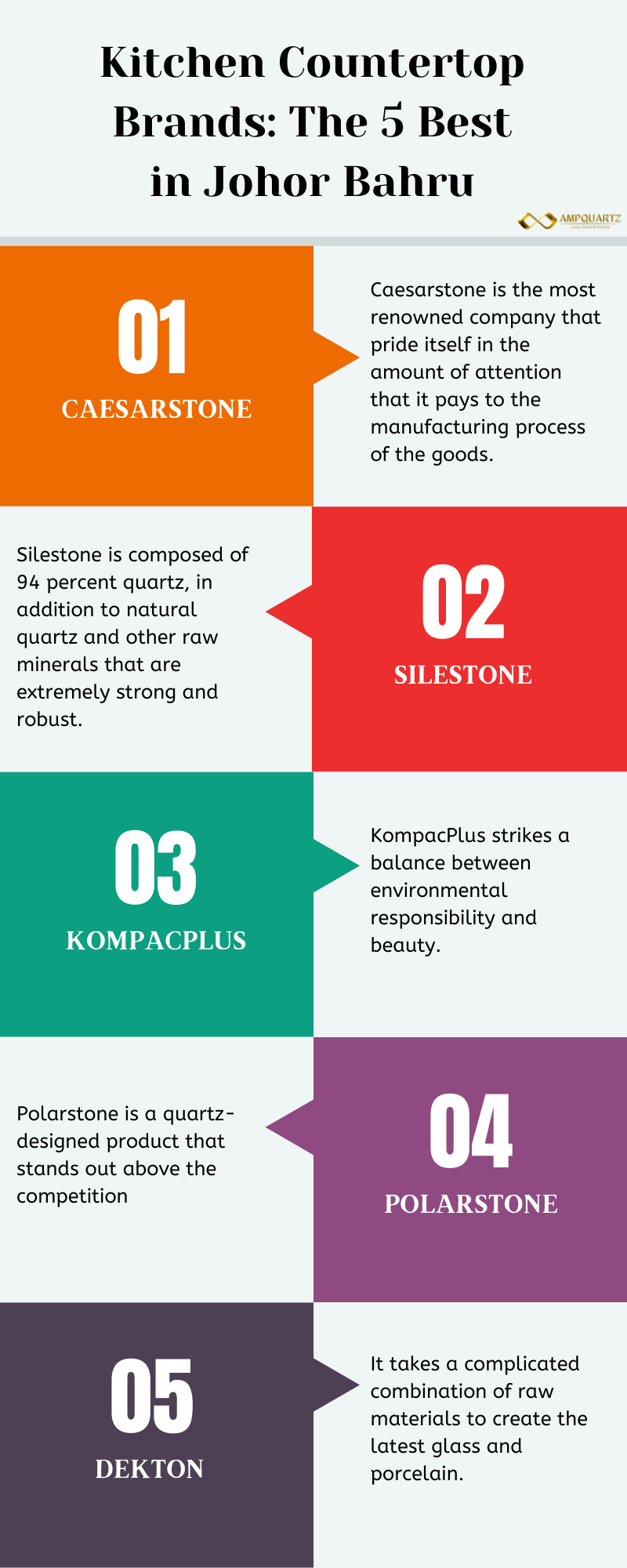 1. Kitchen Countertop Brand:

Caesarstone
In the quartz stone industry, Caesarstone is the most renowned company that takes great pleasure in the amount of attention that it pays to the manufacturing process of the goods. Having a long history of delighted customers who attest to the high quality and aesthetics of Caesarstone quartz, simply reminds you that no dream is too large to be achieved. Some of the features of Caesarstone are:
1.1 Long-lasting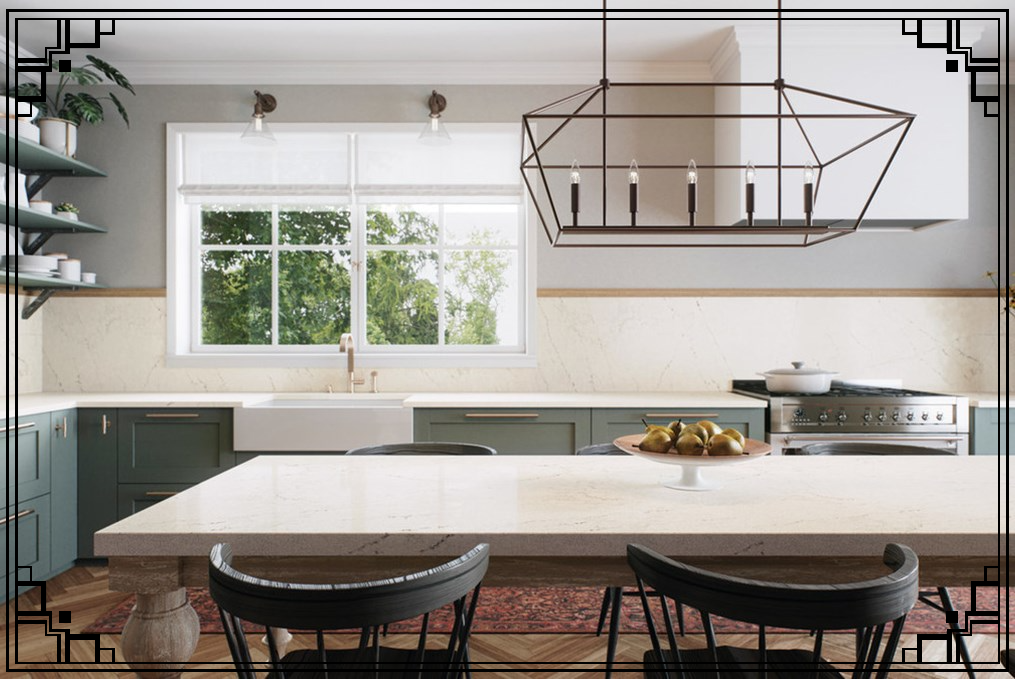 Harder than marble and granite because of its 93% natural quartz content, Caesarstone quartz is the toughest material on the market today.
1.2 Scratch & stain resistant
Caesarstone quartz surfaces are exceptionally hard-wearing and able to handle practically any obstacle that comes their way.
1.3 Design flexibility and highly adaptable
Caesarstone's cool, tactile properties allow for a wide selection of shapes, including curved, rectangular, and many more. It's easy to trim to fit almost any place, no matter how small or large it is. Let your creativity go wild with Caesarstone.
1.4 Low maintenance
It is not necessary to seal Caesarstone surfaces on a regular basis to prevent them from mildew, mold, and stains.
2. Kitchen Countertop Brand:

Silestone
Kitchen countertop brand, Silestone is composed of 94 percent quartz, in addition to natural quartz and other raw minerals that are extremely strong and robust. These properties come together to provide an exceptional surface for use as a kitchen countertop, bathroom vanity, flooring, and wall cladding material.
Silestone is a surface material that has remarkable qualities that make it ideal for kitchen and bathroom designs. It has a natural stone-like appearance and comes in a variety of colors and textures that are unmatched in the industry. Why you should choose Silestone?
2.1 Dura
Silestone is extremely durable in high-traffic areas like the kitchen and bathroom, where it is often used.
It is available in a wide variety of colors to complement your particular style or the overall theme of your home. Aside from that, Silestone is gleaming and smooth without the need for polishing.
2.3 Stain
Silestone is a nonporous surface that is very resistant to staining produced by a variety of household goods, such as coffee, wine, lemon juice, olive oil, vinegar, cosmetics, and many more.
2.4 Scr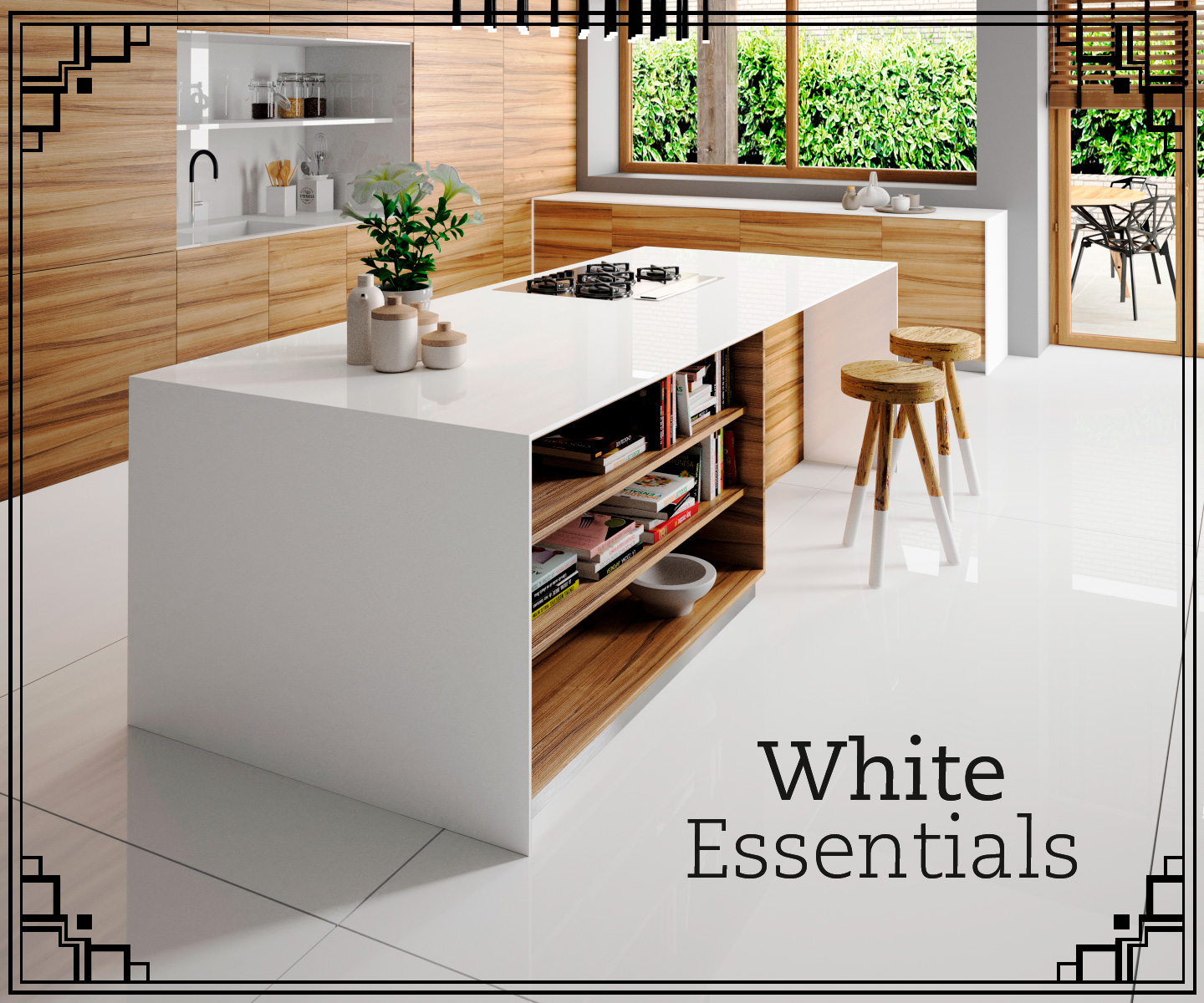 On the Mohs hardness scale, quartz is rated as having a hardness of 7. (Diamond has a hardness of 10). Whereas most other surfaces may be scratched, Silestone is exceptionally scratch resistant.
---
Monthly Giveaway worth RM1,000 – Subscribe to Telegram now!
---
3. Kitchen Countertop Brand: Ko
KompacPlus strikes a balance between environmental responsibility and beauty. Its panels are innovatively built with precision and engineered to last a lifetime, making it the material of choice for those looking for the most aesthetically pleasing experience on the market.
KomplacPlus, which is molded in accordance with European Standard BS EN 438, is resistant to wear and tear even after years of intensive usage. These exquisitely created panels have low flammability and do not disintegrate, making them an excellent alternative for your kitchen design needs. Why you should choose KompacPlus as your kitchen countertop brand:
3.1 Fully customizable
It can be customized to meet individual requirements or sizes.
3.2 Durable
Even with the piping and fittings replaced a few years ago, there has been no leaking or bubbling.
3.3 Non
Resistance to all types of germs, while also encouraging a healthy and sanitary way of life with the least amount of upkeep.
3.4 Minimal maintenance
It is easy to maintain and simply needs the smallest amount of attention. An occasional wipe-down ensures that it will survive for many years to come.
4. Kitchen Countertop Brand:

PolarStone
When it comes to the creative mix of timeless marble designs with exceptional quartz technology, Polarstone is a quartz-designed product that stands out above the competition. It combines a long-lasting quartz surface with a flawless marble pattern, allowing for wider use of marble without sacrificing aesthetics. In short, some of the reasons why you should PolarStone as your kitchen countertop brands are:
4.1 Durable
It is made of a heat-and-scratch-resistant material that will chip or shatter less easily when anything falls on it.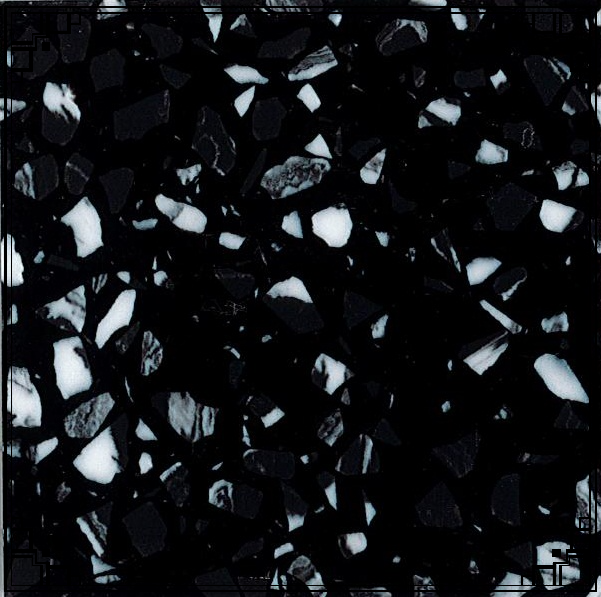 Many different composition combinations were explored during the design process, allowing it to be unique and provide a customized touch.
4.3
Practical and simple to maintain, they do not require frequent sealing or polishing and do not require regular maintenance.
4.4 Easy to clean
Because of the non-porous nature of the material, it is simple to clean with soap and water.
5. Kitchen Countertop Brand: De
It takes a complicated combination of raw materials to create the latest glass and porcelain, as well as quartz work surfaces of the highest quality, to generate Dekton ultracompact surfaces.
Exclusive Sinterized Particle Technology is used by Dekton, a high-tech process that represents an enhanced version of the metamorphic alteration that natural stone goes through after being exposed to high heat and pressure over thousands of years. The reasons why the Dekton kitchen countertop brand should be on your radar are:
5.1 Heat resistance
Its ability to sustain high temperatures without burning, blistering, or breaking is a result of its fire and heat resistance.
5.2 Color Stability
Color stability ensures more uniformity in color from slab to slab, resulting in a product that is long-lasting and will not fade over time.
5.3 Dimensional stability
Dimensional stability reduces the need for field repairs and makes installation simpler.
5.4 Low maintenance
Because it is non-porous, liquids and gases are prevented from permeating the surface, making it a low-maintenance surface that is simple to clean.
---
Monthly Giveaway worth RM1,000 – Subscribe to Telegram now!
---
There are, however, many other major kitchen countertop brands in Johor Bahru that should bear in mind, we just have the tip of the iceberg covered. If you have any doubts, CLICK HERE to find more detailed information on the different kitchen countertop brands and AMPQUARTZ is always here for your queries. We provide the best marble in Johor Bahru and we are the best for a reason. We are the most qualified individuals to assist you with your current issue, so schedule an appointment with us right now to get started!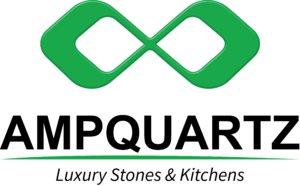 Here at Ampquartz, we can provide you with the perfect information with better suits your kitchen.
Do contact us to get FREE CONSULTATION.