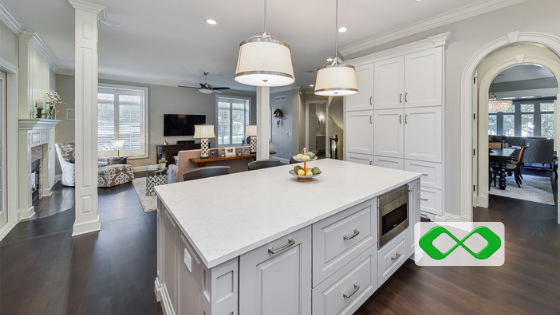 Kitchen Trendy: Trends For Your Kitchen Countertops
High-End Kitchen Countertop Trends or Nah?
We know, we know. We're well on our way to the end of years, and we have not touched upon this year's kitchen countertop trends. But we're here now to do just that. And what better way to finish off the remaining (four) months of years by going through the top trends and fads of the year? After all, better late than never, eh? So without further ado, here are three high-end kitchen countertop trends.
1. Quartz Kitchen Countertops Remain Top-of-The-Line
As the years trickle onwards, there has been a paradigm shift in material choices. Gone are the days of the speckled granite look that was in vogue merely a few years ago. In its place, we see the rise of white and other lighter shades/solid-colour countertops, thanks in part to what people are seeing on popular forums. In this case, perhaps the biggest shift has been to quartz-based kitchen countertops. For the uninitiated, quartz is a man-made material made from crushed quartzite, a binding material, and dye. Moreover, quartz manufacturers have gotten much better at creating a wide range of choices for the material. This includes a ton of colour and texture options, which has made quartz ever more popular. Furthermore, quartz was introduced as a high-end alternative to granite, which was a mainstay in the countertop scene for years. Granite as a material is strong, durable, and aesthetic, but it has its own downsides. Off the top of our heads, the material is porous – a big no-no in our books. This means that liquids can seep through the surface and cause staining. But worst of all, it encourages the breeding of all sorts of unhealthy and dirty bacteria right on your countertop. Of course, you could argue that sealing the granite surface with a non-porous sealant would solve this issue. But, ain't nobody got time or money for that, am I right? And have we mentioned that quartz is non-porous?
2. Honed & Leather Kitchen Countertop Surfaces Making Their Way Into Our Hearts
Have we mentioned that the matte look is all the rage nowadays? There has been a design movement shifting towards textured and tactile surfaces. So why not consider doing the same for our countertops? Other than matte, honed and leather surfaces are most common. These surfaces can be applied to many different materials like granite, marble, and quartz. And while polished surfaces reign supreme, there are certain advantages these two have over the latter. Allow us to elaborate: Honed finishes are a type of matte finish with little to no shine. The overall look may vary depending on the type of stone material used, but it should have a low sheen and a smooth surface. In particular, honed finishes work well with marble since it's lack of shine easily conceals any flaws. On the other hand, the leathered finish is a newcomer that has gained popularity over the years. Leathered finishes have a soft sheen that is less glossy than a polished slab. And it has the touch factor, giving it a different feel. The leather also retains the stone's natural colour but also gives it a more sophisticated look. Plus, it has the added benefit of hiding fingerprints and water spots well.
3. Sometimes You Need A Little Character In Your Kitchen Countertops
Last but not least, the trend is that homeowners are seeking "character" in their countertops. What this means, essentially, is that they want their countertops to be unique. And adding a layer of "character" achieves this. Unique veining and patterns come to mind. Thankfully, technology is here to save the day! Today, kitchen countertops come in a wide variety of patterns unlike the plain ol' boring look of years past. Bid adieu to the round particulates of old countertops and say hello to realistic veining. We've said this before, but quartz is now being designed to resemble slabs of natural stone ala granite and marble. This process involves creating veins in interesting patterns swirled into the countertop slabs. This added character to your countertops will inject some personality into your kitchen and will definitely wow your guests. These varied patterns thus, make for an interesting matchup with other kitchen elements. Imagine the contrast between your countertops with your flooring, walls, cabinetry, and backsplash. Lovely.
Final Word
The kitchen countertop has, and always will be a big part of your kitchen decor. It determines the overall look of your kitchen. And it can make or break your kitchen's theme. Over the years, we've seen trends and fads come and go, and 2019 is no different. Quartz countertops are gaining an edge over natural stone, while honed/leather finishes are becoming the norm. Along with that, kitchen owners are looking for more personality to inject into their kitchen countertops. Feature Image Credit: Sebring Design
CONTACT US NOW AT : +6018-7942927 (Ann Sin)