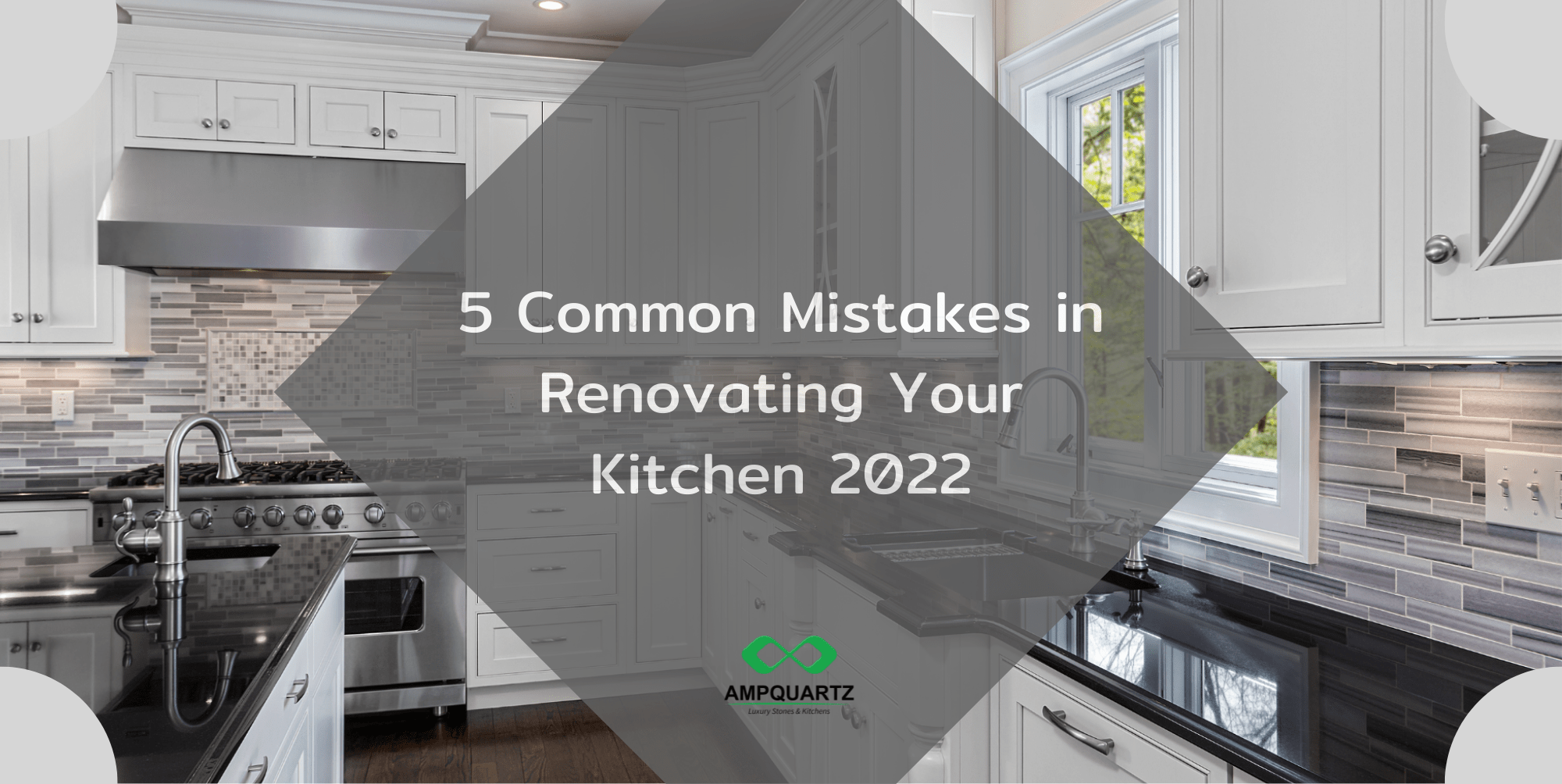 5 Common Mistakes in Renovating The Kitchen 2022
Making a mistake in renovating the kitchen is easy, as everyone wants a well-equipped kitchen to work with, especially the chefs that work in it most of the time. However, as important as it is in a house, people tend to squeeze their wants into their kitchen and make many mistakes that made you regret lots of money loss. Here we will discuss the mistakes in kitchen renovation and how they can be corrected so you can have a comfortable cooking space.
Mistake in Renovating The Kitchen 2022 No.1: Be Clear on the Requirements
This mistake in renovating the kitchen is easy to make, as it can be tempting to jump straight into picking beautiful fixtures and finishes for your new kitchen but before you do that, you need to get the requirements right. Even if you call in a kitchen designer, no one knows your or your family's needs as well as you do, as you are the one who is going to be using it. So let's start by doing a thorough assessment of it.
Before starting a new kitchen design, ask yourself:
What is it about your current kitchen that you most want to change? For example, do you need better lighting or more bench space to prep? Get specific.
What appliances do you need and what appliances do you desire. Because as you'll find out later in the list, it isn't always possible to fit everything in.
Is there anything in your current kitchen that you do not use that is obsolete? For example, a warming drawer that you thought was cool but actually takes up precious storage space.
What is your objective for the kitchen renovation? Is it your forever kitchen or just a short-term solution until you sell?
What is your budget to begin with?
After you got your answers to the questions above, you will have a clear picture of what is needed to remodel your kitchen.
Mistake in Renovating The Kitchen 2022 No.2: Try to Leave Sufficient Clearance
It's easy to cram too much into a tight space, still, remember that the kitchen is one of the most heavily used parts of any home. Sufficient aisle clearance is crucial to avoid accidents when you prepare meals or tackle cleaning tasks. Ideally, you'll want to leave a minimum of 42 inches between walls, kitchen cabinetry, and any bulky appliances.
It's also important to think about where you are placing those big kitchen staples. Try to keep refrigerators, ovens, and sinks separated from one another. This will alleviate congestion and leave every kitchen user plenty of space to do their things.
---
Monthly Giveaway worth RM1,000 – Subscribe to Telegram now!
---
Mistake in Renovating The Kitchen 2022 No.3: Imagine The Kitchen in 3D Before Designing
It is not wrong to want your kitchen to be gorgeous and fancy in terms of looks, but, if you can not make it fancy in terms of functionality, then it will only look folly in other people's eyes. When planning your kitchen, you should walk around your kitchen, get a 3D image of the kitchen in your head, and try to picture the placements of the applications, doors, and cabinets. Try to imagine the size and directions of them and see if it works if you put your desired kitchen design in. By having a clear image of the after-renovated kitchen, you will have no worry about working out the remodeling smoothly.
Mistake in Renovating The Kitchen 2022 No.4: Sort out your cabinets and cupboards BEFORE your appliances
Generally, it is much easier to build cupboards and cabinets around the measurements of appliances, rather than trying to find appliances to fit in the cabinets. Many kitchen renovators make the mistake of having the cupboards and cabinets built and then trying to buy the necessary appliances to fit in the allocated spaces. This rarely ever works out well, as even a slight discrepancy in the measurements of your kitchen cupboards and cabinets can mean the difference between a successful installation and one that needs to be revised.
By having an accurate measurement of your appliances, you will get the affection from most kitchen designers, as they will be able to account for those appliances when finalizing the design specs for your kitchen cabinetry.
Mistake in Renovating The Kitchen 2022 No.5: Don't Forget about the Storage
This mistake in renovating the kitchen is needed to look into as storage is at a premium in any kitchen, no matter how large. You'll need to think carefully about storage solutions when designing your dream kitchen. While open shelves and cabinets are obvious choices, there are other alternatives that should be considered.
Will there be a lot of wall space remaining once cabinets have been mounted? Floating shelves and magnetic knife holders are worth looking into. You can also make the interiors of drawers and cabinets work better for you. Integrated cutlery sorters and knife holders will make everyday organization simple, adding in, tiered storage in overhead cabinets will also make it easier to retrieve ingredients and essential cookware.
---
Monthly Giveaway worth RM1,000 – Subscribe to Telegram now!
---
If you have any doubts, CLICK HERE to find more detailed information on the different types of kitchen cabinets and AMPQUARTZ is always here for your queries. We provide the best marble in Johor Bahru and we are the best for a reason. We are the most qualified individuals to assist you with your current issue, so schedule an appointment with us right now to get started!
Here at Ampquartz, we can provide you with the perfect information that better suits your kitchen.
Do contact us to get FREE CONSULTATION.
Related articles that might entice you