Why Are Marble Getting More People Love It
Here, let's marble supplier in Johor Bahru, Ampquartz share with you why are marble getting more people love it in this article. As people said no matter how complex things are presented, most of the things have amazing similarities and connections. Just like the view of the rooftop of the Great Mosque of Mecca, the world's largest mosque, and the Mormon Temple In Salt Lake City are inextricably linked, the magnificent lobby floor of JPMorgan Chase's New York headquarters is related to the luxurious furniture and decoration at the Kim Kardashian wedding. Regardless of time and region, all these shows wealth, power, status, and identity in their different forms, but it can never ignore a common name — Italian marble.
Why Are Marble Getting More People Love It?
Over five hundred years ago, a young man named Michelangelo moved to Tuscany with his father in northwestern Italy, after his mother passed away. Here, he saw the "snow" on the Alps that does not melt follow by the seasons for the first time. This is a kind of white stone called "Marmo" by the local's people. The quantity of the stone exceeds people's expectations. "From the beach of any nearby town, they can clearly see the top of the marble mountain covered with snow."
Marble is Not A Stone?
The Italians named the marble-rich city Carrara, which means "quarry" in Latin. As early as in ancient Rome, hundreds of quarries, which large and small, were located here. The ancient Romans did not hesitate to pay a high price to dig the stones here in order to build the iconic buildings of imperial power: the Pantheon, the Colosseum, the Temple of Baachus Baalbek, and so on. Caesar Augustus was one of ancient Rome's most successful leaders who led the transformation of Rome from a republic to an empire, proudly announced that he inherited a stone city, but left a marble city. It can be seen that in the eyes of the ancient Romans, marble is not a stone, the reason is that the color is rare.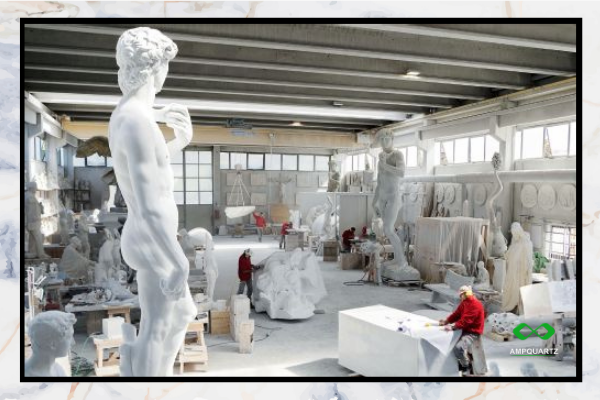 The Famous Marble Statue, Michelangelo's David of Florence
In fact, the fascinating whiteness of marble was born in the dark. Millions of years ago, the original rocks in the earth's crust formed metamorphic rocks through high temperature and high pressure. The internal forces of the earth's crust promoted the changes in the structure of various types of rocks, form the rock structure that contains calcium carbonate. These white crystals originally slept at the bottom of the ocean, but slowly rose during a crustal movement many years later, forming many mountains in southern Europe. In some areas, it rose to 6000 feet (1828.8 meters), one of it is the Apuan Alps, the marble on the mountain formed in a way where people found it.
Among those quarries in the Apuan Alps, one of it once belonged to Michelangelo's father. Under the influence of his father's masons, Michelangelo learned to use hammers and chisels skillfully, just like all the children living in this area. However, white stones on the mountains have a different appearance and view in his heart. After growing as an adult, Michelangelo studied sculpture art and most of his inspiration came from this. The famous marble statue Michelangelo's David of Florence, has been made by Michelangelo and it is at the Accademia Gallery, is made from marble on Carrara Hill.
Inside Italy's $1 billion mountains that produce more tons of marble than anywhere else on Earth. ————– Business Insider
In those days, carving the 17,000-pound (7711 kilogram) "David" was no simple task, but Michelangelo still had a crazier wish in his heart, he had fantasized about carving the entire mountain into a statue. However, this was obviously just a romantic imagination of a Renaissance artist. Michelangelo quickly dispelled this idea and told others about it, as that is just a joke. However, people found this sentence : "If I can live four times longer, then I must achieve this crazy dream" in his diary in the later years. Human life is limited, but marble does not.
https://www.youtube.com/watch?v=OVClomvpnLc
Marble Getting More People Love It: The symbol of Wealth and Power
For centuries, still, marble getting more people love It. The tools for mining marble used in ancient Roman times have changed from axes and cattle to chainsaws and tractors. However, there is one thing has never changed: the large white stone is cut into small pieces, transported to a distant place, where it is processed and turn into a symbol of wealth and power. Their difficult extraction, costly transportation, and limited availability made these colored marbles luxury products that were always also a sign of special status and claims to power.
In fact, the history of marble shows a person's wealth status since last few centuries. From Rome in the ancient Roman era to London in the Victorian era, to New York in the 20th century, the flow of marble has never stopped. Now it is no longer limited to Rome 200 miles away or London 700 miles away, but to Abu Dhabi 3,000 miles away, Mumbai 4,000 miles away, and even Beijing 5,000 miles away. Just like gold, marble has become the object of contention for wealth and power because of its particularity and rarity. Almost no other material in the world is mined and used like marble. Photographer Luca Locatelli used photos to record the lives of the people working in marble mining in the Carrara area.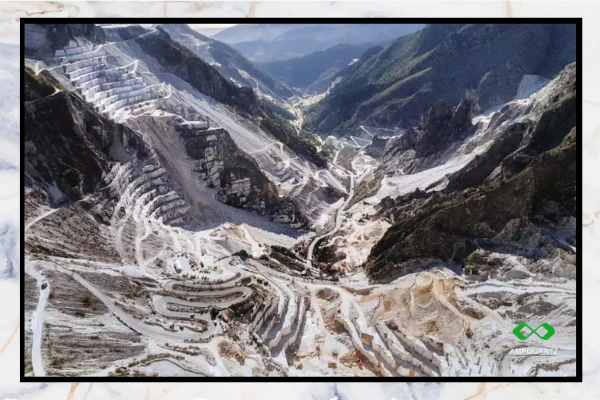 Marble is no longer a deserted Renaissance sculpture standing in a museum but has become smooth tiles of a lively shopping mall, the luxurious sinks of high-end hotels, the exquisite lobby of skyscrapers, and countless statues of people.
So, marble getting more people to love It. Do you love marble too? Are you looking for the best marble slabs? Look no further! Ampquartz, marble supplier in Johor Bahru got you covered, guide you on how to choose excellent quality marble!
Make an appointment for a FREE consultation by contact us and our experts would love to help you out!
CONTACT US NOW AT : +6018-7942927 (Ann Sin)