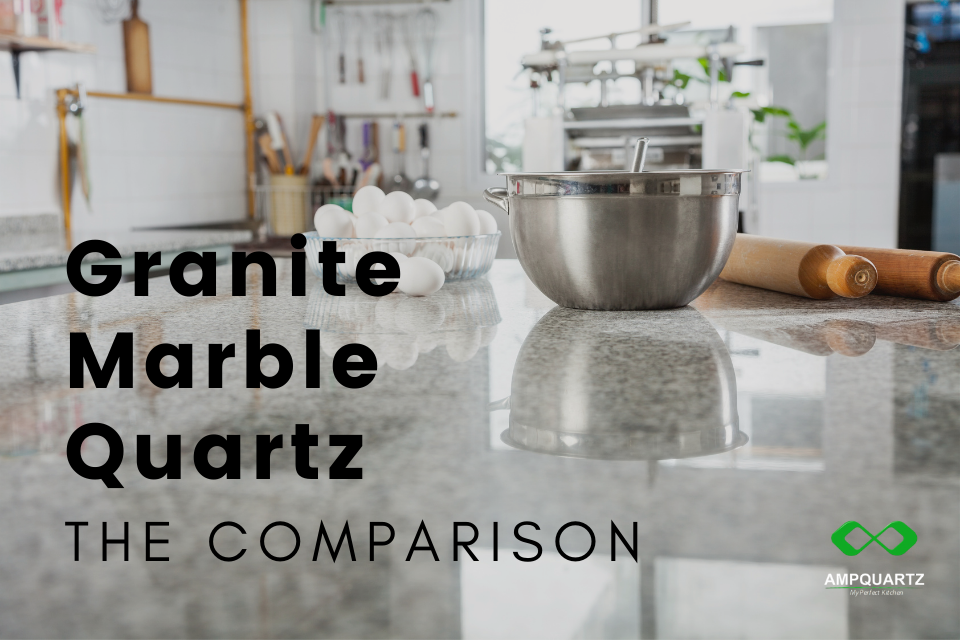 Comparison: Granite vs Marble vs Quartz
Granite, marble, and quartz are appealing, functional materials for kitchen and bathroom countertops. They are durable and long-lasting and are cut, crafted, and polished to add beauty to a home.
Each material has its own grains, flecks, veins, and color variations, so style and color are important considerations. Even though all three are strong and reliable, they are not easy to repair if damaged.
But it can be hard to choose which material to choose from for your kitchen countertop. The obvious choice is split into 3 materials that are considered to be the best material for the kitchen countertop.
Granite
Granite is a common and preferred countertop material due to its solidity, durability, and stain resistance. It can withstand the heat of cooking or serving food and does not leave watermarks. Standard wear and tear make it difficult to break, crack, or scrape. Granite comes in a wide range of shades, including tan, green, yellow-gold, orange, off-white, taupe, peach, and blue-gray.
However, as opposed to color-enhanced quartz types, there are fewer color choices since it's a natural stone. If you want low-maintenance countertops that won't fade or discolor over time and aren't affected by cleaning chemicals, go for granite. Prepare to apply sealants on a regular basis to maintain durability.
Check out our article on the 14 fun facts about granite that we can guarantee you don't know about.
Benefits of Granite Countertops
Granite is durable and hard to break material. It is an excellent choice of material to use as a countertop in the kitchen. Here's why you should choose granite for the surface of your countertops.
Sustainability: Granite countertops can last a lifetime and contain no harmful chemicals and do not emit harmful radiations or gasses, they can be a part of the green building movement for sustainability.
Heat Resistance: Granite can withstand high heat. They are considered to be one of the most heat-resistant surfaces for countertops. Even a fresh used hot pan out of the oven can be directly put on the countertop surface without any damage. Although granite has high heat resistance, it is advisable to use a trivet when putting the pan for a long period. With the density of the granite, heating one part of the surface and not the entire thing all together may cause the countertop to crack.
Scratch Resistance: Granite is a scratch-resistant material and most materials are not likely to scratch the surface of the granite. Although there are materials that can leave a visible scratch on the surface of the granite such as diamonds, so watch out for any jewelry that might leave a scratch or two on your surface. Knives would not scratch on the granite surface countertop but it is advisable to not cut on it as it will quickly dull your knives and leave a metal residue.
If you are still not convinced with the durability of granite countertops, read more on the benefits of having granite as the surface for your countertops here.
Marble
Marble countertops are well-made and structurally sound, but they're not as forgiving as granite or quartz. Marble is the most brittle of the three, making it particularly vulnerable to acidic liquids and harsh chemical cleaners. If not cleaned away easily, wine, for example, will stain marble countertops.
To protect the surface, a high-grade sealant is needed, but it is often applied by manufacturers or installation specialists. If you want a style with the most creative, unpredictable veining, and natural modeling, go with marble countertops. Over time, marble will darken slightly.
Benefits of Marble Countertop
Having a marble countertop in your kitchen adds elegance to your kitchen, with its timeless design that can fit in any household, it also brings a classic and luxurious look to the kitchen. Choosing marble countertops for your kitchen brings a number of advantages and with proper installation and sealed and maintained, marble can bring out beauty for a lifetime.
Affordability: Even though marble brings the luxurious look in your home, it actually cost less than other natural stone. The cost of marble depends on the exact type and thickness but often marble cost less than granite or quartz.
Heat Resistance: Marble surface has been the favorite by professional chefs and home bakers because of how the materials stay cool, ideal for rolling out pastry. Other than that, marble countertops are also heat resistant but it is not recommended to set hot pans directly on the countertop surface.
Distinction: Marble has a unique and elegant look that makes your kitchen look more luxurious. Marble was created through a natural process from sedimentary dolomite or limestone rock, making each piece unique in appearance. The various range of colours found in marble surface is determined by the area of its origin and the mix of minerals in the original limestone producing elegance in your kitchen.
Quartz
Quartz countertops have all of the advantages of granite, with the exception that they aren't completely natural. Quartz countertops are made of 93 percent crushed quartz and 7% resin, with some dyes for coloration, according to interior design.
Natural quartz is dark and unappealing without color enhancements. If you want a nonporous material for your kitchen countertops, then look for no further, We can always count quartz to do the job. Quartz has a uniform composition, so it doesn't have as many natural grains, flecks, or veins as granite or marble.
Benefits of Quartz Countertop:
Quartz countertops are man-made and each quartz is specifically made for order. Quartz countertops have the same benefits as other materials. Quartz outperforms other materials in many ways.
Non-Porous: Quartz countertops are mainly made from quartz, roughly 90% making it stains resistant. As long as spilled liquids are wiped away straight away, the countertops should not encounter any problem. Unlike granite, which is porous, absorbs liquids and moisture. In the long run, granite countertops could absorb liquid substances like oil, juice and etc resulting in tougher to clean and remove.
Non-Sealing: Unlike other materials, quartz countertops do not require sealing to prevent stains. This is due to the nature of quartz of non-porous. Sealing countertops are time-consuming and can harm the material if left undone but with quartz, it takes less time and work to have in your home.
Stylish: Each order of quartz is made specifically for the order. Quartz comes in various ranges of colours and patterns. It also can take off other materials like marble or granite. Not only that, quartz comes in colours that are unobtainable in other materials such as bright blue.\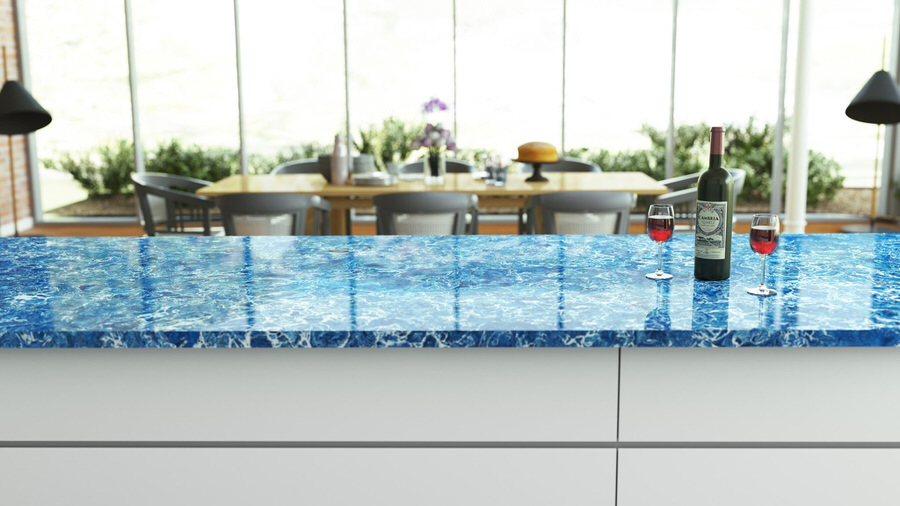 CONTACT US NOW AT : +6018-7942927 (Ann Sin)