Aluminium Kitchen Cabinet
What is Aluminium Kitchen Cabinet??
Typically, kitchen cabinets are imagined to have a wooden frame, wooden doors, and a stone countertop. Aluminium kitchen cabinets, rather than wood, are becoming increasingly common in Malaysia. Waterproof, rust-proof, and easy to clean are only a few of the benefits of aluminium kitchen cabinets. Homeowners no longer have to worry about moisture or humidity rotting their wooden kitchen cabinets, such as if the kitchen sink drain drips into it.
Let's learn about aluminium kitchen cabinets and its various advantages. A full-fledged version of aluminium kitchen cabinet was introduced in Malaysia in 2008. Unlike wood derivatives, an aluminium kitchen cabinet is made from purely aluminium. This makes it a complete kitchen cabinet that includes all the components such as back panels, drawers, and shelves.
These kitchen cabinets are made of various parts such as back panels, carcasses, and shelves all made of aluminium. Not to mention, they are durable and are very attractive. You will also find various cabinet parts such as back panels, carcasses, and shelves made of aluminium. These components are usually used in kitchen cabinets. Never compare these cabinets with standard kitchen cabinets that only have aluminium cabinet doors.
These are the key components of every kitchen cabinet:
The carcass, also known as the foundation. Instead of using block wood, the structure is made of aluminium square tubing.

The front panel and the end panels are all made of the same material. Instead of plywood or laminates, aluminium sheets are used.

Shelves and drawers are available. Rectangular aluminium tubes with aluminium sheets are used to make this product.
The foundation of an aluminium cabinet is made up of aluminium tubes that are connected together. Then, to cover the frame and create the ear, hand, and front doors, aluminium sheets are added. Finally, aluminium cabinets, drawers, and cabinet doors, as well as a countertop, are mounted. Aluminium is a long-lasting metal.
It is odourless, non-corrosive, and non-flammable. Aluminium kitchen cabinets are extremely sturdy, clean, hygienic, termite-free, waterproof, and anti-rust. Not to mention the aluminium kitchen cabinets have a smooth finish that is only seen in other styles of kitchen cabinets. For all that aluminium has to offer, the market for aluminium kitchen cabinets is steadily increasing, rendering these cabinets the most popular choice for kitchen cabinetry.
Why choose Ampquartz Aluminium Kitchen Cabinet?
This isn't the first time that Ampquartz has done kitchen duty before. We have done countless kitchen duty such as natural stone cabinets along with kitchen cabinets. In Johor Bahru, Ampquartz is a major supplier of aluminium kitchen cabinets. Quality is more important to Ampquartz than quantity. We have earned the confidence of a large number of satisfied customers and have an outstanding track record in terms of consistency and workmanship.
Here's what we can provide you with:
On-site measurement is given

3D kitchen cabinet concept and picture for free

The price that are reasonable

Excellent after-sale facilities

Customer service that is quick to respond
Both aluminium kitchen cabinets come with a warranty. Ampquartz kitchen cabinets are constructed of high-strength aluminium of the highest specification. It is strong enough to endure long-term demand and effects from everyday activities. Ampquartz cabinet carcasses are connected with several aluminium planks, unlike ordinary aluminium cabinets.
Is it easy to restore aluminium kitchen cabinets?
While aluminium panels are sturdy, they are prone to scratches and dents, much like a car door or window frame. If there is just a scratch and no dent, the surface can be restored by gently polishing the scratch and then painting it. However, visible dents would necessitate the assistance of a cabinet expert to reshape the plate. It's possible that the surface would need to be preheated. If it fails, the panel will have to be completely demolished.
How much does Aluminium kitchen cabinets cost?
Aluminium cabinets usually start at RM400 per foot run (pfr) and can go up to RM600 per foot run (pfr). This is more expensive than melamine/compressed wood, which starts at RM290 per square foot. Of course, other factors such as the quality of the aluminium panels used, whether the frame is made of stronger aluminium planks or simplified sheet panels, and the option of wood grain patterns or colours will all affect the pfr price.
There are plenty of other types of marble to explore, we have only covered the tip of the iceberg. There are plenty more options to choose from. If you are having doubts, you can always contact us HERE AT Amquartz for a free consultation session and we are here to always give you the best kitchen there is. We provide the best marble in Johor Bahru and we are the best for a reason. Book your appointment now to start.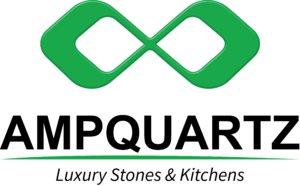 Here at Ampquartz, we can provide you with the perfect kitchen with the best material for your home. From kitchen countertop to cabinet. We got a variety of other materials such as MARBLE, QUARTZ, GRANITE and many more at our headquarters. Your perfect kitchen starts with us. Do contact us to get FREE CONSULTATION to achieve your perfect kitchen.
CONTACT US NOW AT : +6018-7942927 (Ann Sin)