10 Popular Kitchen Cabinet Design in Johor, Malaysia
Looking at someone's personal style kitchen cabinets can tell a lot about them.
Some prefer the detached, clean, and smooth look of white glossy cabinets, while others like the warm and cozy feel of dark brown wood cabinets.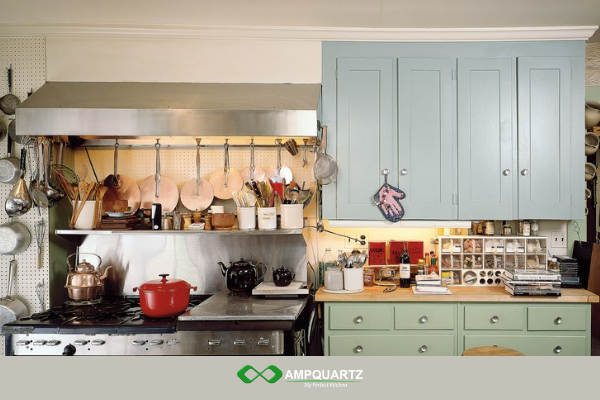 If so, you probably like the brown laminates and stainless steel counters of the hit show. Or perhaps you prefer the warm and snug kitchen.
No matter your taste, get some creativity from this list of 10 kitchen cabinet designs in Malaysia. We picked some of the best designs created by kitchen cabinet specialists in Malaysia-based in kitchen cabinet Johor Bahru. You can refer our next article for Useful Tips: 10 Simple Steps to Organize Your Kitchen Cabinets to get more ideas for cabinet design.
1. Glossy white kitchen cabinets with medium wood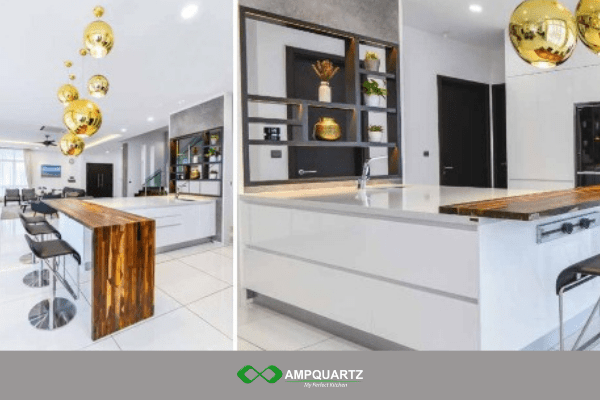 The mixture of white and wood gives this kitchen an unlocked and smooth feel, making it seem more commodious. The cabinets are also cleverly segregated with power track systems, so you put your appliances anywhere.
2. Red and white trendy kitchen design
This modern kitchen 3D concept uses a bold red colour for the kitchen cabinet fronts to really transform it. Grooved cabinet doors mean you need door handles or pulls that gatecrash with the clean shiny lines.
3. Modern all-white 4G cabinets with kitchen island
This kitchen sculpts out a clean, detached space that differs from the rest of the open floor plan. Since the entire living, dining, and kitchen area uses the sameflooring, the kitchen island creates a natural division. 4G cabinet doors (i.e. aluminium frame around laminated plywood) provide narrow gaps to make the cabinets feel seamless. A mirrored backsplash is used as a prolongation of the fully mirrored wall panels in the living room.
https://www.youtube.com/watch?v=DU2JhuSnC1c
4. Spanish kitchen tiles paired with all-white kitchen cabinets
This concept kitchen uses Peranakan or Spanish tiles as a backsplash that also expands above the wall cabinets. A beautiful accent that goes with the all-white cabinet design.
5. Unique multi-level kitchen cabinet design
Here's an interesting concept. This kitchen includes a ceiling-height cabinet along one wall and combines it with an L-shaped island counter. The island counter also includes a knee-height console with deep drawers. Perfect for arranging books or ornamental items.
6. Neutral beige for small kitchen with glossy cabinet fronts
This kitchen includes clever features suited for small kitchens. Firstly, the cabinet fronts use coloured glass to create a highly reflective surface. This gives the hallucination of broadening the floor area to make the kitchen feel bigger. There are no drawers here, and the cabinet fronts have no handles or pull, so they create a highly categorized grid that gives the kitchen very clean, undamaged lines. The neutral tones give a fashionable and modern feel and have been paired with black countertops to up the cool factor.
7. Sleek kitchen design with floor-to-ceiling storage
No matter the size of your kitchen, you can always do with quantities of cabinet space. This practical cabinet design is perfect for families or the chef who has lots of tools and gadgets. Store your fancy plates, appliances, cutlery and other things away in multiple cabinets so your kitchen is always tidy and organised.
8. Monochrome kitchen design with a jet-black counter and white cabinets
Monochrome never goes out of style. Create a timeless look for your kitchen with sophisticated black countertops and marble-white glossy white cabinets. This kitchen layout is split to wet and dry kitchens, so you have the opulence of long counters for food preparation.
9. Steel and stone inspired kitchen cabinets
This inspired idea brings the rough, cool feel of stone and steel into the kitchen. The walls and backsplash are done up with matt ceramic tiles to give a lovely texture, while stainless steel appliances and 4G aluminum cabinet doors add a reflective contrast to create an ultra-modern look that is not enormous but trendy.
10. White cabinets with black counter and glass panel backsplash
This kitchen cabinet design is practical and timeless. A glass backsplash provides an easy-to-clean surface, accompanied by black quartz counters that won't stain easily. The monochrome look is complete with white cabinet fronts and end panels with aluminum handle that you can hang your tea towels from. This kitchen cabinet design means you do more cooking and less cleaning!
We hoped these 10 popular kitchen cabinet designs helped you with your ideal kitchen cabinet designs. These are some of the best kitchen cabinet designs created by kitchen cabinet specialists in Malaysia-based in kitchen cabinet Johor Bahru.
Still don't have much ideas on how to design your kitchen? Look no further! Ampquartz, marble supplier in Johor Bahru got you covered, guide you on how you should design your kitchen!
Make an appointment for a FREE consultation by contact us and our experts would love to help you out!
CONTACT US NOW AT : +6018-7942927 (Ann Sin)