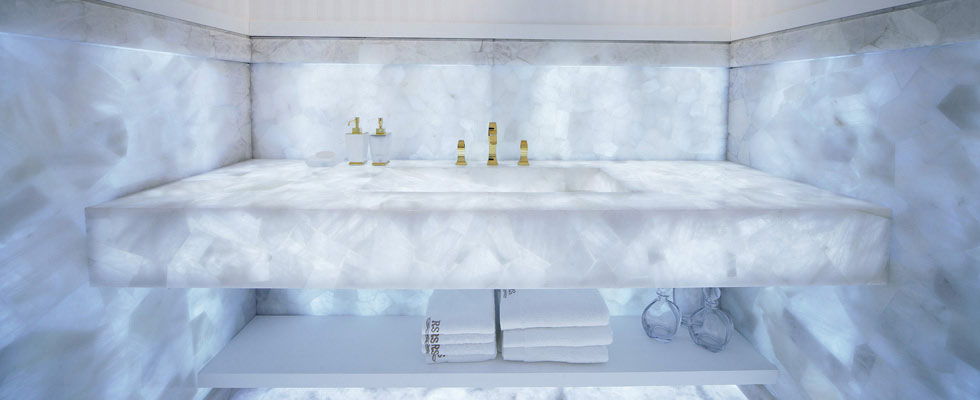 3 Amazing Bathroom Trends that will blow your mind
2021 bathroom trends saw a great deal of new and evolving design. Even today, many of these designs have still been receiving special attention. From classic minimalism mixed with elements of new fashion to eclectic and dazzling looks displays of glamour and overindulgence, the richness of styles caters to individual preferences as well as the practical demands of interior design.
Bathroom Trend 1 – Luxurious Escapism
Bathrooms are no longer places where we bath and wash up. Instead, they have been evolving into places where we relax and unwind. Trends are beginning to favour rich textures such as the Concetto surfaces and décor. We even see furniture and accessories that we usually associate with living rooms or bedrooms that are cosier. It is no surprise that the stand-alone bathtubs have made their way into this trend – combined with floating sinks, the right lighting, and floor and wall cladding in neutral, soft colour palettes. This turns bathrooms into private pampering spas.
Bathroom Trend 2 – Minimal Impact
Free of clutter and mess, the minimalist trend offers an experience of serene cleanliness combined with a touch of sophistication. We are living in times of a more muted elegance, creating spaces that provide refuge and comfort to retreat from everyday life. Palettes consisting of black and white, steel grey and earthy browns furnish clean and modern lines. This gives it a fluid atmosphere, which shows predominantly throughout. An increasingly popular feature is the frameless, curb-less shower that blends into the bathroom space with seamless ease.
Bathroom Trend 3 – Nature at home
Embracing natural, raw materials such as wooden planks and exposed beams has become common in home interior design over the past few years. Bathrooms are now catching up with the beautiful imperfect and authentic look that natural materials bring along. Warm-coloured surfaces, natural granite tones, wooden furniture and classic sink vanities reflect the ongoing fascination with nature's simple yet vivacious forms, resulting in a "supernatural look" – such as in many of Caesarstone's surfaces.
CONTACT US NOW AT : +6018-7942927 (Ann Sin)