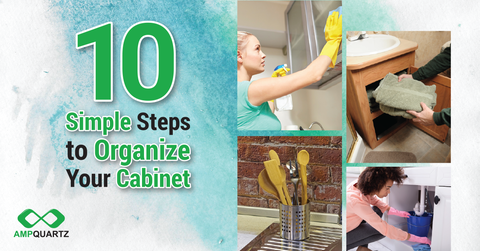 Useful Tips: 10 Simple Steps to Organize Your Kitchen Cabinets
Want to organize your kitchen cabinets but don't know how? Yes, you have come to the right place. Since many home cooks have a plethora of items to store in their kitchen cabinets, this makes cabinets organization a challenge. However, with a good organization system in place, it is possible to get and keep your kitchen organized. Here are some simple and helpful tips to help you to organize your kitchen cabinets.
10 steps to organize your kitchen cabinets:
1.Remove everything from your kitchen cabinets
Image credit: Canva
First and foremost, take everything out of your cabinets. It's easiest to tackle an organization project when you're starting with a clean slate, and organizing kitchen cabinets is no exception. Lay everything out on your kitchen table so you can assess what you've got and what you need.
2.Declutter them
Image credit: Canva
Prepare a trash bin and a box. Go through each item you took out from your kitchen cabinets. Throw away expired food, broken plates, glasses, and mismatched storage containers. If the utensils, appliances and storage containers are still in good condition, think about selling or donating them. Be honest when sorting through your items. If you haven't used the kitchen gadget in the last year, better get rid of it.
Go through each item and either put it in the trash, donate/sell boxes, or keep pile. Remove the trash and your boxes of items to get rid of before you begin to address your keep pile.
It is an important step because it can let you know what you actually have deep within those cabinets. Moreover, your cabinets will also be much more easier to keep organized and clean when you have less stuff.
3.Clean thoroughly
Image credit: Canva
Now is your time to clean your kitchen cabinets. Gather some good cleaning supplies and prepare to scrub every nook and cranny as well as wiping down the cabinets doors. Clean out all the crumbs, dried splashes and dust to get your cabinets ready for your dishes and other kitchen supplies. Cleaning your cabinets thoroughly will prevent bugs from taking up residence and keep your kitchen items fresh. Also, remember to wash the items you took out before putting them back into the cabinets.
4.Line your kitchen cabinets
Image credit: Amazon
Fresh cabinets linings will help eliminate old odors and create a nice space for your kitchen supplies. You can choose among paper, vinyl, or rubber liners that come in a myriad of textures and patterns.
Image credit: Canva
Besides, you can also use scented sachets which are useful to keep your cabinets smelling nice.
5.Categorize your items
Image credit: Canva
Before you put everything back into cabinets, step back, and evaluate how you use your kitchen. You'll want all of your kitchen items as close as possible to where you most often use them. Don't hesitate to change the location of where you previously stored items. Next, categorize the items into smaller groups such as baking items, special occasion dishes or everyday items. There are many kitchen storage solutions that are available at home improvement stores. Set aside a drawer for plastic bags, aluminum foil and other wrapping together in a drawer near the refrigerator.
6.Put the right things in the right places
To make things easy to grab, you should know how to put the right things in the right places. Here are some guidelines:
(i)Place dishes you use most often in accessible cabinets
Image credit: Canva
Decide which items you have to use on a daily basis and pick a large, accessible cabinets to store them in. You probably want to choose a cabinet that is located over the counter, rather than below it, so you won't have to bend over to reach the dishes you need most often. If your cabinets have multiple shelves, place your frequently used items on the bottom.
(ii)Store fragile items higher up
Image credit: Canva
Upper cabinets or top shelves of cabinets are the places to store items you want to keep safe. Your nicer china, stemware, fragile casserole and serving dishes, and other such items should be carefully arranged higher up, out of easy reach.
Especially when you have a baby, putting fragile items higher up will be extremely important so that they will not be reached by the baby.
(iii)Stack pots and pans in lower cabinets near the stove
Image credit: Canva
The lower cabinets (below the counters) are perfect places for pot and pan storage. It is because these items are often heavy and clumsy to stack, so it makes sense to store them slightly more out of the way and in a place where you won't have to lift them too high. Place the pots and pans you use most often in the lower cabinets that are easiest to reach. At the same time, place pots and pans you use less often on the lowest shelves or toward the back of the cabinets.
(iv)Place cleaning supplies under the sink
Image credit: Canva
The area under the sink is a convenient place to store everything you need to keep your kitchen spotless. Trash bags, cleaning solutions, rubber gloves, extra dish soap and detergent, extra sponges, and so on can be found in this spot in many people's homes. Remember don't use this area for food or kitchenware storage if you're also storing cleaning supplies there.
(v)Designate kitchen drawers for oft-used items
Image credit: Canva
Most kitchen cabinetry sets have a row of drawers for storing supplies that don't belong in the cabinets. Every home cook uses these drawers differently. Take a look at your kitchen supplies and decide how you can put your drawers to best use
7.Full-use all those spaces
Image credit: Clean & Scentsible
Every kitchen seems to have at least a couple of awkward cupboards or poorly designed storage spaces. Get creative! Think of different items that might work better to store there or find bins or other organizers to make the space more functional. We had a super tall and narrow cupboard that really didn't fit anything, so we added a few shelves and turned it into our cleaning cupboard. Furthermore, in order to maximize available storage space, always take advantage of vertical storage space. For example, consider adding half shelves inside of the cupboards to store smaller items.
8.Buy some special items for your kitchen
Image credit: The Container Store
Pull-out cabinets organizers is also recommended to purchase. One of the reasons kitchen cabinets get disorganized is because they're hard to reach. To keep your kitchen organized, investing in pull-out cabinets organizers is a must. Pull-out cabinets organizers will allow you to easily find, store and organize pots, pans and more.
9.Declutter your counter
Image credit: Canva
Find pretty containers, trays, or baskets to corral those items that you keep on the counter. It will make your counters much quicker and easier to clean and provide you with more workspace. To know how to organize your counter, read this article: How to Keep Kitchen Counters Clutter-Free
10.

Maintain your cabinets organization
Image credit: Canva
After putting in the effort to organize your kitchen cabinets, you have to make sure everyone in your household keeps them organized. Ensure that everyone knows where the items should go. And consider labeling containers, storage bins, or even the cabinet doors themselves if it helps everyone to follow the system. Also, try to keep everything neat when you put it away. Doing so can encourage you and others to keep the cabinets looking tidy.
Ideally, plan to go through your kitchen cabinets for decluttering and organizing at least once or twice a year. The more often you do this, the more functional and beautiful your kitchen will be for you.
Finding high-quality kitchen cabinets?
We all know that cabinets are crucial for a neat and beautiful kitchen. Thus, high-quality kitchen cabinets are a desire for every house cook. If you are finding high-quality kitchen cabinets too, here is a good news for you: Ampquartz has sold a wide range of high-quality cabinets which has been highly praised by our customers for about ten years. It is undoubtedly a place where you can trust to buy your kitchen cabinets there.
Image credit: Ampquartz
Buy high-quality kitchen cabinets here!
Conclusion
It is really extremely important to organize your kitchen cabinet. It can help you save money, save time when cooking, meal planning, and making the grocery list. Plus, it can make cleaning the kitchen much easier when everything has a designated place. Follow the 10 steps above in order to make your kitchen organized and neat. If you consider doing kitchen renovation, you can refer to our previous article Tips to do Kitchen Renovation on a Small Budget or seek assistance with us (we also provide kitchen renovation service!!).
CONTACT US NOW AT : +6018-7942927 (Ann Sin)

For more relevant articles: