Outdoor Kitchen: 5 Perfect Tips You Should Consider – Johor Bahru
Outdoor Kitchen: 5 Perfect Tips You Should Consider
In terms of preparing food, everything you can accomplish inside the house can be done outside as well (and the food cooked outside is sometimes much tastier). Outdoor kitchens are a trendy component in some other areas of the country, but they are still not that popular in Asian countries.
Due to the advancement of technology, outdoor kitchens usually contain higher-tech equipment and advanced materials that assist in building a simple and possibly magnificent outdoor living space. In addition, constructing a well-equipped outdoor kitchen is not only a huge addition to your house, but it can also enhance your lifestyle and the value of the property. However, it doesn't imply that you can build an outdoor kitchen without proper planning and only based on your preferences. This will instead result in damaging your kitchen's overall quality.
Therefore, you must pay attention to the following design tips and considerations before making the ultimate selection.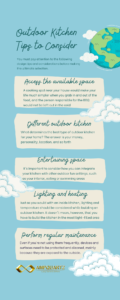 1. Access the

available space

for an outdoor kitchen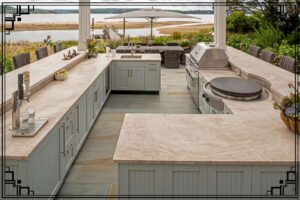 If you reside on a property with not enough outdoor space such as a big garden or backyard, then your first task is perhaps to make sure you don't have to walk too far from your building to the outdoor kitchen to prepare food or burn up the grill. This is because a cooking spot near your house would make your life much simpler when you grab in and out of the food, and the person responsible for the BBQ would not be left out in the cold.
In addition, while building an outdoor kitchen, you must also examine the closeness to your interiors, especially if there is no outside eating room. Most homes are restricted, offering fewer alternatives for the outside cooking area. Thus, in order to build a multi-functional outdoor kitchen, it may require you to think outside the box.
2. Take into account

different types

of outdoor kitchen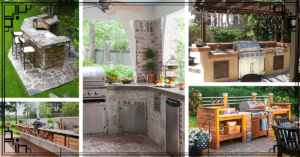 What determines the best type of outdoor kitchen for your home? The answer is your money, personality, location, and so forth. At the foundation, you should have a grill in your outdoor kitchen and, where feasible, a beautiful outdoor bar to serve you and your buddy. As for more elaborate arrangements, the sky is the limit! You may be as fancy and spend as much money as you like, but don't exceed the budget, of course.
However, if you can determine in advance whether you want a fully working kitchen or something easier, your task will be much smoother. This is because you may find out from there what is necessary and what is a luxury, and if your finances and preferences can cover the additional.
3. Never underestimate the importance of

entertaining space
If you're only constructing an outdoor kitchen, not the whole backyard, it's important to consider how you can integrate your kitchen with other outdoor fun settings, such as your interior, eating or swimming areas. It is essential to construct the whole outdoor space as part of one unified functional plan.
Most of the time, restaurant spaces, kitchen areas, and swimming areas are 'cohabiting'. Thus, think of them as outside spaces and include traffic movement as the basis for the design. Also, spend some time and effort examining the structure, equipment, colour scheme, as well as the way your kitchen works with the other outdoor spaces.
4. Adequate

lighting

and

heating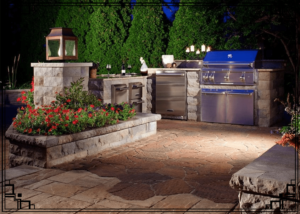 Just as you would with an inside kitchen, lighting and temperature should be considered while building an outdoor kitchen. It doesn't mean, however, that you have to build the kitchen in the most light-filled area. Just imagine you're at the barbeque with a flashlight and your cooking will undoubtedly be affected. You must be smart and imaginative to guarantee that you have sufficient lighting to prolong the use of your outdoor kitchen.
In case you live in an area that rains often or if you want to optimize the use of your kitchen, consider setting up outside heating. You may opt for an electric engine or an outdoor fireplace to save your time and energy whilst contributing to the atmosphere of your area.
5. Perform regular

mai

ntenance

Source: YouTube
Last but not least, it is very realistic to assume that an outdoor kitchen needs maintenance more often than an inside kitchen. Why? It's because an outdoor kitchen is open to numerous things, like dust, wind, rain, sunshine, and so on. Even if you're not using them frequently, devices and surfaces need to be protected and cleaned, mainly because they are exposed to the outside.
What matters most is that you determine whether you want to clean it yourself or to seek help. Consider how much time and energy you will spend on cleaning and consider the cost if you are looking for help from professionals. Life is always easier. Don't complicate things for you.
There are, however, many other essential tips when designing an outdoor kitchen, we just have the tip of the iceberg covered. If you have any doubts, CLICK HERE to find more detailed information on an outdoor kitchen and AMPQUARTZ is always here for your queries. We provide the best marble in Johor Bahru and we are the best for a reason. Book your appointment now to start.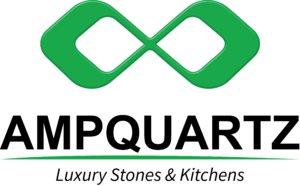 Here at Ampquartz, we can provide you with the perfect information with better suits your kitchen.
Do contact us to get FREE CONSULTATION.