Pros & Cons Of Caesarstone Countertops
Caesarstone

Countertops; Ever heard about them?
Everyone wants a durable and aesthetically pleasing countertop design when diving into each kitchen renovation. Picking out a countertop material that'll last a lifetime and won't be needing you to care for it too much is quite a tough chore to do. We recommend Caesarstone for this application.
Caesarstone is more on the extravagant side of the price list for countertop materials. It cost between RM100 per square foot. When looking at longevity, it's quite a nice investment when you think about the cost of repetitively buying stone slab replacements.
There are many things to look forward to when purchasing Caesarstone countertops, but there are some negatives to it too.
Maybe, with the details we've collected, you'll find out if this stone will work for you or not before you make a purchase.
The Pros Of Caesarstone Countertops
Being made to fit a certain specification. Caesarstone is generally resistant to scratches, stains, and chips. It's a stone that's built and formed to last in a family-driven environment. Coming in to be both durable and low maintenance, it'll be the perfect material for an active kitchen.
Compared to granite countertops, Caesarstone does not require a new coat of seal on its surface every year. Since Caesarstone quartz countertops are non-porous, they're easy to clean. Soap and water or a mild detergent are all that's needed to maintain its lustre. Abrasive cleaners will dull the surface.
You'll be able to get away with using just a soapy sponge to wipe off dried substances without them leaving a nasty stain. You can even use it in your bathroom! Caesarstone is so versatile and beautiful at the same time.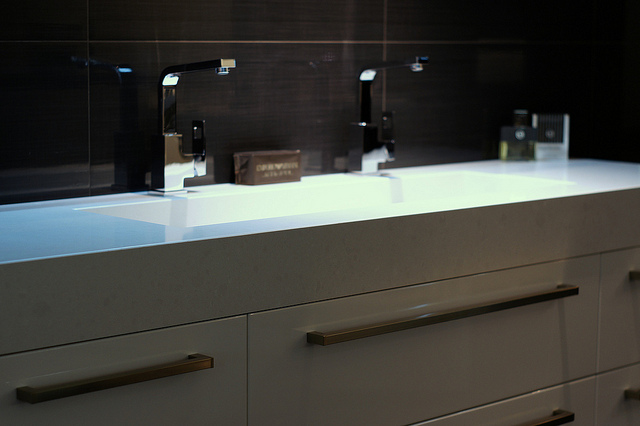 Caesarstone quartz countertops are synthetic so are non-porous, unlike natural stones This means, they don't need to be sealed as they won't harbour bacteria or other microorganisms from spills.
Buying a Caesarstone countertop increases your property's resale value because long-lasting additions like this engineered quartz stone do not require frequent repair or replacement.
Apart from being created in virtually any colour or pattern you desire, Caesarstone can be customized to fit any shape and size as it cuts easily. So, no matter your kitchen or bathroom renovation project, this engineered stone will fit your needs.
It comes in a variety of different colors and patterns to choose from. Some stones would even mimic the look of natural stones such as granite or marble. Brighten your kitchen up with the best selection of Caesarstone in Singapore!
The Cons Of Caesarstone Countertops
Caesarstone countertops are durable but not indestructible. This material can still be damaged. Its edges are not invincible as a pot or hard and heavy utensil is capable of chipping away at the countertops made with sharp edges.
Although they're resistant to scratches and chips, dropping something sharp or heavy on them can chip edges and corners. It's also best to cut foods on a cutting board instead of directly on the surface.
Caesarstone countertops are durable, attractive, resistant to scratches and stains, hygienic, and easy to care for. They're also expensive, heavy and can be damaged by extreme heat and sharp objects.
All in all, this engineered stone is great if you're looking for a long-lasting countertop and have a generous budget.
You also have to be okay using hot pads or trivets to prevent discolouration and damage from heat. No surface is perfect but it makes for a great investment.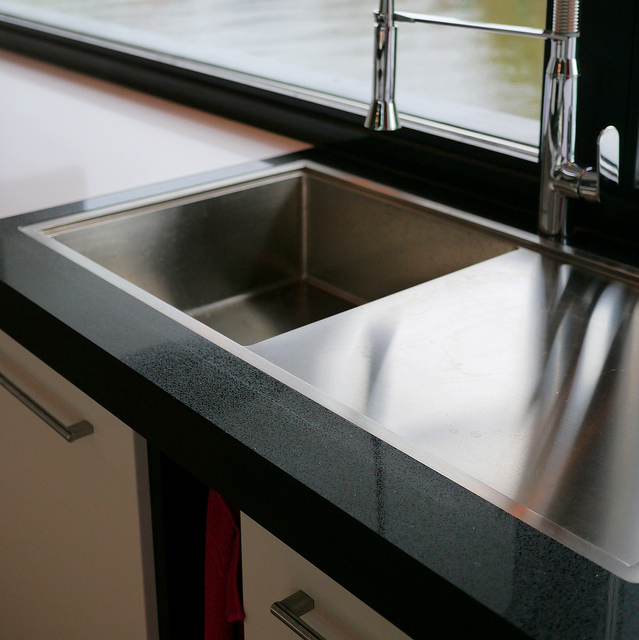 The finish of the material may scratch if in contact with a metal such as a knife. Caesarstone is heavier than granite.
Your countertop needs to support the weight of everything. In even rarer cases, stones may come with manufacturing defects from the factory and you must always make sure you get the right stone for every purchase.
They're not heat resistant unlike marble and granite, Caesarstone engineered quartz countertops cannot endure extremely high heat. Sudden temperature changes can cause damage, so hot pots or pans should never be placed directly on them.
Because these engineered stone surfaces are heavier than granite, you need to make sure the frame is strong enough to support the worktop.
Taking this on as a DIY project will likely lead to damaging the countertop so it should be installed by professionals.
Is Caesarstone The Right Material For Me?
Yes, it is. It's a good investment for homes that need to be both durable and accident friendly. The luxurious finish and its sublime looks will sure to awe your guests when they walk into the kitchen or bathroom. Check out our Caesarstone Products Here: https://www.ampquartz.com/caesarstone/
CONTACT US NOW AT : +6018-7942927 (Ann Sin)