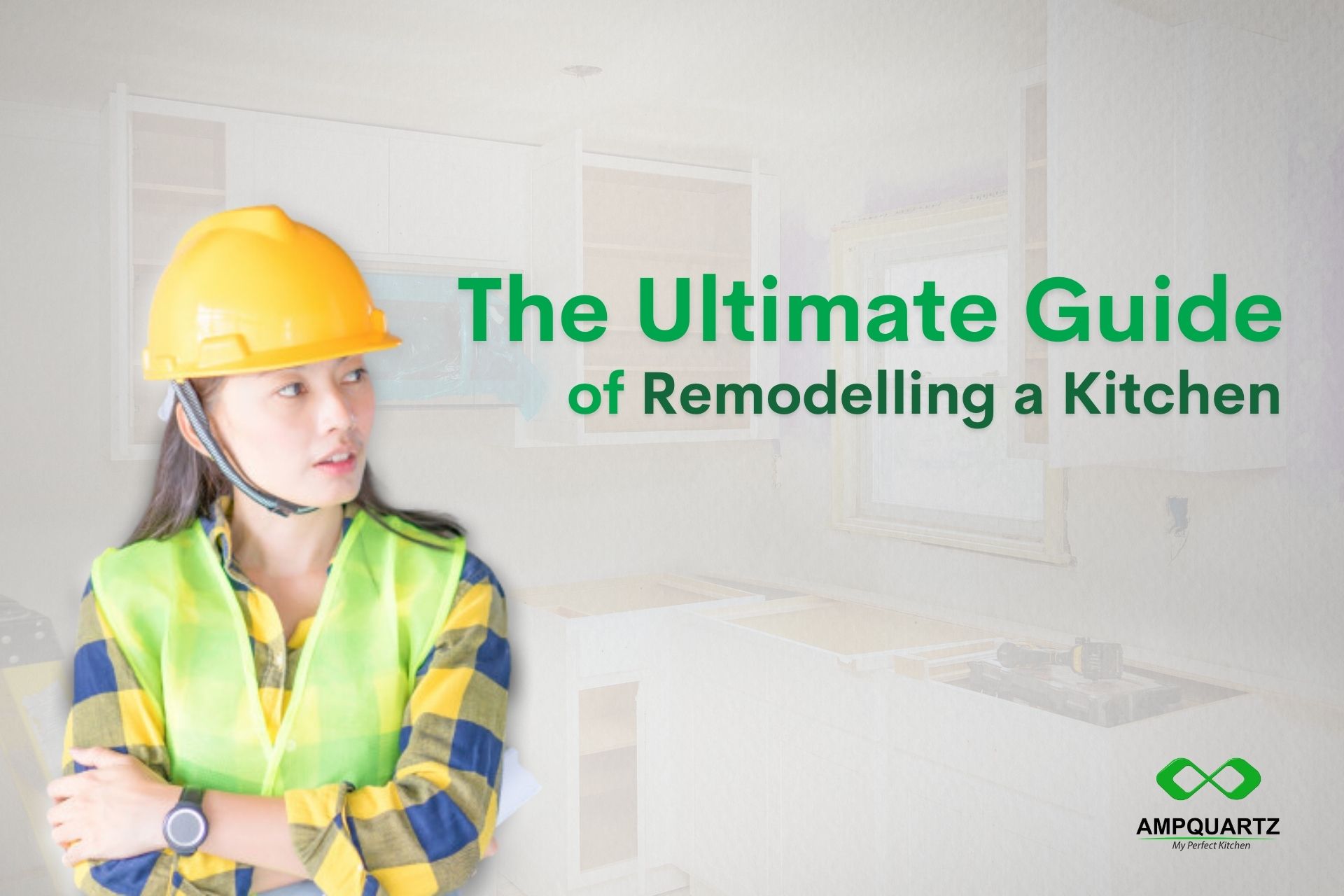 The Ultimate Guide of Remodelling a Kitchen
A messy and cramped kitchen will make your head explode. Not surprisingly, usually at this time, our thoughts are on planning for remodelling the kitchen. However, remodelling a kitchen is a major undertaking that will cost your money, time and energy. A lousy kitchen remodelling plan will bring lots of trouble, so make sure it goes well to avoid sparring extra efforts to solve the problems. Feeling hard to remodel the kitchen? No worries, this article may help you to get more ideas in your kitchen remodelling. We'll bring you the ultimate guide of remodelling a kitchen today. Related Article: 5 creative kitchen design ideas that you'll be amazed!
Content: The Ultimate Guide in Remodelling a Kitchen:
1. Determine Your Needs and Wants
2. Choosing a Suitable Flooring
The Ultimate Guide of Remodelling a Kitchen
1. Determine Your Needs and Wants
Image Via Canva
Your primary concern for your current kitchen?
First, identify what you plan to do for your kitchen. Is an entirely new kitchen your goal or maybe just a new kitchen cabinet or flooring? Make sure you have an outline for kitchen remodelling in your mind. Here's another way to help you define your needs: asking yourself what problem you are currently facing. Lacking of kitchen storage? Squeezing space of kitchen space? Dangerous of a slippery floor? Those problems you need to solve is the primary goal for remodelling your kitchen.
Ready to face the mess in remodelling a kitchen?
Remodelling a kitchen is not as easy as you might think. You and your family need to be tolerant of the incredible noise and chaos during the process. Make sure you got yourself all psyched up for the short-period inconvenience, but will get a return of a desired kitchen.
Booyah! Get yourself a list before starting off.
After determining all your needs and wants, make sure you have a budget list and timeline plan in your hand before proceeding. Double-check and go through all details for your kitchen renovation plan. Searching for kitchen renovation in Johor? We are ready to assist you!
2. Choosing a Suitable Flooring
Image Via Canva
Do you feel confused when there are various types of flooring choices in the market? Bear in mind; your choice should depend on your desired look and feel, and also budget.
Reminder: Kitchen floor should be the last step in kitchen remodelling as the heavy work process may scuff almost any floor surface.
Here's a list for flooring choices that will provide you with some brief explanations:
Laminate Flooring – High wet resistance and dent resistant, one of the top choices for kitchen

Vinyl – Suitable for low budget users, stands up well to heavy foot traffic.

Tile – Easy to clean the stain, but requires many steps to install.
3. Kitchen Island Style
Image Via Canva
A kitchen island brings plenty of advantages to the table. Here are four of the big ones:
Increases counter space for small appliances and prep space

Offers additional storage for cooking utensils and speciality tools

Adds seating options with bar stools or dining chairs along one or more sides

Becomes the heart of the kitchen and where everyone spends their time
But, there are some issues you need to be aware of: Make sure the island does not block the traffic and workflow in the kitchen. Next, choose the island with moderate size, to prevent the insufficient space in the kitchen. Lastly, if you would like to spend your time with your family, adding a sink or cooktop is not a right choice for the island. Ampquartz has the best experts that are professional in kitchen renovation. Check our portfolio now!
4. Lighting
Image Via Canva
Kitchen is a place that allows you to prepare and cook food, also casual gathering. If you are in a dark kitchen, you will find out that your kitchen's working progress is slow. In short, never underestimate the importance of lighting in your kitchen remodelling. Instead of merely using one type of lighting, using a mix of fixtures effectively creates the accent and mood environment. These are the types of lighting you need to layer to create a functional and beautiful space:
Recessed Lighting

The best choice to provide the adequate lighting. Also, it is a must-have in every kitchen. The ideal place for recessed lighting is located between the island and wall cabinets.

Pendant Lights

Suitable for illuminate sitting, dining and the more intimate conversation and activity areas. Kitchen island, dining table and the sink are commonly to discover the uses of pendant lights.

Task Lighting

Placing the task lighting above the cabinets or under the island and cabinets. It can effectively light up your work surfaces and provide you with security lighting.
One more essential point here is to pay attention to lighting control: Installing a switch in a convenient location for you. You must not like to walk around the whole kitchen, just to reach the switch.
Consider everything from the type of lighting, to the fixtures' design and the level of control you have.
5. "Hidden" Costs
Image Via Canva
Back to the budget. Besides the cost of new appliances and materials for kitchen remodelling, any shipping or delivery fees as well as taxes will add to your cost. Thus, make sure that there are no substantial costs that had been omitted in your budget list. Also, avoid from keep purchasing the nonutility thing for the kitchen remodelling. Doing so extends development time and increases costs. Read also: 8 Common Mistakes in Kitchen Design and How to Avoid Them
6. Hire a Professional
Image Via Canva
Great, now you have an overall idea in your kitchen remodel plan! So, let's proceed to the last step – choose to DIY or hiring a contractor? For sure, working with the experts will save your time and money, also take the burden off your shoulders! Why is DIY not encouraged? It cannot deny that you don't have to spend labour costs, but you may need to pay additional fees when there are any errors. Also, you have to spare extra times in learning the relevant skills for the project's sake. Make your kitchen renovation easy! Find us now to make your desired kitchen true!
Conclusion
Want a perfect kitchen? Ampquartz will guide you through your journey! We are interior expertise with awards-winning, has been in the industry since 2008 with 10 years of experience in the realm of the kitchen renovation. We emphasize to provide great quality with reasonable price. Make an appointment for a FREE consultation by contacting us today!
CONTACT US NOW AT : +6018-7942927 (Ann Sin)
Image Via Ampquartz
Sources:
For more relevant articles, please read: