6 Ways to Create a Rustic Scandinavian Kitchen
Looking for ideas to renovate your kitchen is never easy. Some ideas may be too common for you while others don't suit your taste. Have you ever heard of Rustic Scandinavian Kitchen? Maybe it will be something new for you to think about.
What's good about rustic Scandinavian kitchens is that they can come in all shapes and sizes and look different depending on where you are in the region. The simplicity and coziness of rustic Scandinavian kitchen create an atmosphere that radiates warmth and a unique stylistic look. This cozy atmosphere will be an excellent place to start your day by preparing your breakfast.
What is Rustic Scandinavian Style?
You will be wondering what rustic Scandinavian style is. Let us brief you a little bit on this.
This style is based on natural wood with combinations of blue and white colors, antique and worn trunks, and many other accessories. It is not difficult to succumb to the charm of rustic decoration while enjoying the Scandinavian style. If a durable and classy style is what you are looking for, Scandinavian's will be your best choice.
1. Color Combination for Rustic Scandinavian Kitchen
Talking about color in the traditional Scandinavian kitchen, they usually have a crisp white wall and a clean kitchen design. If you are utilizing the main color throughout your kitchen, white has its capacity to maximize natural lights, especially when you are going into rustic Scandinavian kitchen design.
For some rustic Scandi inspiration, you can try to accent your crisp whites with hints of earthy beige, orange and wood textures.
Check out this shortlist to add some rustic style to your kitchen.
Distressed wooden dining table
Used scaffold plank shelving
Brick walls
Distressed metal, rope or rattan lighting
Live edge chopping boards
Copper or industrial style bar stools
The main key to creating a rustic Scandi kitchen style is to accessorize with a smattering of earthy hues and textures amongst all those beautiful white and blacks.
2. Rustic Scandi Style Lighting
Proper lighting is critical in all kitchens, not only for Scandinavian-style kitchens. Traditional Scandinavian design uses sleek and streamlined lighting design, often black or white. But if you opt for a rustic Scandinavian kitchen, there will be a few more choices for you to choose from.
Here is some idea for you to choose from
• Wicker & rattan pendant lights
This type of lighting is a great way to inject a little rustic charm into your kitchen space. The use of wicker and rattan in the kitchen is a wonderful way to add a touch of rustic charm
• Concrete pendant lights
Concrete pendant lamps have a lovely rustic appeal due to their raw and earthly substance. It fits nicely in your Scandinavian fashion.
• Mesh style lighting
By using warm, earthy tones such as brass and bronze for your mesh-style lighting, this edgy style of lighting pairs well with your Scandinavian kitchen background.
3. Dining Tables
When it comes to the dining table, why not consider an industrial style. A solid wood top dining table with weighty steel legs presents the rustic style. These beautiful pieces of furniture are the centerpiece of the room and definitely look fantastic in your kitchen.
A round extendable dining table will be a perfect choice if you love to entertain. A rounded table is excellent for creating a feeling of togetherness, allowing everyone around the table to talk and spend some quality time together. Get some matching Scandinavian chairs to create a sleek, coordinated finish that will beautifully complement other furniture in your home.
Alternatively, you may get a classic, rectangular table in an extendable style, perfect for large families and those who adore entertaining.
---
Monthly Giveaway worth RM1,000 – Subscribe to Telegram now!
---
4. Open Shelves
Open shelving is a bold styling approach often found in rustic-style homes. However, Suppose you can locate a beautifully aged wood or perhaps some old scaffold boards. In that case, you can create an open front kitchen shelf with all these material that fits into the rustic Scandinavian kitchen interior design trend.
By installing the open shelves, it will be a place to show off your culinary condiments. You can display your liquor bottles, cookbooks, coffee and tea jars, or even antique-style decoration.
Your kitchen won't be a place for you to cook but also a place to show off to your guest with these styling kitchen appliances.
5. Stoneware Dinnerware
Stoneware dinnerware sets are slightly heavier and thicker. Its unique finishing glaze gives a smooth look to the material and an impermeable finish, making it ideal for everyday use and family-friendly.
Although it may have added an 'imperfect' appearance to your table servings, it definitely suits the rustic feeling. From crooked mugs and plates to speckled and sandy textures, don't skimp on your ceramics. Use them to create a lasting impression of elegance and style.
You will surprise your guest with its "imperfect" but elegant looks.
6. Kitchen Utensil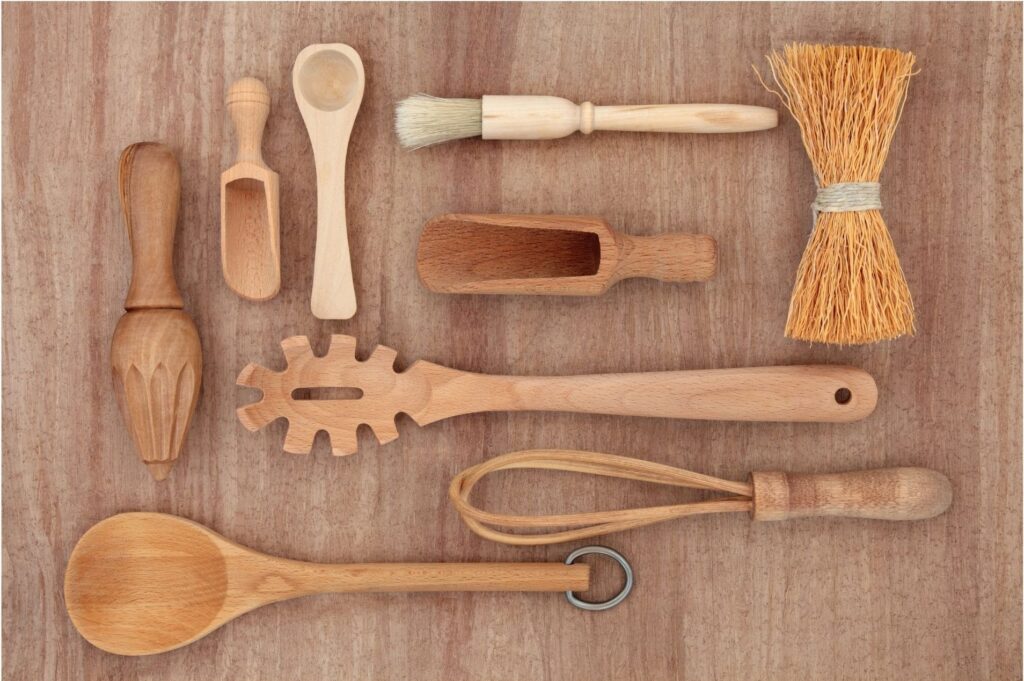 Although kitchen utensils may not be so eye-catching as the others, you may want to consider getting some matching ones for your rustic Scandinavian kitchen.
So why not get a wooden chopping board and bowl to use. Displaying a variety of live edge chopping boards and serving ware in your kitchen setting creates a strong connection with nature. This will fit in well with the rustic Scandinavian kitchen style.
Using neutral-hued stoneware will help enhance your Nordic table presentations and insulate your kitchen.
With our guide, we hope that it helps you to have an idea to get started. Remember that the style is created by stacking different materials with complementary colors and textures, and don't go overboard. Keep it simple and you will have a different kind of style where you can impress your guest.
If you have any doubts, CLICK HERE to find more detailed information on the different types of kitchen cabinets and AMPQUARTZ is always here for your queries. We provide the best marble in Johor Bahru and we are the best for a reason. We are the most qualified individuals to assist you with your current issue, so schedule an appointment with us right now to get started!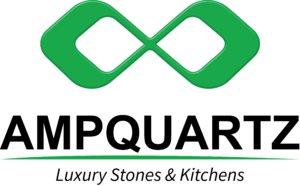 Here at Ampquartz, we can provide you with the perfect information with better suits your kitchen.
Do contact us to get FREE CONSULTATION.